Google Subtopics SEO: Optimizing for Subtopics
Google Subtopics SEO: Optimizing for Subtopics
/images/uploads/blog/OMG-Austin-01.16-Blog_.jpg
Omaha Media Group
https://www.omahamediagroup.com/images/uploads/monster_gallery/Omaha-Media-Group-Black.jpg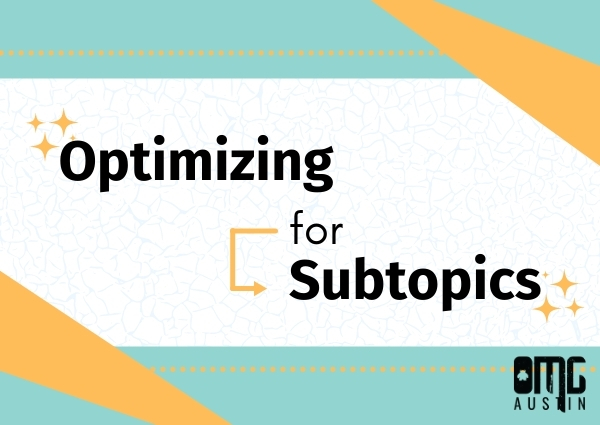 On Oct. 15, 2020, Google released a press release explaining how their AI is becoming even more helpful to search queries and their results for everyone, and one of the smallest, but important updates that happened was Google Subtopics.
The SEO industry noticed a series of changes in Google Volatility and SERP results throughout the entire month of November, and in mid-November, Google released a statement on Twitter (where all SEOs live and breathe) that subtopics were released.
As of right now, this system is helping to improve upon BERT's understanding of our language, common misspellings and so many other notions of our search queries and intentions.
As a leading creative management firm in Austin, Texas, our Austin marketing services are constantly keeping up-to-date with the latest changes. This is what Google Subtopics are and their importance in SEO!
What are Google Subtopics?
Subtopics are a way for Google to utilize their AI to help power a more helpful Google by understanding subtopics around an interest which helps to provide a more broad search and content.
Now, this does not mean that topics are changing how SERP will appear in Google, it is changing how the search results populate and how narrow or broad the results show.
"Now we have to worry about broader content when we have been narrowing down content?" Not necessarily, as you all know there is always an if statement in SEO just like coding, this will only happen when it is useful. Our prediction is that this will happen with high-volume, short tail keywords that provide more broad results, but this does not exclude medium to long tail keywords as well.
In November, Google Volatility was up and down quite a bit which normally indicates that there is a change big enough to affect SERP happening.
The algorithm has already launched and the key focus of this update is to broaden diversity and provide more websites at the forefront of search queries. This means that a wider range of websites, besides the typical ones, could appear for these competitive keywords!
Is it your time to shine? This is how to start to think about subtopics google ranking within your SEO strategies!
Subtopic Google Ranking
What is one broad question, FAQ, or piece of content that can be broken down into several different pieces of content? This is what topic clusters look like for SEO purposes.
Here is a great example!
What are the best stretches?

How to properly stretch

The best back stretches
And from there, the content can continue on further to differentiate stretches, their form and so much more for content. This type of content will be great for subtopics Google ranking. How does this help with this new algorithm?
This helps to start ranking your main cluster or content, and have supplementary backlinks and this supplementary content can start ranking as well for its topics.
This means optimizing your content but also really honing in on your content topics and ideas as well. What blogs can be broken down into other categories of this topic and what will be relevant even to this topic?
As search engines continue to grow and evolve their algorithms and search results, it is important to consistently keep up-to-date with those changes! For more help with SEO strategies, contact us today!
Share this post
Comments