Late seasonal marketing strategies
Late seasonal marketing strategies
/images/uploads/blog/OMG-Austin-11.07-Blog__1.jpg
Omaha Media Group
https://www.omahamediagroup.com/images/uploads/monster_gallery/Omaha-Media-Group-Black.jpg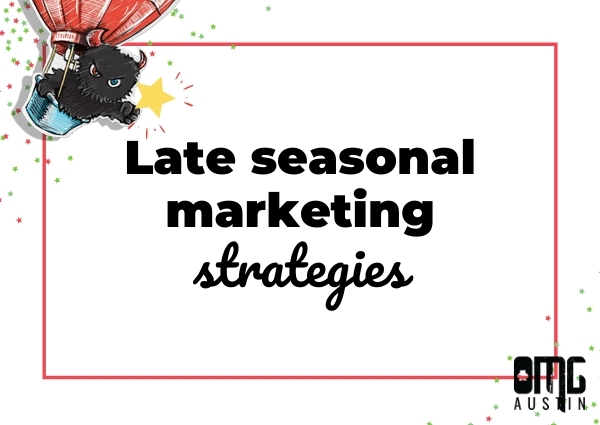 The days are officially shorter and the weather is a bit colder in the Lone Star state, and this means only one thing, the holiday season is here! While this holiday season is going to be very different from traditional holiday seasons, companies are adapting their regularly scheduled holiday campaigns to continue to sell their products and/or services this year.
With this in mind, a seasonal marketing strategy should have been implemented about 30 days ago. In the seasonal marketing world, there is the mark of "90 days before shopping" begins and this is the time where consumers start their holiday season shopping madness.
While you might have missed the deadline, there is always time to execute any holiday marketing strategies for small businesses.
Holiday marketing ideas for small business
1. Keep it simple!
The thing with any seasonal marketing strategy is that it can be as simple or as complicated as you want it to be. Whether you execute a 12 days before Christmas campaign or simply run a giveaway or a promotion code this year, keep it simple for your team. Whether it is simple for the marketing team or the entire business, the thing with holiday marketing strategies for small businesses is that it does not have to be difficult and elaborate.
The first step is to speak with your marketing team, agency or team to figure out what type of content would be relevant to your audience and consumers. Even if it is as simple as changing headers and profile images on social media platforms to match the season, whatever the overall plan is, just execute it effectively.
On the other hand, are their specific products and/or services that your consumers would find useful going into the new year? Even though it is the holiday season, what about the new year? As a business owner, management or administration, you know companies are already reviewing their budget for Q1 if not Q2.
2. Seasonality in search queries
This gets a bit complicated this holiday season, not only because search queries have shifted due to COVID-19, but because of the holiday season items. Depending on the upcoming holiday or queries and trends during that time frame, a company can grab onto that season's SERP and its trends to increase their website traffic, qualified leads and even sales!
It is important to find keywords and conduct research around those big holiday calendar dates, but are there smaller, more important dates that your company should utilize but is missing out on?
Yes, Thanksgiving and Christmas are super important and companies should market for this, but what about a national holiday specific to your industry?
It is imperative that keyword research is conducted for each blog, promotion or Google Ad campaign because this is what will drive consumers to the website or final destination of the Google Ad campaign.
For a small business that is competing with a large and competitive industry, it might be best to utilize those lower volume keywords to garner the right lead generation and not waste any more marketing dollars because the truth is, those high volume keywords everyone wants, take some serious time. If you are just starting a holiday campaign without some serious cash behind it, it probably won't happen in two months.
3. Have the ability to repurpose it!
One of the biggest holiday marketing ideas for small businesses is the ability to repurpose it or learn from your mistakes from it. As a small business, your marketing budget is a bit smaller than other companies, but that doesn't mean you can't learn something valuable from this or continue to use these strategies within your regularly scheduled marketing campaigns!
Are there any other ways this campaign could be utilized throughout the year? This could be a teaching moment to understand that planning, strategy and execution of a single campaign does not have to be to one campaign.
This is a learning moment that shows that this campaign can be implemented into others with new or different products and/or services. Work smarter not harder as they say! Keep the data from this campaign as well to utilize it for next year! Always think ahead!
There you have it, there are three ways to implement a holiday marketing strategy this year and years to come!
Contact us for more information on digital marketing services!
For help with any digital marketing strategies for the upcoming year, contact us today! 
Contact us for a Zoom meeting!
Share this post
Comments