UPDATED: OMG Austin holiday hours
UPDATED: OMG Austin holiday hours
/images/uploads/blog/OMG-Austin-12.23-Blog_%281%29_.jpg
Omaha Media Group
https://www.omahamediagroup.com/images/uploads/monster_gallery/Omaha-Media-Group-Black.jpg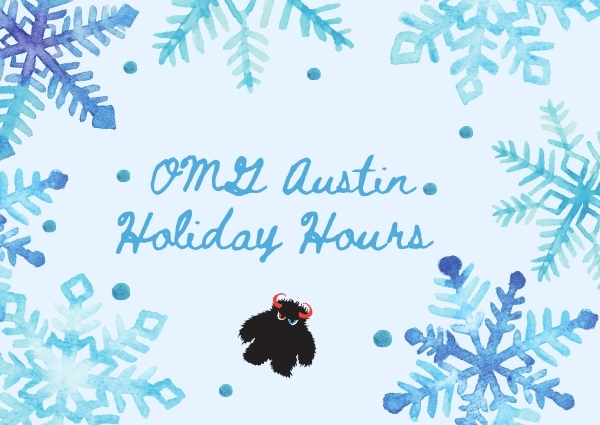 This holiday season will be extremely different from others, but with this in mind, it is important to continue to count our blessings one day at a time. This year has been a whirlwind for many, but we hope you are able to enjoy your time with loved ones!
At OMG Austin, we are wishing you all a safe, healthy and virtual holiday season that brings joy, peace and some hope as we enter the new year.
Family time is incredibly important to us here at OMG Austin, which is why we'll be taking some time away from the office to virtually hang out with our grandmas, mini-mes and our loved ones.
Our management office, development teams, and marketing experts will be on Christmas vacation beginning at 12:00 pm CST on Thursday, Dec. 24 until Monday, Dec. 28. We will have limited support available throughout the week, with our entire team returning on Monday, Jan. 4, 2021.
All marketing and website development tasks not assigned prior to 10:00 a.m. CST, on Wednesday, Dec. 23 will be scheduled in the order received following the holidays.
If you are in need of customer support during the holidays and you are a valued support package member you can create a help desk ticket by emailing our support desk, this email address was provided to you in your support package.
Our on-call support engineer will assist you in the order your support inquiry is received.
It can be difficult to think of ways to celebrate your holiday season without meeting in person or only hanging out with the same group of family and friends since the beginning of quarantine (we are all tired of them), but there is no reason to lose hope.
Put on your ugliest Christmas sweater, order some take-out or cook a delicious meal and see if any of these virtual Christmas party ideas can bring some joy! If you are ready to get out of the house and drink some hot cocoa, these are the best light shows in our city!
Stay safe and healthy this holiday season and welcome the new year with open arms to all of its possibilities.
Contact Us
We want to hear from you, so what are you waiting for? Contact us today.
Get In Touch
Share this post
Comments