OMG Austin holiday hours
OMG Austin holiday hours
/images/uploads/blog/OMG-Austin-12.23-Blog_.png
Omaha Media Group
https://www.omahamediagroup.com/images/uploads/monster_gallery/Omaha-Media-Group-Black.jpg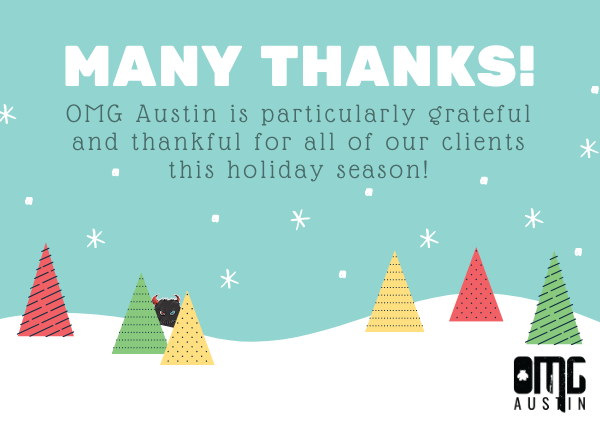 In true Texas fashion, we're hoping to see some barbed wire wreaths, Christmas trucks and some beautifully decorated cedar trees on Loop 360 this holiday season!
With all major December holidays aligning so closely together this year, we want to wish you and your family a Happy Holidays!
Family time is incredibly important to us here at OMG Austin, which is why we'll be taking some time away from the office to hang out with our grandmas, mini mes and weird uncles.
Our management office, development teams, and marketing experts will be on Christmas vacation beginning at 12:00 p.m. on Monday, Dec. 23. We will have limited support available throughout the week, with our entire team returning on Thursday, Jan. 2, 2020.
All development tasks not assigned prior to 10:00 a.m. CST, on Monday, Dec.23 will be scheduled in the order received following the holidays.
If you are in need of customer support during the holidays and you are a valued support package member you can create a help desk ticket by emailing our support desk, this email address was provided to you in your support package. Our on-call support engineer will assist you in the order your support inquiry is received.
Tisk, tisk, did you forget to buy a present for your mother in law?! No worries, procrastinators will unite at this last minute gift shops in Austin!
From Christmas lights to New Year's Eve extravaganza there is something for everyone in Austin. Find the ultimate guide to celebrating the Holidays here.
Cheers to 2020!
Contact Us
We want to hear from you, so what are you waiting for? Contact us today.
Get In Touch
Share this post
Comments