TikTok for businesses
TikTok for businesses
/images/uploads/blog/OMG-Austin-06.22-Blog__1.jpg
Omaha Media Group
https://www.omahamediagroup.com/images/uploads/monster_gallery/Omaha-Media-Group-Black.jpg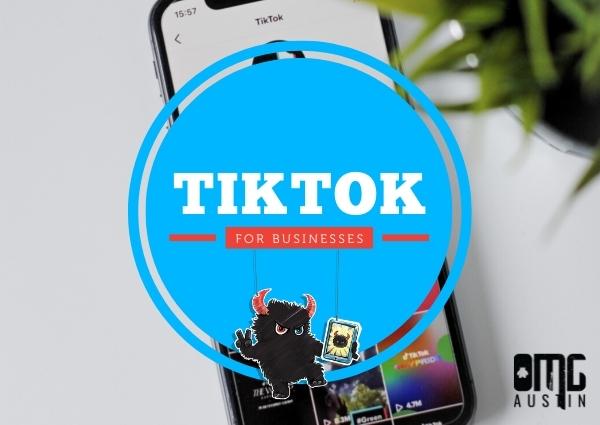 TikTok has over one billion monthly active users. Not to mention, it is also the most visited website on the Internet in 2021. Yes, it overthrew the reigning website - Google.
With such growing popularity, many businesses have found themselves asking, should my business be on TikTok? The answer is probably yes.
Our social media management Austin team has created this helpful guide to learn all about TikTok and the benefits it can offer businesses.
What is TikTok?
TikTok is a short-form, video-sharing app that allows users to make and share videos. The size of the video can range anywhere from 15 to 60 seconds long. This app makes it easy to record and make fun video content directly on the app and share it with the world.
TikTok vs. Reels
There is a lot of talk about Instagram Reels being a copy of TikTok. Although both apps allow users to share short-formed video content, they have different audiences. TikTok's audience is a much younger audience than Instagram.
In the U.S., 60 percent of users are between the ages of 16-24, and 26 percent are between the ages of 25-44. Instagram's largest audience is between the ages of 25-34, making up 33.1 percent but followed by the 18-24-year-old age group. Whether you use TikTok or Reels should depend on your target audience and where they spend most of their time.
The

benefits of TikTok for business
It is an unsaturated platform
Brands from sizes and industries are making their way to social media to reach their target audience. Most of them are on Facebook, Instagram, Twitter and more. With so many businesses already on this app, it can be hard to stand out. On an unsaturated platform right now is TikTok. Not every brand is on this platform, so take advantage to reach and establish a relationship with your audience.
Reach more people
If you want to expand brand awareness and reach new people, then you need to start using TikTok. Its algorithm is a recommendation system that determines which videos will appear on a person's For You Page (FYP). So your videos have a higher chance of getting seen by people who are interested in your products and services.
Step one
Determine what kind of video you are going to create. You want to experiment with the different kinds of videos that your target audience best likes to see. Some video ideas to try include humor, education, trending, influencers and local trends.
Step two
Open the app and either begin to shoot video directly by hitting the record button or upload any existing video. Once you have all the video clips you want, you have the option to sync those clips with sound or manually trim those clips.
Step three
The third step is to preview the video. During this step, you can add any sounds if you have not done so already. Also, you can add any text, stickers, effects, captions or audio voice over.
Step four
Once you have your video looking like you want to, it is time to hit upload. Before you upload make sure you add a caption, relevant hashtags and even a location so your video will make its way on to correct people's FYP.
Hire one of the best

social media management Austin agencies!

Let our social media experts help you develop a social media marketing strategy that will increase your brand awareness but also generate leads. They can also manage your business' social media accounts so you have one less thing to worry about. Contact us to get started.
Contact Us
We want to hear from you, so what are you waiting for? Contact us today.
Get In Touch
Share this post
Comments