What is content marketing?
What is content marketing?
/images/uploads/blog/OMG-Austin-03.23-Blog_.jpg
Omaha Media Group
https://www.omahamediagroup.com/images/uploads/monster_gallery/Omaha-Media-Group-Black.jpg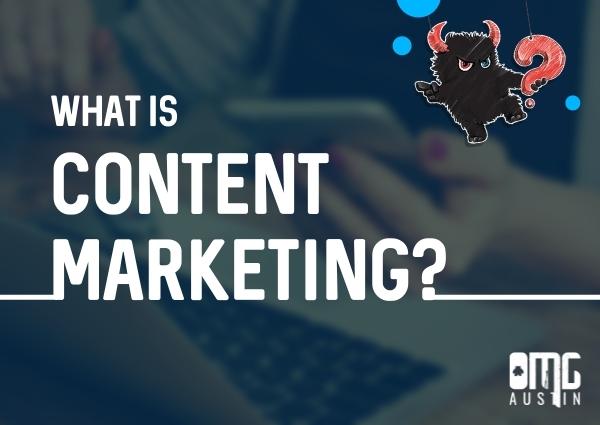 Content marketing is a form of digital marketing that involves creating and distributing forms of content across digital channels. This kind of marketing is used to attract, engage and retain your audience. It helps you gain expertise in your industry and raise brand awareness.
Reports found that content marketing generates over three times as many leads as outbound marketing and costs 62 percent less. If you want to start using content marketing, our Austin content marketing agency team has created this helpful guide into creating successful content.
Why is content marketing important?
The phrase "content is king" is there for a reason. Content marketing is an effective way to set yourself apart from the competition. Some of the reasons why our Austin content marketing agency recommends using this form of marketing is to build trust, develop relationships, increase conversions and generate leads.
The different types of content
Social media content marketing
Social media content is any form of content that is posted on Facebook, Twitter, Instagram, Pinterest, LinkedIn or TikTok. This content ranges from text posts, images, infographics, and videos.
Creating informative, engaging and shareable social media content can help your company's social media grow. You can check out which content your audience wants to see by measuring social media metrics like engagement.
Blog content
Another form of content that marketers use is blog posts. This type of content is any article, news release, blog or guide that is published on the website. This kind of written content not only helps build authority with customers but also with search engines. Blogging helps boost your website's authority on search engines. It helps by creating backlinks. A report has found that companies that blog get 97 percent more links to their websites.
Podcast content
A podcast is an audio program that you can subscribe to and listen to on your phone. This podcast will then release new episodes on a regular schedule. It can be weekly, bi-weekly or monthly. These episodes are usually recorded and then uploaded to a website or streaming platform, like Spotify or Apple Music.
Why should you consider making a podcast? Well, podcasts are fun and creative ways to keep customers informed about your industry and build a relationship. An average of 80 million Americans are weekly podcast listeners.
Video content
If there is one popular form of content right now, it must be video content. This kind of content is a video or formatted into a video form. Some forms of video content are short-formated videos, vlogs, GIFs, live videos, recorded presentations, and webinars.
Social media platforms like TikTok have skyrocketed this form of content. Just how popular is it? Well, TikTok was the most downloaded app of 2021, with 656 million downloads. Many people like scrolling through this app because of its short video content.
Are you looking for an

Austin content marketing agency?

If you need help creating content that your audience will love, let OMG Austin help. Our team of creatives can write content for social media posts, blogs and website content. Contact us to learn more about our digital marketing services.
Contact Us
We want to hear from you, so what are you waiting for? Contact us today.
Get In Touch
Share this post
Comments