What is microblogging?
What is microblogging?
/images/uploads/blog/OMG-Austin-04.19-Blog_.jpg
Omaha Media Group
https://www.omahamediagroup.com/images/uploads/monster_gallery/Omaha-Media-Group-Black.jpg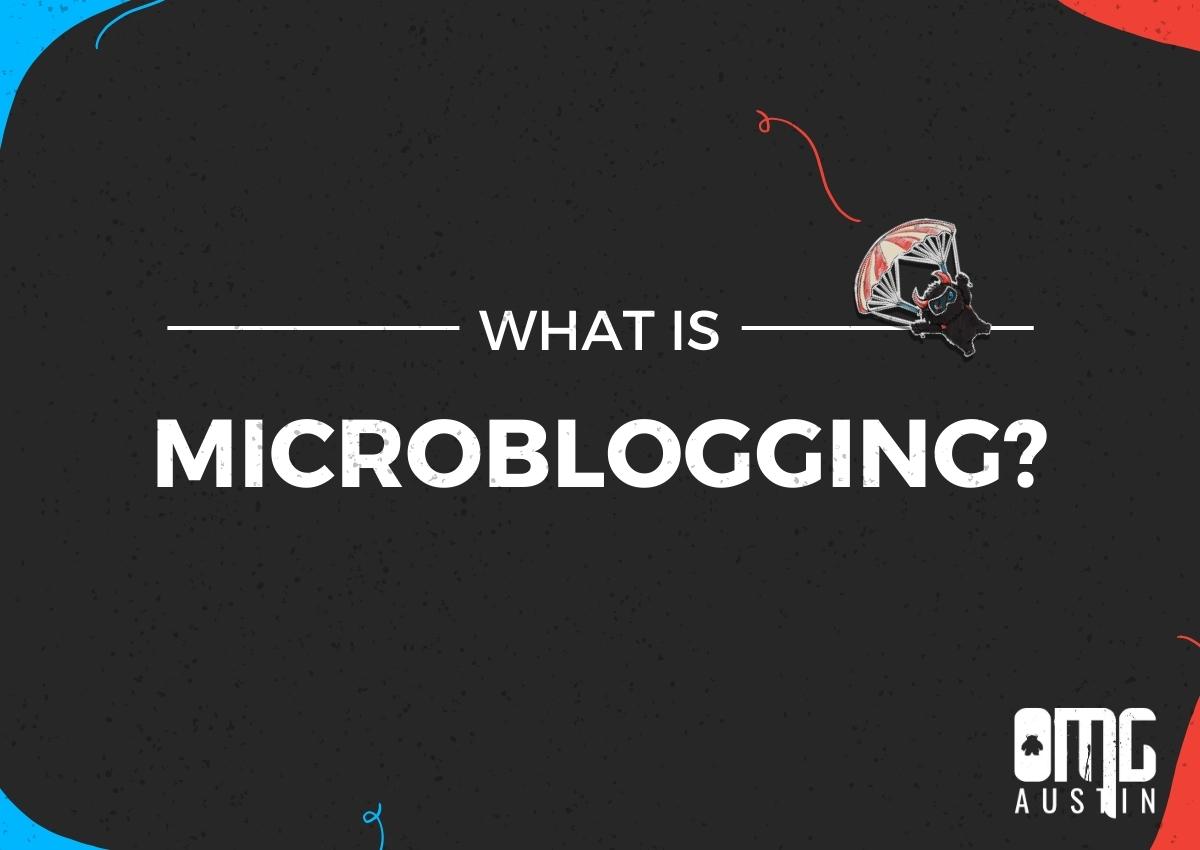 Finding new ways to integrate content on social media is a crucial way to connect with your audience. If your business is struggling to engage with customers, then a microblog might be a great solution that allows you to quickly post on social media platforms with short and conversational content. To learn more about microblogging and how to implement it into your marketing strategy, check out this guide our Austin social media marketing company created.
What is a microblog?
Instead of long-form content, microblogs are a short and informed type of content that involves a topic that is trending but currently has a low search rate. Users can comment and share their thoughts and companies can reach a prospective audience by sharing their take on different topics. This type of content can be wide-ranging and is meant to help your company stay on top of the latest topics and trends. Posts can be shared across platforms and create conversations that lead customers to longer content that can be found on your website.
Popular content within microblogs can include GIFs, infographics, video, audio and user-generated content. Getting started can be the hardest part, our team has crafted a list of possible topics you can use to start engaging with customers and get conversations started! Post ideas include:
Product announcements

Full-length blogs about content you've shared

Customer feedback

Event and news updates

Memes or quotes
Where should you post your microblog?
Posting your microblog on the right platform that connects with your customer matters! Find out what platform caters to what your customers engage with most frequently.
Twitter
This is THE microblogging platform. To spread your message quickly and conveniently, share posts that include text, video, images and any linked content. Microbloggers gravitate to this platform to share content as Twitter is a primary news source for 71% of Americans. Conversations and relationships are able to be had with customers through retweets, comments and likes.
Tumblr
Millions of different blogs and different short-form content can be found on Tumblr. This platform allows you to create blogs that include links, text, images, videos, music and MP3 files. You can also follow other blogs and interact with them by reposting blogs and commenting on blogs you write yourself.
Pinterest
If you're utilizing mainly visual content, Pinterest is the best platform to use for your short-form and microblogging content. Since Pinterest is a purely visual platform, microblogging is done by using images and the notes feature to align a message with the audience. Follow other profiles and topics, create boards and post pins of your favorite pictures that encapsulate your company and brand.
Instagram
Imagery and text work hand-in-hand on Instagram. Accompany your photos and videos with perfectly crafted captions. You have plenty of room to get your thoughts down here, as you're allowed 2,200 characters to be exact. Hashtags, videos, images, comments, direct messages and tagging friends in posts are all great ways to engage your audience in a conversation. Instagram's aesthetic makes it a popular hub for engagement.
Facebook
As one of the most popular social media apps, Facebook is a shoo-in for microblog content. Connect with your customers by posting text, images and videos. Use the comment section to engage in conversation with your audience over specific topics with memes and GIFs. Casual conversation with your followers can often win over their hearts.
LinkedIn
Microblogging can be done in a professional setting too, believe it or not! Short text posts or slide posts can be a great way to share a topic with your audience on the platform. Text and linked content is most effective on LinkedIn.
Benefits of micoblogging
Consistent posts
They always say consistency is key and that applies to marketing too! A full-length blog can take hours to complete, while a microblog can be more casual, engage in conversation and make connections with current and potential customers. Posting frequently will help increase engagement, and consumers will begin to rely on you for information on topics you post about.
Less time-consuming
In the time it takes to create one full-length blog, you could be curating multiple microblogs. By implementing microblogs into your marketing strategy, it will be easier to rotate the kinds of content you post. Whether you stick to text, videos or images, your audience will thank you for the bite-sized posts.
Mobile friendly
We're always on our phones and so is your audience! Microblogging on social media platforms that are easily accessible on a mobile device will make it easier for customers to engage with your posts.
Hire the best digital marketing company in Austin TX!
Coming up with long-form content doesn't have to be time-consuming anymore. Our Austin social media marketing company can help create content that is engaging and personal for your audience.
Contact Us
We want to hear from you, so what are you waiting for? Contact us today.
Get In Touch
Share this post
Comments