Can social media be used for gaining quality backlinks?
Can social media be used for gaining quality backlinks?
/images/uploads/blog/OMG-Austin-01.15-Blog_.jpg
Omaha Media Group
https://www.omahamediagroup.com/images/uploads/monster_gallery/Omaha-Media-Group-Black.jpg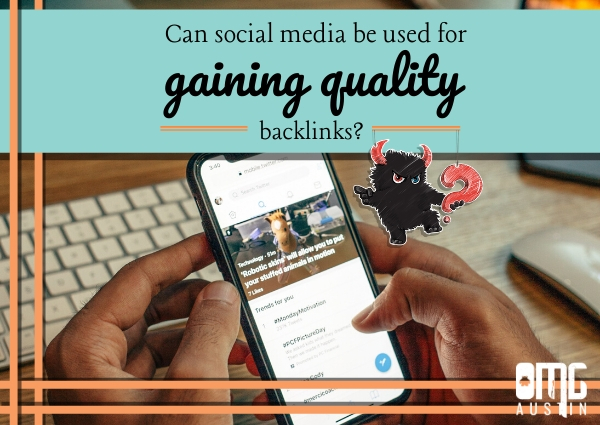 Can social media be used for gaining high quality backlinks? This is a debate in the digital marketing world of whether it is true or not. No matter whether it is directly correlated or the exact reasoning behind it, research studies do show that social media CAN help in gaining high quality backlinks!
Whether or not social media can boost SEO ranking is a hot topic, no seo consultant Austin Texas will disagree with that statement, but social media has been reported to be the third most effective way to build links behind paid ads and research.
While this debate can be argued for years to come, this shows that social media CAN help with backlinking strategies. This is how:
First thing to discuss, what are backlinks? Backlinks, also known as inbound links, are created when another website uses your backlinks on their website. Backlinks are important for a company because this is how search engines can find you to be credible in that industry. The more backlinks that to your website and/or other websites using your links, shows SERP that you are worth linking to and worth ranking.
Furthermore, this helps consumers find similar information regarding their search query that provides a better understanding. However, it is important to remember that not all backlinks are created equally. A SEO consultant Austin Texas warns companies that a number of spammy backlinks can cause a decrease in ranking and give Google a warning that says, "Hey, this website is trying to trick us."
There is no tricking Google, folks. Now the process of building backlinks is not something the average Joe can jump into. With that being said, how are backlinks commonly built and where does social media come into all of this?
Building backlinks
The first step in creating and getting backlinks is to create and develop a content marketing strategy that provides search queries with unique and custom content. Without this content, there is no backlink strategy. This is why all SEO agencies will suggest for a company to create content that is shareable and helps to solve problems. Is this content always easy to create, no way.
The second step is becoming a source for reporters, other bloggers, companies and anyone else out there to be honest! Once this content is shared, a reporter or other companies can grab it to back up their statements or research. This allows for a second perspective to a story or blog and gets your company's website backlinked to this trending topic or conversation! Yeah, it really can be that easy.
The third step is to have your website URL on your social media platforms. Neil Patel states that this is the basics of using social media to gain those quality backlinks.
The fourth step is to share this high quality content on social media platforms. It is important to be a part of the conversation and this content should link back to that content. Overall, it helps to provide a larger reach to this content with the hopes that others will engage with it and use it for their links.
Our seo consultants Austin Texas notice that online magazines link to our articles and share this on Twitter. This helps to get our content onto another website and in front of an entirely new audience. This helps to make our content easily shareable and consumable which helps to improve your social networking.
The entire backlinking process is not that easy, but social media can help to gain high quality backlinks at the end of the day. For more information on SEO or digital marketing strategies, give us a call today!
Contact Us
We want to hear from you, so what are you waiting for? Contact us today.
Get In Touch
Share this post
Comments