How to create TikTok content for businesses
How to create TikTok content for businesses
/images/uploads/blog/OMG-Austin-08.17-Blog__1.jpg
Omaha Media Group
https://www.omahamediagroup.com/images/uploads/monster_gallery/Omaha-Media-Group-Black.jpg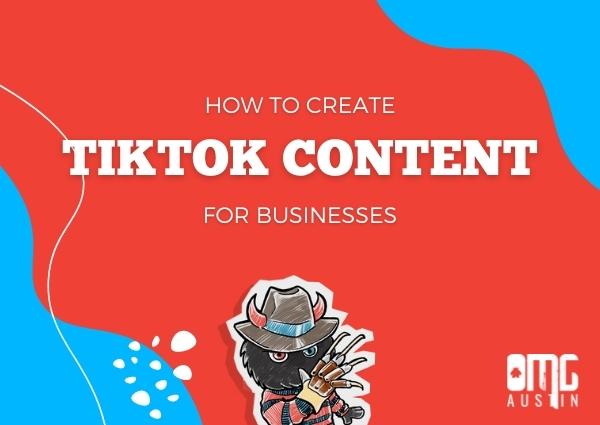 TikTok has become one of the most dominant and widely-used social media platforms. It is so popular that platforms such as Instagram are starting to resemble TikTok. TikTok has one billion active users, with each one spending an average of more than 850 minutes (over 14 hours!) on the app every month.
With so many people using the app, many brands are boarding the TikTok train to expand their digital presence. It's not a simple change though, as many companies struggle with how to use TikTok for businesses. Our social media marketing Austin Texas team created this guide to teach you how to use TikTok to make your business grow.
TikTok marketing
TikTok marketing is the practice of using TikTok to promote a brand, product or service. This kind of marketing is not limited to only creating videos but also using influencer marketing and advertising. The reason why our social media marketing Austin Texas experts suggest using TikTok marketing is to increase brand awareness, build engaged communities and sell products and services.
Businesses are jumping on TikTok because of its high engagement rates. Brands on TikTok get five to eight times more engagement per follower than on other social media platforms. To achieve this success, TikTok recommends businesses follow the Flicker, Flash and Flare model.
Flicker content
Flicker content is participating in the current TikTok trends. These trends can be memes, hashtags, music or audio. The goal of creating Flicker content is to keep your brand relevant and in users' minds. By capitalizing on trends, you can gain new followers and increase awareness of your brand. You can find the current trends by scrolling through your For You page.
A good example of Flicker content is a video created by Duolingo, which used a trending song by Taylor Swift. The green owl made this trend its own by showcasing what it is like to use Google translate instead of using Duolingo to learn a language. This video accumulated 27.8 million views with 5.6 million likes and 101 thousand comments.
Flash content
Flash content is creating content that is unique to your brand's unique style. This kind of content should be what defines your brand's presence on TikTok. Flash content can be planned out, proactive and rolled out on a set schedule. The goal of this kind of content is to bring the brand to life in an entertaining way.
An example of flash content is this video from Rare Beauty. They regularly provide their followers with makeup tutorials like this one, showing how to use their products for all the latest beauty trends.
Flare content
Flare content should be content that supports big brand moments in the year. These big brand moments could be major campaigns or product launches. The goal of creating flare content is to generate mass awareness and engagement. Creating flare campaigns can include using hashtag challenges or sponsored effects.
Let a

social media marketing Austin Texas company answer all your social media questions!

Our social media experts can handle all aspects of your company's social media, from creating engaging content to social media management. Contact us to learn about our social media management services.
Contact Us
We want to hear from you, so what are you waiting for? Contact us today.
Get In Touch
Share this post
Comments