Increasing subscribers in Q2 of 2021
Increasing subscribers in Q2 of 2021
/images/uploads/blog/OMG-Austin-02.03-Blog_.jpg
Omaha Media Group
https://www.omahamediagroup.com/images/uploads/monster_gallery/Omaha-Media-Group-Black.jpg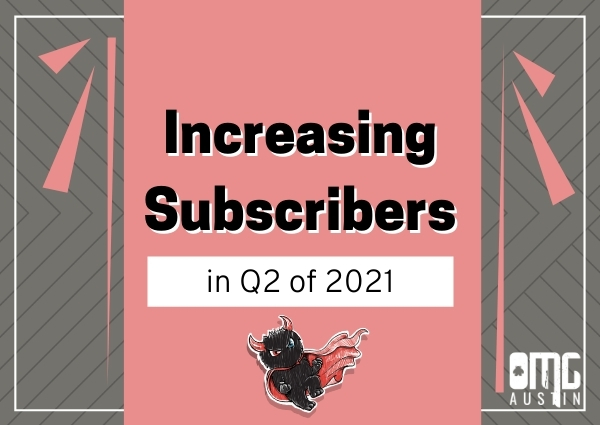 As budgets continue to get tighter and companies are still feeling the uncertainty of COVID-19, this year will be the one that conversions and an increase in lead generation is imperative. What is the industry looking like? Only time can tell us what it will look like, but one thing is for certain is that an increase in subscribers on forms or other marketing tactics is a top priority.
1. Optimizing the right content
The right content is one of the most important elements of increasing subscribers on landing pages and forms because the right optimization of content is what will bring them to the right pages.
If your high-performance content is not optimized and is lacking call to actions (CTAs), this is a major opportunity for losing consumers.
90 percent of visitors who read your headline will also read your call to action (CTA) which helps to keep them on the page and direct them to the final action.
Yes, posting these pages to social media will also help, but the content will need to be optimized for search engine purposes and even PPC advertising if a company wants to increase its lead generation.
What is the solution for this? Make sure that the content has the proper keyword research with quality, unique content with strong, action moving CTAs.
2. Create a dedicated landing page
A dedicated landing page should be one of the next steps to make sure the campaign is successful. A landing page will show its own analytics and lead generation to know how successful the campaign is or was.
It isn't enough to just have a landing page, or a final /success on the URL, make sure that forms are the right design and number of fields. The fewer fields the better and landscape versus horizontal can be the difference between a successful campaign.
The solution is to first get the landing page and its layout in place, from there, direct them to the right landing page and avoid these common mistakes.
3. Guest posting
Our SEO consultants Austin are familiar with guest posting and blogging to drive more targeted traffic to the website. The definition of guest blogging is, "a content marketing and SEO technique where someone writes and publishes a blog post on a third party website or blog to promote their personal or corporate brand."
This helps personal and corporate brands to "create" the content Google and their consumers are searching for, but at the same time, there can be some downsides of guest blogging.
Make sure that the content is written for your audience, and the right guest blogger is chosen. While you are considering your own audience, what is their audience? Are there some downsides of partnering with this person or company?
It can improve brand awareness, bring in some new qualified traffic, customers and increase subscriptions.
There are websites out there that offer thousands of experts in hundreds of industries who are searching for other companies or personal brands to work with. This could also be done with those who reach out for referral traffic and backlinking.
First, start with a brainstorming of which experts and companies in your industry would be best to partner with and then think of some content they could write for your audience.
4. Exclusive content
Once a consumer gets to the landing page, and subscribes, our SEO consultant Austin suggests providing those customers with unique content and promotions to show that you are interested in continuing the relationship and creating loyalty between one another.
Always make sure to continue to provide users with what "they want". If they came because of promotions, segment them in promotions and continue to do this for all subscribers.
As a leading creative management firm in Austin, Texas, we understand that 2021 is the year of hitting marketing goals and continuing to show that the marketing strategies in place are worth the investments.
With help from our SEO consultants Austin, we can help to provide strategies and outside perspectives that could significantly improve traffic or goal conversions. Stick around for a couple of seconds longer to fill out our contact us form below.
Let's see how we can collaborate with you.
Contact Us
We want to hear from you, so what are you waiting for? Contact us today.
Get In Touch
Share this post
Comments