Optimizing a press release: How to boost for SEO
Optimizing a press release: How to boost for SEO
/images/uploads/blog/OMG-Austin-01.23-Blog_.jpg
Omaha Media Group
https://www.omahamediagroup.com/images/uploads/monster_gallery/Omaha-Media-Group-Black.jpg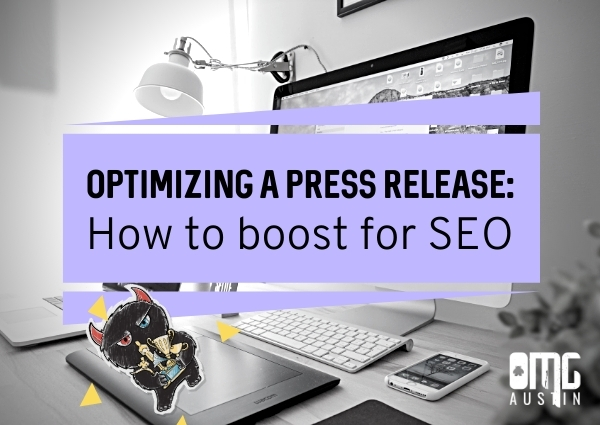 As companies continue to navigate through the digital age, one old school tactic that embraces a new school tactic is Press Releases (PR) and SEO. A PR can be a valuable marketing tool that can have a long-term impact on the branding and website traffic if done properly. With a number of online magazines, newspapers and places to implement your PR, it can certainly create the buzz that companies are searching for overtime.
While PRs have been around for about 113 years, their longevity continues to shine with the latest updates, products and releases.
PRs are often focused around a larger marketing campaign that encompasses the entire company. This creates the buzz and helps to gain traction to the website from a number of different digital marketing platforms and strategies.
A PR in 2021 needs to be optimized on the company's end for search engines! While some companies will put "nofollow" or other attributes on a PR, this doesn't mean that it isn't still valuable.
These are the top press release SEO strategies and how to optimize a press release for SEO.
1. What's the "newsworthy angle?"
News stories want to hook their audience and grab their attention, and to do this properly, they have to produce "newsworthy" content for their viewers. A PR highlights the importance of the release, launch, new branding and etc instead of simply telling everyone, "hey, this is what happened."
It doesn't have to be lengthy, and in the news industry, less is a bit more to really be able to grab their attention.
Not only finding the best angle for news stations and online spaces work for the release of the PR, but for press release SEO, this is critical as well. This is because the PR will be custom content that can be a bit easier to crawl for search engines.
For help writing the best PR on the market, check out this blog from CoSchedule.
2. Write for SEO and readers
The best thing for the success of a PR on search engines and target audiences alike is to write for both of them. A well written PR is written in a way that grabs the attention of their audience and search engines because it is creative, quality and unique content.
Optimize the heading and make it catchy

Answer all the necessary questions

Explain the most important facts first and naturally fit in backlinks and keywords

Avoid the fluff and get to the point
You want to make sure the content is shareable, exciting and worth the retweet on Twitter. This helps to get the attention of others, bring in more website traffic, and overtime those keywords strategically placed can help to rank the PR.
One of the most effective ways on how to optimize a press release for SEO is with a long-tail keyword. A long-tail keyword is a longer keyword that has a lower volume and most of the time competition.
While the amount of traffic that this keyword will bring in is much smaller than others, it fits more naturally into content and provides more targeted traffic to the PR and website alike.
While the hardest part of a PR is getting started, before a company sends out their PR, it should be optimized for SEO.
Share this post
Comments