Optimizing your website during COVID-19
Optimizing your website during COVID-19
/images/uploads/blog/OMG-Austin-07.18-Blog__1.jpg
Omaha Media Group
https://www.omahamediagroup.com/images/uploads/monster_gallery/Omaha-Media-Group-Black.jpg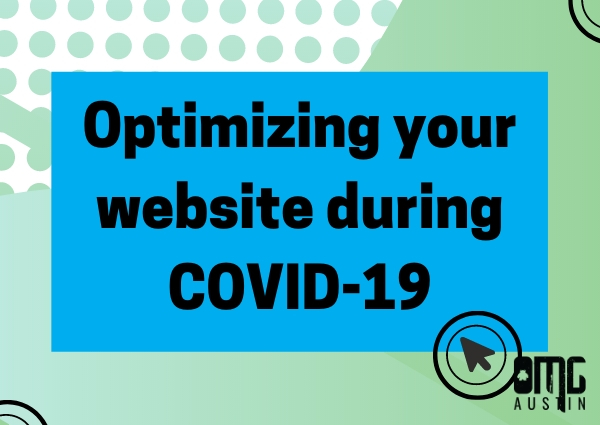 As a small business or Fortune 500 company, it might seem like the last thing that should be on a CEOs, Managers or other decision-makers brain is SEO. But, the reality is that COVID-19 has not only changed entire industries, but at the same time, has changed how consumers and companies are searching and purchasing their products and services.
Consumers have switched their normal habits entirely during COVID-19 and companies need to adapt to this switch to continue to grow after this pandemic is over. Consumers are online more than they ever have been before and one of the most important investments right now is SEO services Austin TX because this will help your company after this is over- six months from now or one year from now.
Why SEO now?
A number of companies are currently pausing their paid advertising strategies for a number of reasons and repurposing those marketing dollars to other strategies to continue to adapt. While these pauses are a downfall for Google, Bing and other search engines, this provides companies with premier SERP real estate!
This also means that organic SEO will continue to shine even while advertising is being paused! The thing with SEO services Austin TX is that a first page ranking is there as long as there are technical SEO strategies in place.
Sure, it will rank up and down that first page, but will all advertisements have subsided for the time being?
This gives Startups, small businesses and niche businesses an advantage to either run an advertisement that would normally be denied or lower in SERP to get a prime spot. And on the organic SEO side, this provides those businesses with the ability to get that first page ranking!
Grow on marketing goals
Sure, COVID-19 has changed a number of things in personal and professional lives, but one thing is that not all marketing goals have to be put to the side. If anything, now is the perfect time to hone in on all and any marketing goals, especially SEO!
What are some of the goals on the marketing list year? Time to optimize your website? (Probably one of them if you are on this blog!) This means that service pages and blogs can easily be optimized and written for relevant topics right now!
The approach can be local keywords and strategies while national keywords are put on the backburner for the time being! It can also be to write better quality content! Whatever it may be for marketing goals, SEO is one of the most important factors to these goals because it never hurts to optimize all of your goals!
If a company is going to implement SEO now, what type of content would you even publish?
Content
With openings, closing, openings and more closings, it can be difficult to put yourself out there, but the biggest questions to ask yourself is, "What does my audience need right now?"
Does evergreen content that can be utilized after CVOID-19 make the most sense? Should the content be time sensitive? Is it specific answers to the most common questions that your company has been receiving from staff and consumers? No matter the type of content, it is just important to create content that consumers want to consume. This should always be at the forefront of all content and optimization!
The type of questions and content that your consumers need right now is going to be quite different than the typical content that your company will be publishing.
Write content around that, optimize for that content and drive traffic to service pages or landing pages with new offers!
OMG Austin offers SEO services Austin TX that help a company with content and website optimization during and after COVID-19, for more help and a free SEO consultation, please contact us today!
Contact Us
We want to hear from you, so what are you waiting for? Contact us today.
Get In Touch
Share this post
Comments