Common COVID-19 FAQs
Common COVID-19 FAQs
/images/uploads/blog/OMG-Austin-05.16-Blog_.jpg
Omaha Media Group
https://www.omahamediagroup.com/images/uploads/monster_gallery/Omaha-Media-Group-Black.jpg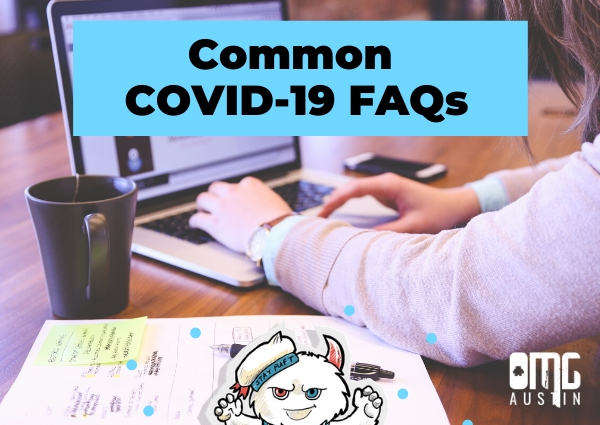 It is estimated that COVID-19 will cost the global economy $2.7 trillion, and as a small company to the multi-billion dollar travel industry, each company and industry is dealing with their own struggles during COVID-19.
The unknown in life creates a number of emotions from anxiety to stress and everything else in-between, and no one is sure when everything will be all better and back to normal.
As a company, entrepreneurs, startups and marketers, what kind of content do you even publish?
Marketing during COVID-19 is something that no marketer can say they have directly dealt with before; however, some of the top companies and entrepreneurs in the industry have provided a better understanding of what can and should be done during this time.
Here are the top marketing during COVID-19 tips that all marketers should be aware of during this uncertain time.
1. Understanding internet consumption changes
In the midst of another crisis in the world, Millennials, the largest age range of consumers out there, overall shopping habits have changed quite a bit from their pre-pandemic shopping behaviors.
A recent survey of over 1,000 consumers on e-commerce sites showed that big purchases have been put on hold unless necessary. Millennials are searching for other options as one consumer said, "Instagram is getting really good at re-targeting products."
Overall, Moz and other industries have noticed an increase in 'working remotely' 'Postmates', ''Venmo', 'design tools', 'ethical brands and trends', 'marketing', 'health' and so many other keyword phrases within industries are trending!
Do you offer any of these services? Related services? Now that consumers are being even more conscientious of their purchases, what type of content should a company be promoting.
2. What type of content should we be putting out?
There is a plethora of content that can be worked and changed for marketing during COVID-19, but the most important notion to remember is to not be tone-deaf. While your typical content gets great shares, engagement and brings in sales, this same content can be the exact 'tone-deaf' content our marketers are explaining to avoid.
It is important to understand that content is critical. The first thing is to never exploit the situation; oftentimes in marketing, our methods are to pull on the heart strings, but is that necessarily right during a global pandemic? Another notion to remember is to not raise prices during a time when consumers and companies are in financial burdens.
Don't make homemade masks and change over $20.00. Don't buy bulk hand-sanitizer and then mark it up 50 percent. Leave the hand sanitizer on the store shelves and sell masks for a couple of bucks. If a company says they will help, do not exploit those fears.
3. How do we transition our content?
Offer courses? Consultations? Any other services that you can bundle? In times like this, consumers are searching for a company who is going to offer them the same services but a bit cheaper.
As Neil Patel stated that opening and offering free services for companies might not break him even in the end, it helps out everyone. Patel even noticed an increase in those purchasing services due to his other free offers.
Email marketing, now! Email marketing is a fool-proof way to get your company's content out in front of those who WANT to subscribe to your email marketing newsletters, coupons and courses! It is important to understand that personalization during marketing has never been more important than it is now.
A simple switch in messaging or automated drip campaign could be the changing factor between an abandoned cart or "thank you for your order" email.
Switch out your paid advertisements to fit with the times. Paid ads are cheap right now, now is the time to finally start up that PPC management account or paid social media strategy. With companies who usually dominate the market in their industry with lower levels of inventory or advertising dollars, this allows for the smaller guys to capitalize on this in their market!
In general, for every $1 spent on PPC ads, $2 of revenue are generated, which means that companies during COVID-19 and post who advertise now can help increase their ROI.
4. How is my website traffic?
This is a common question that is asked during COVID-19, and for a number of our clients who are not selling products and services on their websites, it really depends on their SEO and overall digital marketing strategy.
With the update in May,March and April being in the midst of COVID-19, a number of companies and industries are noticing a massive decrease with their online traffic. However, what can help this?
Paid ads on social media, email marketing campaigns, SEO retargeted, finding the top performing pages, content marketing and more.
On Google Analytics, a company can see their top performing pages which could indicate the top services or products that their target audience is consuming or searching for.
A company can run ads, optimize those pages, update those pages with new content, post those pages to social media and run that content in email marketing campaigns. Website traffic is not linear in the average, normal marketing world, so right now during COVID-19 with major purchases on a decline, this is a good FAQ.
5. What should we do?
Continue to adapt and move forward with all operations that your company is able too. Shop local, support other businesses, donate blood or food to food pantries and help everyone out if possible.
Continue to scrutinize each dollar spent on marketing to ensure that those dollars are being funneled to the right ads and marketing strategies.
Contact Us
We want to hear from you, so what are you waiting for? Contact us today.
Get In Touch
Share this post
Comments