The ultimate homeoffice space: The best home office tips to create a WFH oasis
The ultimate homeoffice space: The best home office tips to create a WFH oasis
/images/uploads/blog/OMG-Austin-07.02-Blog__1.jpg
Omaha Media Group
https://www.omahamediagroup.com/images/uploads/monster_gallery/Omaha-Media-Group-Black.jpg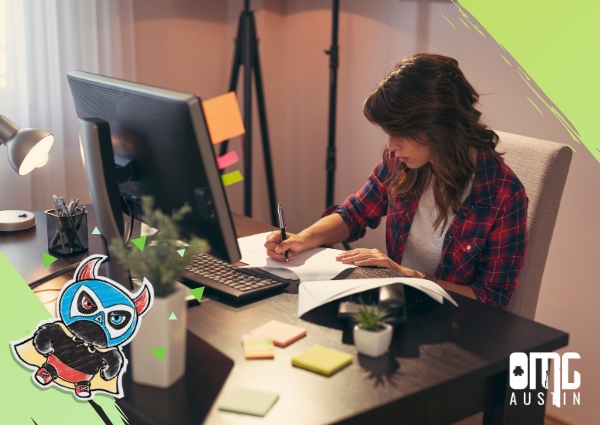 Working from home provides a plethora of benefits and opportunities for those who are fortunate enough to continue to work from home during a global pandemic. While there are a plethora of benefits of working from home such as increased productivity to flexible work hours and more family time, after about 15 weeks, it can be a lot to take in.
For some, the initial excitement of working from home can start to wear off or the exhaustion of what seems to be 100s of Zoom meetings a week can be causing burnout, but no matter what, it is important to continue to stay productive and count ourselves fortunate!
One of the best tips for working from home is to try to continue to remain productive as if you were still in the office! While this can be difficult to do with new distractions like Netflix being a click away on the TV remote, this can be solved with creating an at home office oasis!
Here are some of the

best home office tips to create that perfect home office oasis!

Location is going to be the key in continuing to remain productive while working from home. The location of your at home office, whether it is in your home or an apartment, should be in a space that can allow you to work due diligently and keep away from distractions as much as possible! This is one of the first tips for working from home because you are going to spend at least eight hours of your 24 hours at this desk or in this location. So, make sure it is a proper space for you! If the basement would be best, take over the basement. If the living room in your apartment works best, go for that! Just make sure it works for you.
2. Learn about ergonomics
In learning about ergonomics, it is important to understand that the proper desk, chair and set up is critical for your eyes! Your computer screen should be at eye-level to reduce fatigue. This is because the lower your computer screen is, the harder your eyes are working and in return, this can cause them to dry out and get a bit tired. This means you should splurge a bit on a desk and a chair at most!
You can absolutely find some typical office supplies to help make you more comfortable and efficient such as a mouse pad or a better keyboard, but make sure to invest in a chair and desk!
3. Leave clutter out of the space!
No matter if you are a clean or messy person, one place that should not be cluttered is your home office desk! Make sure that everything has its space and its own place, even the stapler or the cat. No matter what it is, make sure to have adequate space for everything because your at home office desk is probably much smaller than your office desk.
It can start to create a feeling of being overwhelmed which can result in less productivity because you cannot find anything or the space is stressing you out.
4. Make sure it smells good!
Yes, smell is important! Research shows that aromatherapy can increase productivity and lift your spirits! This means you can light a candle, buy an essential oil diffuser, a wax melt for the home office or the Downy unstoppable beads method! No matter the smell, just make sure it smells good and create happy feelings!
5. Bring in the green!
Several different articles all on the best home office tips all suggest that whether the wall be painted green, you add some flowers or fake greenery to the room, it is a must! Since 1989, research shows that plants help to purify the air and improve overall air quality, but it also creates a sense of accomplishment and people tend to stay in these spaces longer!
Have noisy kids or neighbors? Office plants can help here as well! Plants are one of the most common ways that noise is canceled out from noise pollution and highway noise all over the world. This means it can work for those in-home noises as well!
There you have it, five of the best home office tips to help you get started on creating that WFH oasis you have been missing for weeks!
Contact Us
We want to hear from you, so what are you waiting for? Contact us today.
Get In Touch
Share this post
Comments