What our team has learned during COVID-19
What our team has learned during COVID-19
/images/uploads/blog/OMG-Austin-08.08-Blog__1.jpg
Omaha Media Group
https://www.omahamediagroup.com/images/uploads/monster_gallery/Omaha-Media-Group-Black.jpg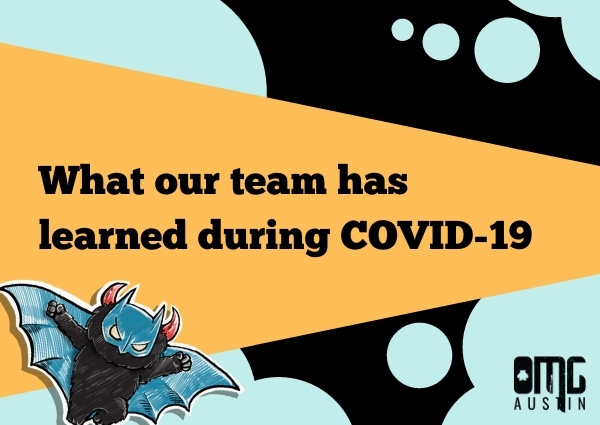 At OMG Austin, our company has been working from home for about 22 weeks. (Maybe longer, who knows, we lost count.) We know, it sounds crazy to hear that, and in all reality, you are probably living the same thing, but maybe in a different county, state or country.
The fact is, no one knows when this will all end, and we have had to get a bit creative in our apartments and houses to keep ourselves entertained and productive. With bars, restaurants and our city and county going back into the mandated lock down, when will we ever see the light again? Thankfully, in Austin, it stays nice all year round, so that is one positive.
With this all in mind, and sounding a bit like a rant, what has our company learned during the last 22 weeks professionally and personally? Here is what we have learned during COVID-19.
Working from home
Not many will deny that there are a plethora of benefits of working from home with more flexibility in hours and family time, plus no commute during rush hours, it has been pretty wonderful. For those of us who are fortunate enough to continue to work from home, it is still important to understand that there is a new system that needs to be set in place!
This ranges from learning new hobbies, learning how to stay productive, or making sure to duct-tape the kids to the floor to get anything done, no matter what it is, it still has its ups and downs. Here are some working from home tips that have helped our team!
It is important to make sure to separate your work space! Creating a space that is only for work made it easier to focus! At this point, the reality is that we might be here for 22 more weeks, which means you need an office space oasis. This can help with productivity levels and set boundaries between your family, significant other or pets.

The art of an effective to-do list! It is important to create a to-do list that helps you to stay on track with your work and personal goals that are in place. Just because you are home does not mean that everything has to fall to the wayside.

Go for a walk and get some fresh air! For the parents out there, you might start to miss that hour long commute in the morning and at night. This is because it was an easy way to unwind and help transition into and out of work mode to mom or dad mode. Right now, there's no transition, you turn off the laptop, walk upstairs and start working on dinner. A walk can help with this and help you transition to that different mindset instead of always feeling like work is "on."

Again for those parents out there, it is important to find alone time when you can. Even if it means waking up at 4:30-5:00 a.m. to have a cup of coffee alone so you can start emails, read the news, scroll through social media. Because without that moment of silence in the morning, you might find yourself a bit more on the shorter end of the stick when it comes to patience and tempers.

Who says you only wear pajamas and sweatpants while working from home? For some, to make themselves feel better, they like to dress up, so dress up. You make the office rules now.
What else has our company learned while living through a global pandemic that has left us feeling trapped inside for the last 22 weeks?
Life stuff
This is all uncertain and a new normal for everyone. Even those who worked from home before the pandemic were still able to go see friends, family and work at coffee shops, but even they have been confined to their small living spaces. Life will always throw you curveballs, but this one is an instant strike-out. What has COVID-19 taught us about life?
"I've learned to completely plan for the worst; all jokes aside whether it comes to buying essentials or preparing for traffic etc. If you plan for the worst case scenario, when/if it doesn't happen you end up being more successful in whatever you're doing. Remember the 5 P's, 'Planning Prevents P—- Poor Performance"!'"

"I have learned the art of slowing down. I don't always have to be busy 24/7 and that I like being a grandma!"

"At the current moment, just being flexible. Like Rob said, preparing for the worst (another lockdown and having food/supplies/mental stability to withstand another round of isolation with kids and preparing for the other worst (going back to school and being at greater risk). No great choices right now so if I just prepare for all of them, whatever happens, will be that much easier to deal with."

"Plan for the absolute worst, complete disruption of life as you know it (Loss of all or some forms of energy, food, and other health supplies, communications, personal/family defense, entertainment/recreational/educational materials), and have plans for a few diff scenarios (aka. contingency planning) should you need to react to such a threat (covid, civil unrest, attack, etc.). Talk to your families even if it's at a high level about what to do and when to act (what execution or go-triggers, etc.). Try not to overthink any of it, survival planning used to be part of everyday life of our grandparents, we have grown up in a pretty convenient lifestyle with visually unlimited resources at our fingertips."
So, basically at this point don't take life too seriously, but you might want to start a small garden or find that potato that is sprouting and plant it. Just in-case everything goes crazy. That is what our company and its employees have learned throughout the last 22 weeks. Keep safe everyone.
Contact Us
We want to hear from you, so what are you waiting for? Contact us today.
Get In Touch
Share this post
Comments