What is inbound marketing?
What is inbound marketing?
/images/uploads/blog/OMG-Austin-07.22-Blog_.jpg
Omaha Media Group
https://www.omahamediagroup.com/images/uploads/monster_gallery/Omaha-Media-Group-Black.jpg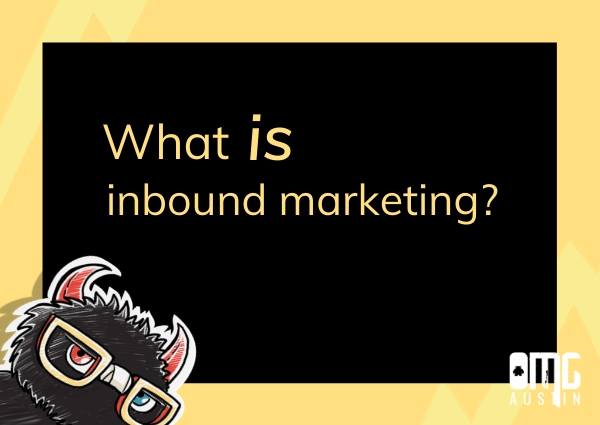 Cold calls, spam emails and TV commercials all are part of a traditional marketing method known as outbound marketing. While the "MadMen" series depicted the realities of outbound marketing in the 70s that was super successful, but in our own reality, the digital world has switched to our own "MadMen" reality of marketing and advertising!
OMG Austin is an example of a Texas inbound marketing agency that is paving the way for inbound, more new age, marketing methods such as Digital Marketing!
Our companies provide a modern way of marketing with effective inbound marketing efforts that bring the customers to you with brand awareness, creating authority in search engines and so many other strategies!
What is inbound marketing?
Inbound marketing is an overall marketing strategy that helps companies create brand awareness while bringing in qualified leads, sales and website traffic through several different marketing strategies such as Search Engine Optimization, Social Media Marketing, Digital Marketing and Content Marketing efforts.
Inbound marketing brings potential sales and leads to a company with effective marketing research, analytics, crafting the perfect messages and strong Call-to-actions (CTAs) in place.
The rise of digital strategies and technology has paved the way for companies and marketers to adjust their marketing strategies to fit with their consumers. Consumers are on the Internet and make their first impressions with the help of the Internet. Here's a great representation of how inbound marketing works today versus traditional marketing, also known as outbound marketing works.
This shows that consumers are finding companies differently than before, but the marketing funnel itself has changed as well. A company can no longer ignore inbound marketing strategies.
A company can no longer rely on outbound marketing strategies alone. Our Texas inbound marketing agency always recommends that a company implements inbound marketing with their traditional outbound marketing strategies in order to optimize their overall marketing campaigns.
What are the most common inbound marketing strategies?
Search Engine Optimization (SEO)
Search engine optimization is the process of optimizing a website to rank in search engines such as Google or Bing. The process of optimizing a website takes a considerable amount of hard work and some tears, but is one of the most effective inbound marketing strategies that a company can implement!
This is because without implementing SEO strategies, a company may never rank in search engines! It is estimated that a consumer will never click past the first page of Google, and more than likely, will not look past the first five search results.
Oftentimes a company comes to our Texas inbound marketing agency with zero rankings! The results in semRUSH will be nothing more than some branded keywords or a couple of 50 or lower ranking in search engines. This means that not one potential new consumer is finding your company's website without hearing about it before or a referral based search.
Digital marketing (DM)
Digital marketing is the implementation of SEO and Social media marketing (SMM) strategies! Digital marketing utilized both of these inbound marketing strategies to help bring in potential customers on a broader scale! Digital marketing helps a company create the brand awareness that they are searching for while maintaining trust and relationships with current clients.
Social media marketing
That content you are creating in your digital marketing strategies and SEO efforts should be shared on social media. Social media marketing is marketing and advertising strategies on social media platforms such as Twitter, Facebook and Instagram! This helps reach a larger audience that is your company's target audience without having to do any extra work!
Inbound marketing methods are some of the most effective marketing strategies out there! If your company is paying for billboard impressions, why not pay for social media impressions or website impressions? It is important to understand that outbound marketing is not completely gone, but should work in conjunction with inbound marketing efforts.
What is the difference between inbound and outbound marketing?
The difference between inbound and outbound marketing is that inbound brings qualified leads and potential clients right to your inbox; on the other hand, outbound marketing has to work harder to bring in those qualified leads and potential clients with more traditional styles of marketing and sales.
Inbound marketing methods are some of the most effective marketing strategies out there!
Learn more about how our Texas inbound marketing agency can help your company maximize its marketing campaigns and budget today
Get In Touch
Share this post
Comments