How to automate your marketing for the holidays
How to automate your marketing for the holidays
/images/uploads/blog/OMG-Austin-12.07-Blog__1.jpg
Omaha Media Group
https://www.omahamediagroup.com/images/uploads/monster_gallery/Omaha-Media-Group-Black.jpg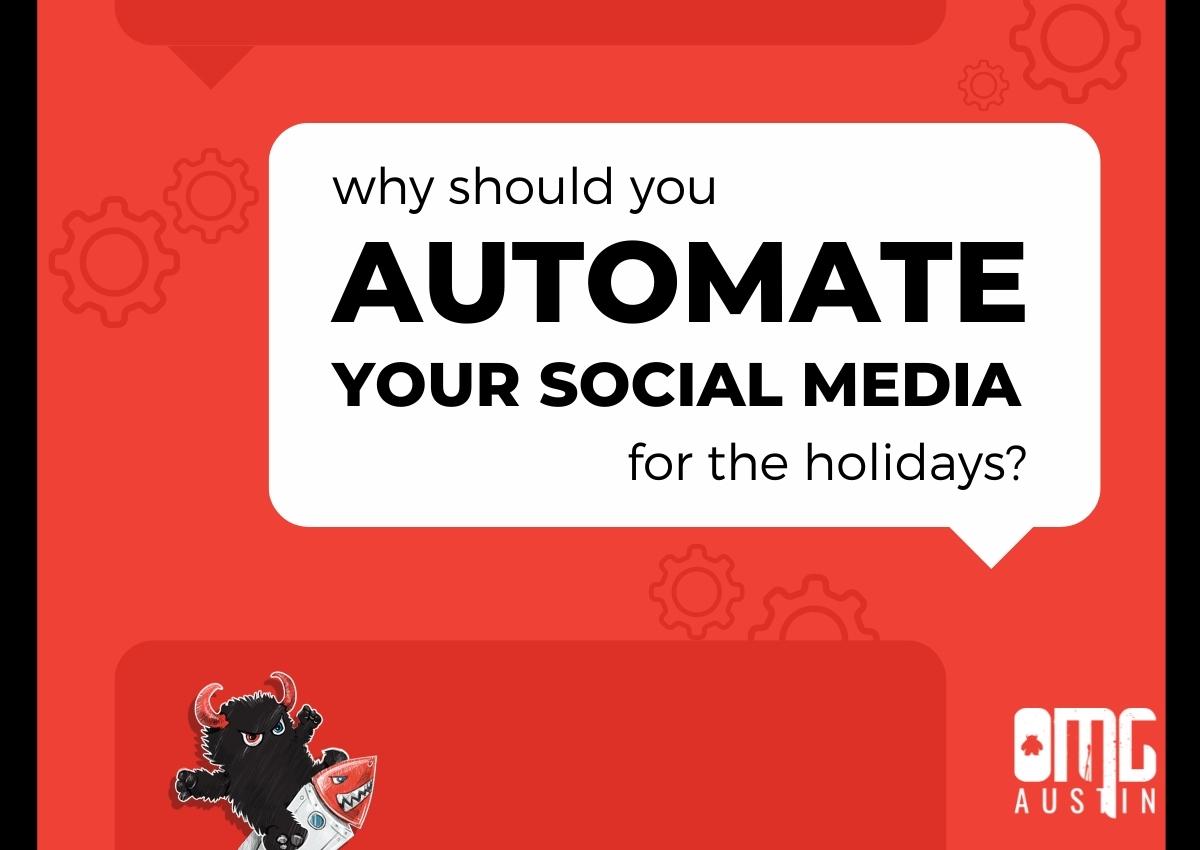 The holiday season is a busy time for everyone. This is especially true for companies that do not have good holiday marketing campaigns. Thankfully, our experts from marketing agencies in Austin TX can help them execute and manage all their holiday marketing campaigns.
It is important for companies to stay on top of their digital marketing campaigns during this time because consumers will be researching before they make a purchase. According to Think with Google, 53% of shoppers say they always do research before they buy to make sure they are making the best possible purchase.
To ensure you stay on top of your marketing efforts, our experts from marketing agencies in Austin TX recommend you automate your marketing. Setting your marketing in auto control during the holiday season can help save you time and money while also allowing your employees to enjoy the holidays with their families.
How to automate your marketing for the holidays
Create a content calendar
There is a ton of content you have to create when planning your holiday content. There are emails, social media posts, blogs and more. The best way to stay ahead of the game is to write all your content ahead of time by creating a content calendar. This calendar is a helpful tool that is used to plan your strategy, review your content and schedule everything ahead of time.
Finding the best time
After you have all your content writing done, you should think about when you are going to schedule that content. Although you might have found the best time to post your content during a normal week, you should consider the holidays to affect that timing. People's schedules will have shifted. Since people will be spending time with their family and friends, you should think about when people are most likely to scroll through phones or check emails. On New Year's Eve, for example, people are more likely to check their phones earlier in the day rather than in the evening.
Schedule your content
Once you get your content written and the perfect times picked, it is time to schedule your content. You can schedule your content for all social media platforms through a scheduling platform like Monstrous.Digital. It can help you make sure all your posts are scheduled and easy to view in one convenient place. Plus, it can help you collect important data for your future digital marketing campaigns.
Segment your email marketing campaigns
Email marketing is an important part of any holiday marketing campaign. Your customers are more likely to share their emails or look in their boxes for discounts. One email marketing strategy for the holiday season is segmenting emails. This email strategy divides your audience depending on their demographic and customer journey. It is critical you target your customers in the different stages of the customer journey they are in. Sending generic and irrelevant emails to your customers can cause them to unsubscribe.
Setup automatic inboxes
If your company usually gets a lot of messages, you should automate your inboxes if you have not done so already. For social media, there are features on Instagram and Facebook where you can create responses to frequently asked questions.
This can help customers get fast responses while you are away from the desk. Another way to answer your customers' questions is by setting up a chat option on your website. Again, this feature can answer your customers' most frequently asked questions about their orders, delivery or return policy.
Need help automating your company's social media? Hire one of the best

marketing agencies in Austin TX.

At OMG Austin, we can help you manage your company's marketing through the holidays and all year round. Our marketing professionals can create, manage and execute all your digital marketing strategies, from email to social media marketing. Contact us today to learn more.
Contact Us
We want to hear from you, so what are you waiting for? Contact us today.
Get In Touch
Share this post
Comments