What is web design?
What is web design?
/images/uploads/blog/OMG-Austin-02.16-Blog_.jpg
Omaha Media Group
https://www.omahamediagroup.com/images/uploads/monster_gallery/Omaha-Media-Group-Black.jpg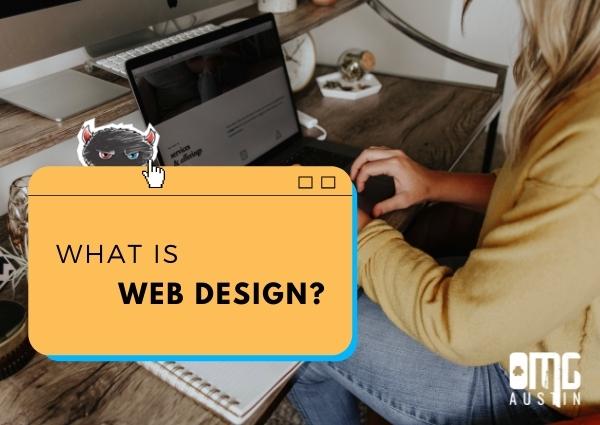 Your company's online location is just as important as its physical location. You want to have a website where your customers can find your physical location, get store hours, learn about your products and services or even place orders.
The first step to building a website is designing one. How your website looks has a significant impact on its success. That is why our website design Austin TX team wants to break down the importance of website design and what makes a good web design.
What is web design?
As the name suggests, web design means the design of sites on the Internet. This aspect focuses primarily on the user experience rather than the development side. Web design elements include appearance, layout, content, images, colors and fonts.
Why is web design so important?
In today's digital world, it is not only essential to have a website but have it designed well. You need your website to look good for your users and search engines. The first thing that people see even before they visit your business is your website. Think with Google reports that 83 percent of U.S. shoppers who visited a store in the last week used online search before going to the actual location.
Another reason why the design of your website matters is in terms of search engine rankings. You want your website to rank high on search engines, so people can find your product and services more efficiently. When it comes to ranking, search engines take into account how user-friendly a website is. If your site is hard to navigate or takes too long to load, then people are more likely to exit your site. Search engines bots will pick up on this and lower your site's ranking.
Should you design your own website or hire an agency?
As you can tell from above, there is a lot at stake if your site's design is bad. So that leaves many people questioning, should they design their own site or get the help of a professional? People can build their site nowadays thanks to online providers like Squarespace, Wix or WordPress. However, DIYing your own site comes with a price - that is lots of time and knowledge. You need to take time researching, building and maintaining the site.
Hiring the professional help of a website design Austin TX agency is one of the best options if you want to save time and money. Agencies have tons of experience building websites and can help you map out the design of your site to get you the most success. They have all the tools to build your site, so you do not have to put in extra money. Plus, handing over the design of your site to a professional will give you the peace of mind that your site will be designed on time.
The elements of a good website design
An easy to follow layout
A website layout is one of the most important elements of any website design. The layout is the arrangement of the site's visual elements on a webpage. If the website's layout is unorganized, users are more likely to exit the site. Some good website layouts to use are:
Z-pattern layout

F-pattern layout

Split-screen layout

Full-screen image layout

Single column layout
Clean and bold fonts
Would you stay on a site that is hard to read? Probably, no. That is why it is important to use clean and bold fonts in your website's designs. You want to avoid using fonts that are hard to read or too tiny. It is recommended that websites:
Use standard fonts

Limit line length

Avoid all caps

Don't use more than three different fonts
Fast speeds
If you want your website to keep users happy and rank high on search engines, then you need to make sure it loads fast. Having slow web pages will have people clicking off them. A report has found that 47 percent of Internet users expect a web page to load in an average of two seconds.
Are you looking for a

website design Austin TX company?

Choose OMG Austin! We provide web design and development services to large and small companies in Austin, Texas. Not only do we design each website to not only be aesthetically pleasing but keep the searcher in mind. Contact us to get started today!
Contact Us
We want to hear from you, so what are you waiting for? Contact us today.
Get In Touch
Share this post
Comments