Why restaurants need social media marketing
Why restaurants need social media marketing
/images/uploads/blog/OMG-Austin-06.01-Blog_.jpg
Omaha Media Group
https://www.omahamediagroup.com/images/uploads/monster_gallery/Omaha-Media-Group-Black.jpg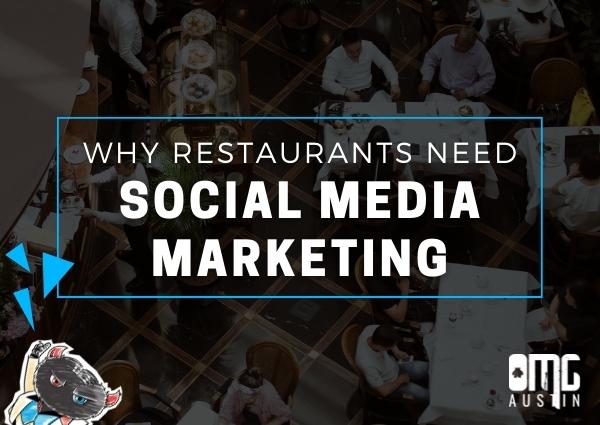 For many people, social media is a major part of their life. It is where they stay connected with friends, family and favorite businesses. One of those businesses is restaurants. People love to follow and support their favorite local restaurants. A report found that millennials and Gen Z actively use Instagram to select restaurants.
What this means for restaurants is having an active presence on social media is critically important. It also means that just being on social media is not good enough. Staying active and having a solid social media marketing strategy in place can make a huge difference. Our social media management Austin team wants to share just how you can create a successful social media marketing strategy for your restaurant.
The benefits of social media marketing for restaurants
Social media marketing is the use of social media platforms to market a product or service. Using this digital channel is beneficial because it allows for visual content to be shared. Sharing visually appearing plates can help your business do well and get people through your doors.
Some other benefits that social media marketing can provide to restaurants are:
Increase brand awareness

Increase lead generation

Nurtures leads

Provides custom content (User-generated content)

Grows your audience

Grows your reach
Which social media platforms should restaurants be on
Facebook
Facebook has transformed into one of the most widely used social media platforms out there. It provides small to Fortune 500 companies and creators with the ability to reach their audience from their living room to the next stop in their night on the town. One of the best parts about Facebook is the ability to join and create Facebook Groups. A great group to join is Austin Foodies! It is a community of foodies, and local restaurateurs all gathered together to share their love of food.
Instagram
If there is one social media platform that every restaurant should be on, it is Instagram. This social media platform is all about visuals. Users can share pictures and videos on these platforms. In fact, some of its most used hashtags are food-related.
Aside from showing your plates, Instagram also helps spread the word about your food. 69 percent of millennials love to take a picture of their food and share it on social media before eating. This helps spread the word about your food.
Yelp
While Yelp is technically not part of the social media marketing world, it is a third-party platform that does hold some weight when it comes to patrons picking your restaurant over the other. Users are able to leave insightful reviews about the restaurant they have visited.
This insight helps give future customers what they can expect. In major metropolitan cities, there is something called "Elite Yelpers." These are a group of people who leave awesome and sometimes not awesome reviews of businesses and restaurants.
Hire one of the best

social media management Austin companies!

Are you ready to increase your business's foot traffic? Let us help with a social media marketing strategy from us! Our social media experts can manage your social media platforms to create engaging content. Contact us to learn more about our social media marketing services.
Contact Us
We want to hear from you, so what are you waiting for? Contact us today.
Get In Touch
Share this post
Comments