2021 trends for a company's website and digital marketing
2021 trends for a company's website and digital marketing
/images/uploads/blog/OMG-Austin-01.06-Blog_.jpg
Omaha Media Group
https://www.omahamediagroup.com/images/uploads/monster_gallery/Omaha-Media-Group-Black.jpg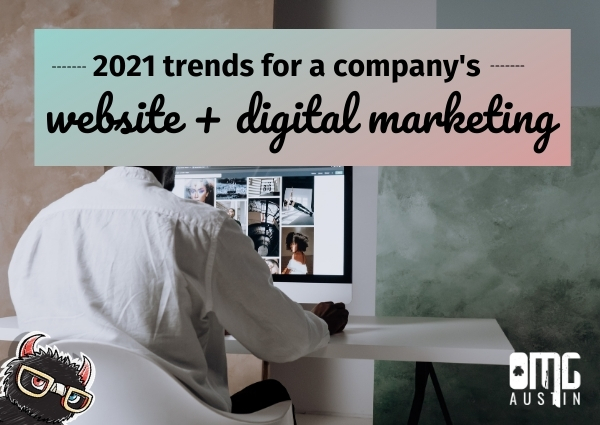 After the year everyone has had, it is important to celebrate and move forward as much as possible from 2020. From learning the real meaning of "agility" and "being flexible" to the whole "be human" aspect of marketing, design and development strategies, for marketers, designers and developers alike, it has been an unprecedented year that everyone has learned something new from.
As companies find themselves ramping up their digital strategies from a new website design or a rebranding, it is imperative that companies find themselves up to date with the latest 2021 trends!
As one of the leading marketing firms Austin, OMG Austin has compiled a list of the top six strategies for companies that need to stop ignoring this new year from their marketing to their development strategies.
Now, this isn't a traditional SEO strategy that Instagram set in place. Instead, Instagram has now made it seamless to simply type into its platform "Austin Texas" and a number of results populate. Before this update, consumers and companies alike had to use the hashtag symbols to search for content, but as this update shows, this can change the entirety of the strong Instagram bio game!
With this in mind, hashtags are still an extremely important aspect of Instagram and will always be important, but for consumers, this could make things a bit easier to find new content.
As one of the leading marketing firms Austin, our experts suggest that companies play with the old and new features and make sure they figure out what their best option is for Instagram SEO, "keywords" and marketing.
2. Custom graphics
The year of 2020 really started to transform a number of industries, and one of these was graphic design! From the graphics that were published on social media to text heavy videos that allow consumers to engage with the video without the sound present!
These are the top custom graphic trends in 2021 from Venngage.
3. Get your Facebook and Instagram shop set up
As COVID-19 shut down storefronts for months and changed hundreds of industries in a span of weeks to months, one of the changes in our industry was the rise in ecommerce websites and social ecommerce strategies.
Social commerce is taking a company's products and selling them on social media platforms such as Facebook Shops, Marketplace and even Instagram shops! OMG Austin, one of the leading marketing firms Austin, finds that this strategy has only built off of old strategies before Facebook and Instagram allowed for these shopping features.
For those companies who are searching to upgrade their ecommerce marketing strategies and bring in even more ROI this year, follow HootSuite's foolproof guide on how to set up your Instagram shopping for your business.
Our experts have noticed that scrolling options have been a topic that has had a considerable amount of buzz behind it, and one of these scrolling options is horizontal scrolling. One of the biggest notions to keep in mind when it comes to changing scrolling options is to make sure that users can navigate through the website with traditional scrolling options, especially for those with disabilities who are using technology to help them navigate your website.
At OMG Austin, this is probably one of the biggest updates for 2021 that we are very excited about because this is our most utilized CMS! ExpressionEngine 6 is in deployment at OMG Austin, and for all new clients, we cannot wait to utilize all of these new features on your website!
Why does our team utilize this over others on the market? This is because ExpressionEngine is one of the most secure content management systems on the market with difficult to hack security, provides customization unlike any others and is easy for our clients and marketing team to utilize on a weekly, monthly or yearly basis!
While this is not a trend specific to 2021, it is a part of the checklist that all companies should keep an eye out for! An SSL certificate is the piece of "paper" that keeps your website secure for searchers and alerts search engines that you are secure. Once an SSL certificate expires, this is when companies can find themselves in a world of hurt with confidential information being less secure and easier to hack.
Contact Us
We want to hear from you, so what are you waiting for? Contact us today.
Get In Touch
Share this post
Comments