How the grinch stole your website traffic
How the grinch stole your website traffic
/images/uploads/blog/Omaha-Media-Group-12.20-Blog_.jpg
Omaha Media Group
https://www.omahamediagroup.com/images/uploads/monster_gallery/Omaha-Media-Group-Black.jpg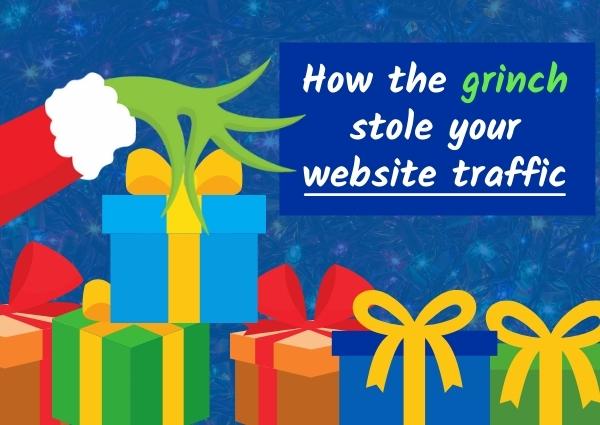 As the song goes, "You're a mean one, Mr. Grinch!" He is so mean that he likes to steal your website's traffic while you are celebrating the holidays. Of course, there is no warning or notification that warns you of this mischief.
It occurs quietly while you are preparing for your long holiday vacation, attending holiday parties, or Christmas shopping for the whole family. Most people do not notice their traffic has disappeared until they do their end-of-the-year reporting.
If you notice a drop in your company's website traffic, it could be due to these four reasons.
How the Grinch steals your website's traffic
The Grinch misunderstands the baseline.
During the holiday season, most people are busy holiday shopping. That means that most people are using ecommerce or other retail websites. Your company's website could see a drop in traffic around the holiday months.
That is why it is important for your company to understand its website baseline traffic around the holiday season. This baseline might look different than the other months. From there, you can make adjustments to your marketing according to its performance.
The Grinch uses the wrong keywords.
An SEO strategy that many companies use is using keywords. This term is used to describe ideas or tops that define your content. Specific keywords are used in your website's content to bring in a certain audience.
These keywords are found through extensive keyword research. However, if random or competitive keywords are placed in your content, your company's website might not get any traffic or get traffic from an unrelated audience.
The Grinch uses spammy links.
Link building, also known as backlinking, is crucial for the overall SEO strategy. Since 1998, Google has stated that backlinks are one of the many contributing factors to ranking in its search engine.
Research shows that the more backlinks a page have, the more traffic it will receive from search queries in Google. However, backlinks are not equally effective in the strategy. The backlinks that will be stealing your website traffic are known as spammy backlinks.
The more spammy backlinks the Grinch has inbound to your website, the more traffic will be affected! Now, websites could start to rise, but website traffic will dramatically decrease once these links are disavowed or dropped off.
The wrong traffic will decrease and hurt website traffic no matter what.
The Grinch has an outdated website.
A security breach is something no company wants. That is why companies should update their websites. Research has found that the life span of a website is on average two years and seven months.
A site older than two years might look outdated, and depending on the CMS in place, it can be prone to security breaches. An outdated website gives the Grinch the best opportunity to ruin the Christmas and New Year's celebrations in Whoville.
Not only does an outdated template or website pose the ability for security breaches, but Google's latest update can work with the Grinch.
The Core Web Vitals Update started around November 2020, which released the new page experience signals, but in 2021, the update launched in two parts, which released several different requirements.
Not only because of security but also because of this update, it can hurt the website's entire ranking and traffic!
Did the Grinch steal your website traffic?
As you can tell from above, the Grinch is a mean one! The good news is there are ways to avoid his mischief. If you want to protect your website's traffic, let us help! Our creative Monsters can ensure your website gets nothing but quality content. Contact us to learn more!
Contact Us
We want to hear from you, so what are you waiting for? Contact us today.
Get In Touch
Share this post
Comments