A Guide To Writing The Best "About Me" On Your Website
A Guide To Writing The Best "About Me" On Your Website
/images/uploads/blog/OMG-Austin-07.02-Blog_.jpg
Omaha Media Group
https://www.omahamediagroup.com/images/uploads/monster_gallery/Omaha-Media-Group-Black.jpg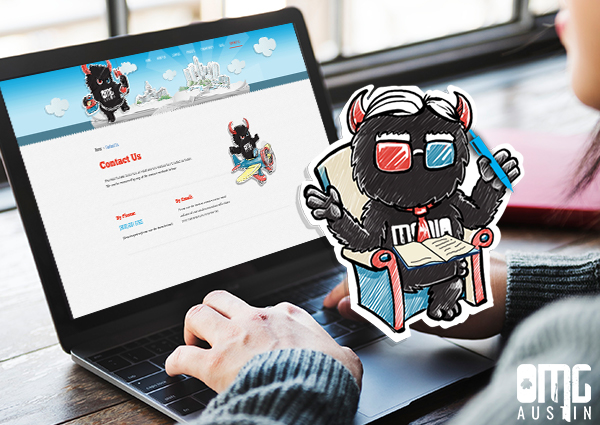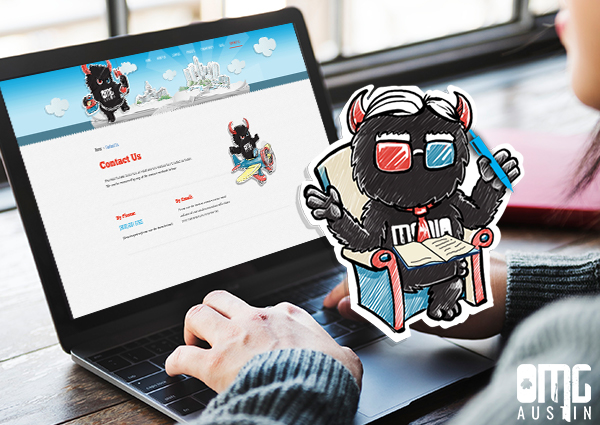 A common website page that is forgotten about until the last minute is the "about us," page. This page often ends up being a last minute slap something on the page and launch the site type of page.
We have all read one. There are grammar mistakes, the wording seems off, or there is little content. This is the exact opposite of what you want to do!
The about us page on a website tells potential customers who your business is and what your business conducts. Often like meeting someone for the first time, the first impression of your website can make or break it. (Don't show up to a black tie event in a tracksuit and sneaker).
The Need for an About Us Page
The about us on a website should be a page highlighting your company's story and brand that makes a lasting impression. (In a good way)! The objectives of your about us page are:
Communicate the services or products your company sells or provides
Show the culture of your business
The company's values
Quality content that represents the business
Let's use our own website for a great example!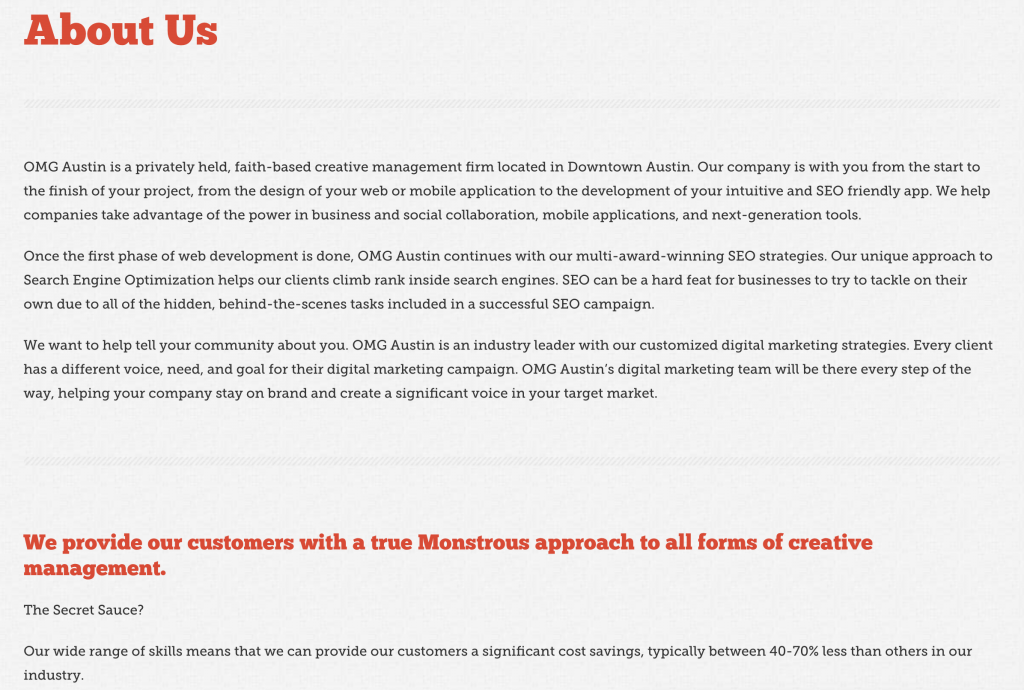 We explain OMG Austin's values in the very first sentence provided on the page. We communicate the services we can provide to your company in the second half of the first paragraph.
We show our potential customers that everything we do is to help you! Whether it be a mobile application or digital marketing strategies, we are here for you!
The helpful and inviting culture is displayed. Finally, our content is quality content. There are no spelling errors, grammar errors, or content that seems last minute.
Tell your company's story. Show customers who you are. Explain what you bring to the table.
You Want to Grab Their Attention
On average, someone views a website for less than 59 seconds! If your content is terrible your potential customers will go somewhere else. If the page is slow, not optimized, or layout is terrible they'll go somewhere else.
How do you grab someone's attention in this short of time? Clear. Concise. Creative.
Remember these three words. You really do not want a ton of fluff. As you can see from our website, we keep it clear, concise, and creative!
Also remember who will be reading this website. If it is full of jargon for someone who knows nothing about your services, they will leave! Leave the about us section just about us. "The Journey," is cheesy and cliche.
Are you in Austin, Texas? Denver, Colorado? New York City? Where are people going to find you?
You want potential customers to know where you are located. There are a TON of internet scams out there and no location makes you seem like another scam.
You can add a Google Maps to this part of your website to show where you are.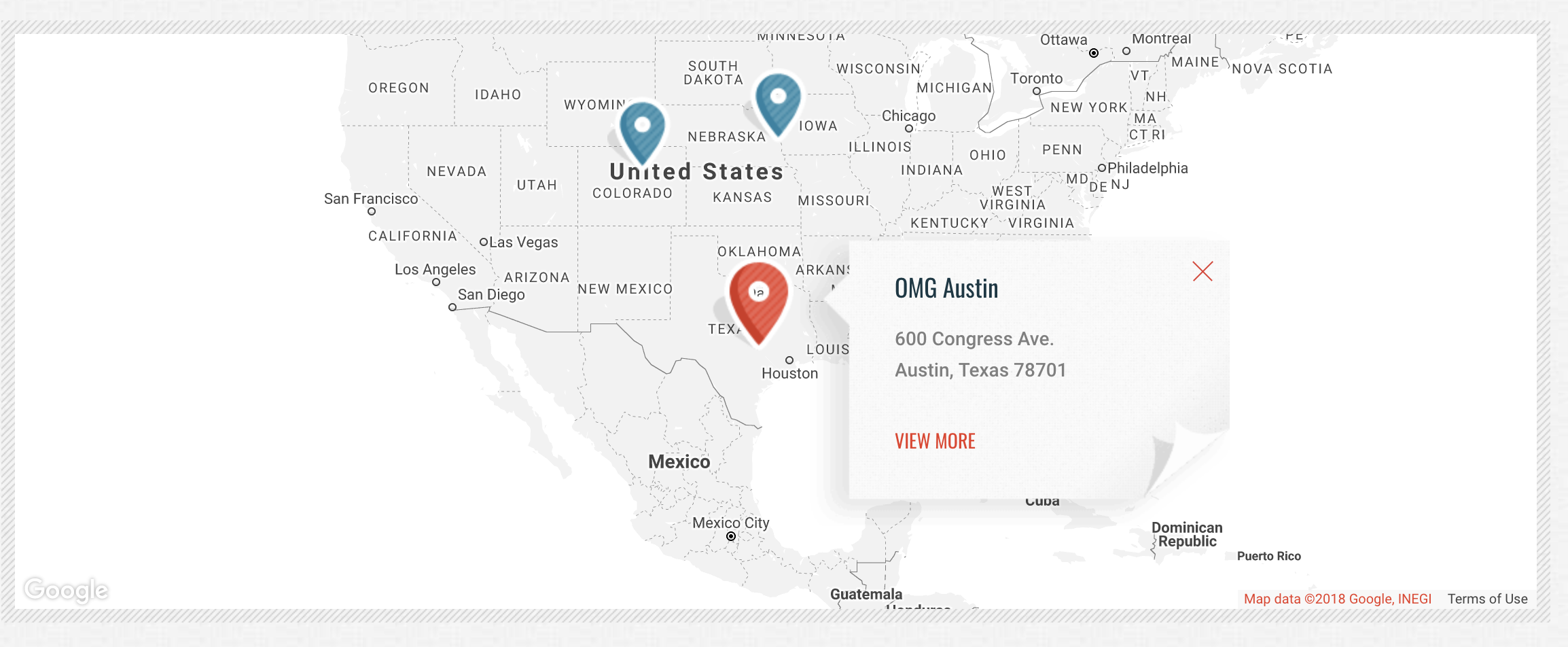 A business can make this as zoomed in or detailed as possible. Hey, we also show the other branches of OMG! Check 'em out.
Make Sure It Reflects Who You Are!
At the end of the day, if you are selling sneakers make sure it reflects this. The high-tech video that relates to nothing you are selling is not helpful.
It's confusing. Instead add a video showing the warehouse of sneakers you offer to potential clients. This will knock their socks off.
You want to keep the tone the same as well. You would not want a professional tone on this website. You would want a fun and relaxing tone.
However, there is a thin line between professional and silly. You want to stay between the two.
The about us page is who your business is. Are you financial brokers? An eCommerce? A hotel? A nightclub? Whatever you are, be you.
A potential client found you to being with so now wow them. An about us page can turn a potential customer into a lifelong customer.
Is your business lacking a great about us page. We can handle that. Contact us today!
Contact Us
We want to hear from you, so what are you waiting for? Contact us today.
Get In Touch
Share this post
Comments