UPDATED: How bad SEO is sabotaging your business
UPDATED: How bad SEO is sabotaging your business
/images/uploads/blog/OMG-Austin-07.15-Blog_.jpg
Omaha Media Group
https://www.omahamediagroup.com/images/uploads/monster_gallery/Omaha-Media-Group-Black.jpg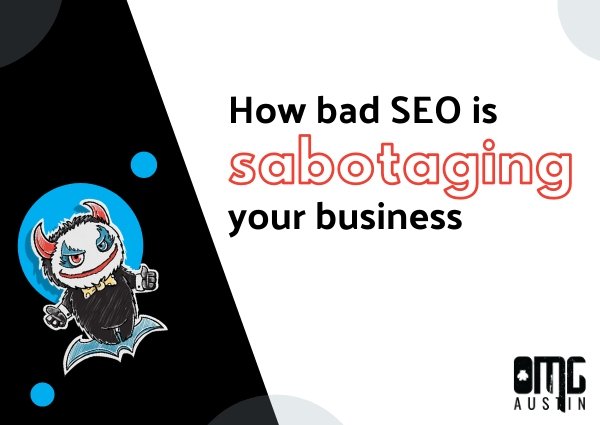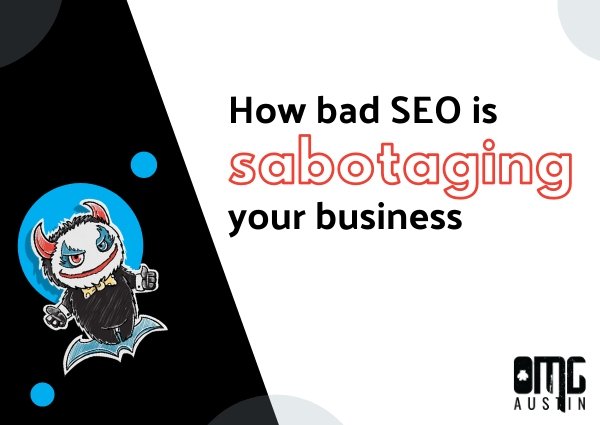 A company's biggest advantage is finding the right Austin SEO company that provides a number of on-page and off-page technical organic SEO strategies that help their website crawl in Google's SERP!
Why should a company implement SEO other than experts continue to tell them to? There are several reasons that SEO is important from creating trust and credibility with your target audience to garnering trust and credibility with search engines to rank on their first page.
A company wants to be the best of the best, but the wrong SEO strategy is sabotaging your company! Take it from a leading SEO company in Austin Texas, run from any other experts who follow these strategies.
How would you know "to run away" from an expert?
In the SEO world, there is a running joke of "the battle of that hats." The hats are known as White hat SEO and Black hat SEO. One of these experts follows search engine's guidelines and never guarantees results; on the other hand, the other expert follows outdated practices that "promise ranking" which can get a company in some serious marketing trouble with Google.
The biggest way to understand if an SEO expert or agency is following Black hat SEO strategies is someone who guarantees a ranking in X time frame. A reputable SEO company in Austin Texas should never guarantee a ranking in search engines because there are too many factors in the equation.
Now, if a company says, "we can get you to start ranking in six months" or "it will take a minimum of six months to see any results." That is okay! What you do not want to hear from an expert is "we will get you on the first page of Google in six weeks." That is not realistic and is a telltale sign that they are using Black hat SEO strategies!
Here are 44 other common ways that "experts" oversell because their tactics are not providing the right strategies.
In the SEO industry, keywords are one of the main components of a successful SEO strategy in place. This is because a company should not just rank for any keywords out there, but specifically for keywords that their target audience is searching for.
In our industry, there are rules of thumb in place to make sure that old, outdated practices do not hurt a website's ranking! One strategy that is self-sabotaging is keyword stuffing.
This is taking several keywords and using them as many times as possible in the website content. This could mean a couple of keywords are used up to 10 times or even more. Now, at first, this might work for a website; however, Google will start to catch on that the website is being stuffed with keywords on the pages and could even result in being blacklisted.
Making pages compete with one another
This can be called "keyword cannibalisation." This means that more than one page has the same or similar keywords being targeted. When this happens, this can make internal website pages compete against one another in Google.
There are over 1.5 billion pieces of content out there and over 90 percent of content published will never see the first page of a search engine, so why make it harder on yourself?
There are several issues with this.
It is silly. Save the competition with the ACTUAL competition.

This is a bad SEO tactic. This is what every SEO expert will advise a company not to do.

This messes with all of the backlinking and SERP work that has been done behind the scenes.
Eventually, this will cause one page to start outranking others that it should not be.
Misusing landing pages
A landing page is the perfect place SEO strategies, running campaigns, email marketing campaigns and even more. Misusing a landing page or the wrong SEO strategy are basically done for nothing. Google will not find the page, it will not rank and do as good because of bad habits which could ultimately stop lead generation.
Duplicate content
Google will crawl the pages on your website, when it finds the same content, it will flag this page. How does duplicate content happen? With open forms, e-commerce stores and when launching a website without changing website content. With content, there is a behind the scene strategy going on that most are unaware of, backlinking!
Wrong backlinking
There is a right way to backlink and there is a wrong way. The wrong way is taking "spammy" backlinks and adding these links into your website content that is optimized for search engines. This is considered as "black hat" search engine strategies. This is how Google deems a website is trying to cheat their way to the first page. The issue with this is that it goes against Google's guidelines set in place; in return, Google will drop a website's ranking and can even blacklist a website. Once a website is blacklisted, this means the domain name, URLs and everything is gone! A company has to start all over again.
OMG Austin, an Austin SEO company, suggests against the wrong SEO strategy for any company. Furthermore, never DIY SEO. At the end of the day, it is just sabotaging the website and marketing efforts themselves and not doing any good.
Contact Us
We want to hear from you, so what are you waiting for? Contact us today.
Get In Touch
Share this post
Comments