Engagement on social media platforms
Engagement on social media platforms
/images/uploads/blog/OMG_Austin-09.25-Blog_.jpg
Omaha Media Group
https://www.omahamediagroup.com/images/uploads/monster_gallery/Omaha-Media-Group-Black.jpg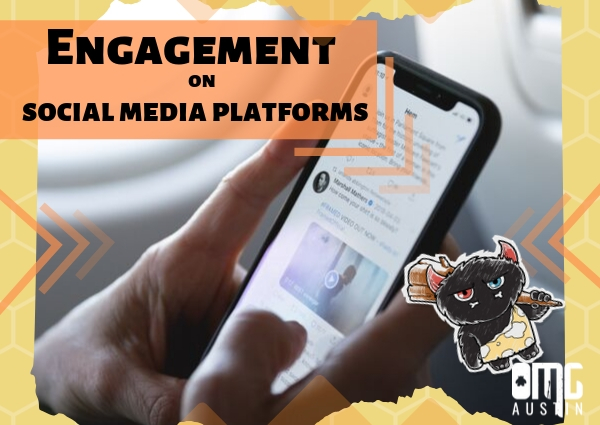 "The incredible brand awareness and bottom-line profit achievable through social media marketing requires hustle, heart, sincerity, constant engagement, long-term commitment, and most of all, artful and strategic storytelling." -Gary V.
As one of the leading digital agencies Austin, we could not have said it better ourselves, Gary V. You might not have 550 followers on Instagram because no one is engaging with the posts.
Social media engagement is building and fostering a relationship with a target audience. It takes dedication, time and a team who cares. The ability to comment back, respond to comments, negative reviews, retweet and share posts and a number of other common engagement methods takes dedication.
This open line of communication helps to nurture a connection with consumers and opens the lines of communication between a consumer and business.
What is the preferred channel of communication for consumers and a business? Social media. However, as social media platforms continue to change and focus on engagement, why does it matter?
Why does it matter?
It matters because without engagement on social media platforms, the amount of reach to your target audience slowly declines. In 2018, Instagram released why businesses overall reach was down on their platform. This is because of a new algorithm, which takes into account the content on a user's feed and prioritizes this feed.
Loyal consumers will be getting each and every update on their Instagram. For a consumer who likes posts here and there, updates will show later in their feed. The biggest notions to remember is that:
Relationships matter: If a consumer is constantly engaging or has engaged with your posts, more than likely, your future content will be in their feed. The order of it being in their feed depends on if they are loyal or not.

Interests: Are consumers engaging with content that is similar to yours? The more the algorithm learns this user's patterns, your content will start to show up in their feed.

Posting: There is no such thing as chronological order. It is dead. Not coming back. What do you need to do? Post each and everyday.
So, what should a business do? First things first, find digital agencies Austin to handle their social media management.
How to increase it
The short simple truth from us, engage with users. If consumers are constantly commenting, sharing, liking and leaving reviews for your products or services, then engage back. Be personable and transparent.
"Hey Thomas, thanks for leaving a review. We hope you enjoy your new boots!" It really is that simple for a review. Would you love it if a business or product you constantly used reached out to you? More than likely the answer is yes for everyone!
Second, social selling! Explain how YOUR products or services can help to change their lives. The significance of the message and offering needs to be targeted at their struggles. This can be done with user-generated content a.k.a social proof.
" Jenny tried out products and has never turned back!" Why does this matter to consumers? It has been the main tacket behind marketing since 1951.
The next step is to be consistent and commit to it. Do you know you cannot commit to engagement? Let digital agencies Austin handle this. Our digital marketers go into each account and follow back consumers, respond to comments and monitor engagement. Now, if there are negative comments we cannot respond to, our professionals will send it your way.
Create a conversation because that is what social media was created for. A conversation can help to garner leads and nurture relationships with loyal consumers.
For the rest of our secrets on engagement, contact us today!
Contact Us
We want to hear from you, so what are you waiting for? Contact us today.
Get In Touch
Share this post
Comments