Social media trends for 2023
Social media trends for 2023
/images/uploads/blog/OMG-Austin-01.18-Blog__1.jpg
Omaha Media Group
https://www.omahamediagroup.com/images/uploads/monster_gallery/Omaha-Media-Group-Black.jpg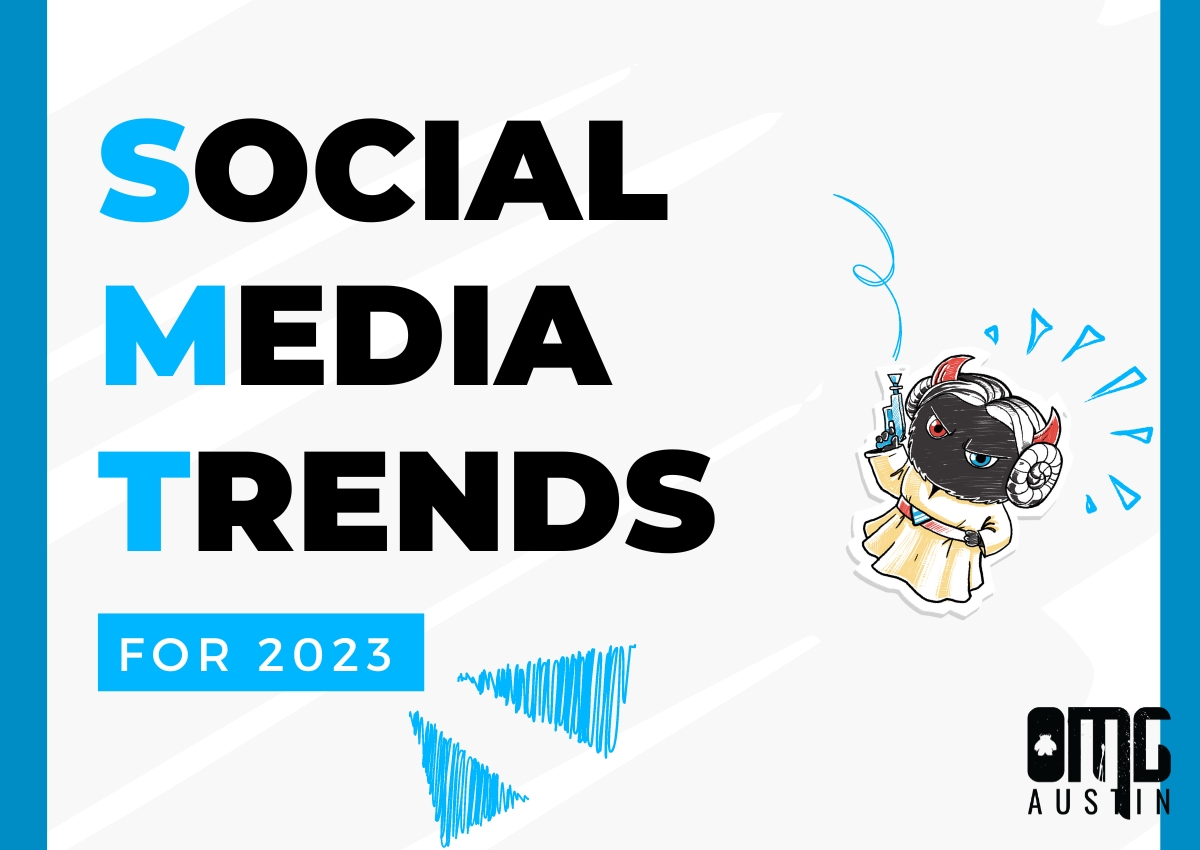 Social media is vital for companies in today's digital world because it attracts customers, gives you customer feedback and builds customer loyalty. When creating your social media strategy, an Austin social media agency suggests you must remember the latest social media trends.
Staying on top of trends will help you better capture your customers' attention by staying relevant and standing out from the crowd. Our Austin social media agency team has done the research, and these are the social media trends that we predict will take over in 2023.
Social media trends for 2023
Brands being more authentic
If there is one thing that we will continue to see a rise in 2023, it is authenticity. More consumers want authentic content across social media rather than professional and polished posts. In 2022, we saw the rise of social media platforms that provide filter-free content, like BeReal and TikTok.
Experts predict that this demand will continue to grow in 2023. Some ways that companies can make their brand more authentic are by:
Using user-generated content (UGC)

Being honest and transparent

Not always doing calls-to-action

Owning your mistakes

Creating engaging content
Short-form videos will dominate
If there is one thing we will continue to see in 2023 it is short-form videos. More and more brands will start to incorporate short-video content into their existing strategies. This kind of content is more popular because it has higher retention rates and performs better in terms of SEO and engagement. What brands need to do next is find the best platform to share their videos. There many platforms such as TikTok, Youtube Shorts, Instagram and Facebook Reels to choose from.
Social media SEO
Google has some competition when it comes to searches. A report found that nearly half of Gen Z is using TikTok and Instagram for search instead of Google. What this means for brands is that they need to make their content searchable on TikTok and Instagram. Your content should be optimized with keywords just like you would with blog posts. Hootsuite conducted research that found using keyword-optimized captions instead of hashtags increased reach by 30% and doubled engagement.
Personalized ads on social media
Social media advertising has become the second biggest market in digital ads. The reason why brands use this kind of advertising is that it works. Experts predict that social media ads will become more personalized ads. You can expect to see more social proof and user-generated content ads being used. This will help consumers feel more connected and easily able to picture themselves using the product or service.
Get on top of the social media trends with the best

Austin social media agency!

At OMG Austin, we provide social media management services that can help incorporate the latest social media trends to raise brand awareness and reach your KPIs. Start growing your social media presence with us. Reach out today!
Contact Us
We want to hear from you, so what are you waiting for? Contact us today.
Get In Touch
Share this post
Comments