What is BeReal?
What is BeReal?
/images/uploads/blog/OMG-Austin-08.31-Blog__1.jpg
Omaha Media Group
https://www.omahamediagroup.com/images/uploads/monster_gallery/Omaha-Media-Group-Black.jpg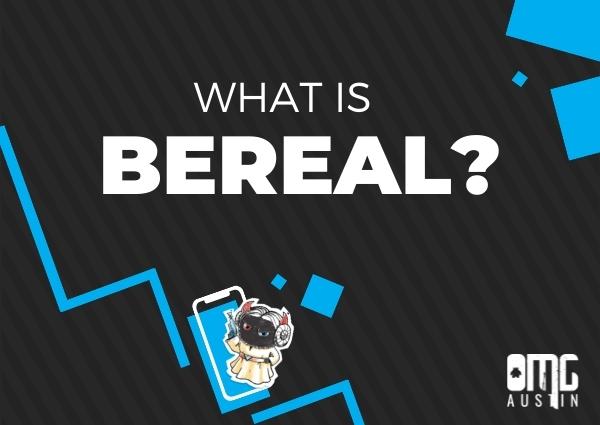 There is a new social media platform in town, and it's not TikTok. The newest social media platform to take over is BeReal. This app is fairly new to the online community compared to other social media platforms.
BeReal is on the rise, with the new platform recently reaching 10 million daily users. Not only has it caught the attention of teens around the world, but also that of another popular social media app - Instagram. Our Austin digital marketing company team is here to give you a run down about this trendy new social media app and why Instagram is interested in replicating it.
What is BeReal?
BeReal is a social media app where users post one photo per day to show their friends what they are doing in real-time. This app was developed by Alexis Barreyat in December 2019. The mission of the app is to make social media authentic again. Unlike other popular social media apps, BeReal does not have filters for its users to use.
How does BeReal work?
The first step to getting on BeReal is downloading the app. Once you have downloaded the app and created an account, it is time to be real. No pun intended. At a random time of the day, the app will send users a notification saying, "Time to be BeReal." Users then have only two minutes to share what they are currently doing.
In order to see your friends' posts and the discovery feed, you have to share your moment. If users post outside the two-minute window, they will be considered late. Aside from showing if you posted late, BeReal will also show how many times you retake your photo.
The app also lets you interact with your friends. You can send your friends RealMojis, which is an emoji with a selfie of that person mimicking an emoji reaction. This app encourages people to be more authentic by not offering filters or edit buttons.
Instagram's next move
Although BeReal is called the "anti-Instagram," Instagram is already trying to replicate it. This is not the first time the popular photo-sharing app has tried to replicate another popular social media app. Recently, Instagram's features and feed have also started to resemble TikTok.
The latest news is that Instagram is testing a feature that will compete with BeReal. This feature is set to be called "IG Candid Challenges." It is reported that Instagram users will get a notification every day at different times of the day to share in their stories what they are doing.
It is also giving people a two-minute frame. Instagram already has a feature that allows users to take a picture using dual-camera shots, just like BeReal. As of yet, there is no announced date for when this feature will be released to the public.
Hire an

Austin digital marketing company!

Whether you need help deciding if BeReal should be your next marketing move or just need an extra hand managing your social media, let OMG Austin help! Our Austin digital marketing company team can create a social media strategy to help you reach all your digital goals. Contact us to learn more about our services.
Contact Us
We want to hear from you, so what are you waiting for? Contact us today.
Get In Touch
Share this post
Comments