UPDATED: The avoidable website mistakes
UPDATED: The avoidable website mistakes
/images/uploads/blog/OMG-Austin-09.05-Blog__1.jpg
Omaha Media Group
https://www.omahamediagroup.com/images/uploads/monster_gallery/Omaha-Media-Group-Black.jpg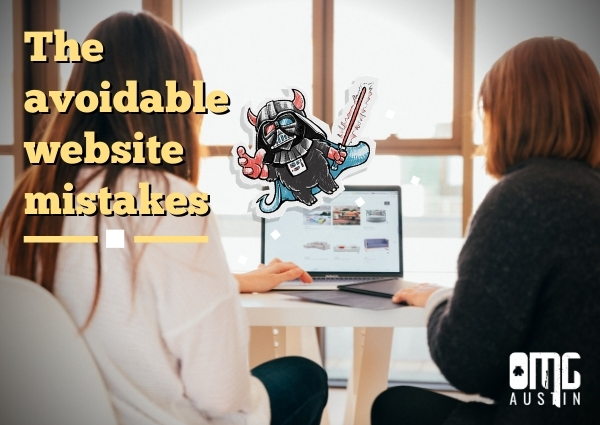 A company's website is one of the most valuable assets in the digital world today because all marketing efforts are funneled to this website and this is where customers find your products and/or services. However, with the digital world constantly changing and new practices implemented, how can a company keep up and make sure their presence is up to date?
These are the most common website mistakes that can be avoided with the right professionals on your side:
DIY
A website is the first impression a potential and current customer will have when they see it. A website is a hub for a company's SEO, PPC and social media marketing strategies. A website is a place for your company's blogs and recent updates. A website to a company can arguably be noted as one of the most important digital elements to the overall success of a digital presence.
Because of this, it is important to never DIY a website! A DIY website will simply not stand up to the competition in regards to SEO and its design and development. This leaves a negative first impression with consumers because 97 percent of all first impressions are designed related. A bad design not only cost a company customers, but it costs their SEO strategy even more money at the end of the day.
A company can spend thousands and thousands of dollars a year on SEO, but on a bad website, the efforts will consistently come up shorter than expected.
As website development Austin experts, our experts do understand the appeal to a DIY website, but it costs more money in the long-run. This is because the DIY website was built on a less secure CMS, probably does not have an SSL certificate in place, will need constant maintenance, and at the end of its template life, will need to be redesigned.
This is one of the most common website mistakes out there because once this starts off as a DIY project, the rest seems to follow in its steps.
Security
Over one billion websites were hacked in 2019, and small businesses, your website's are even more susceptible to hacks than others!
This is because most small businesses go the DIY route with the website, but this leaves it vulnerable to security threats in the future.
In reality, all websites are at risk of being hacked, however a DIY website is twice as likely to get hacked than a website done by professionals.
When someone finds a place to do their own website, it's on places like WordPress, Wix.com, GoDaddy and other servers. Since there are several hundred to thousands of people using this main site, it leaves your website prone to being hacked.
UX design
The website is complete, looks great and functions well. The customers are going to love it, but only if they are on a desktop. This is no longer an option for companies with a new update coming into effect sooner than later. Without proper UX design in place, a brand new website launched is already behind and needs another update!
The UX design method is concerned with how the website functions as a whole. From the landing pages to the content on every page, each different element whether it is design or not is important for the overall design and functionality of the website.
It not only affects the website's design element, but it also affects the website's SEO strategies that are implemented! Without the proper design in place, a company who is implementing SEO on an old site could be hurting their ranking more than helping it!
Lack of SEO
Where is your website currently ranking? What keywords are you currently searching for on search engines to find your website? Still can't seem to find it? That is a common issue with websites and SEO! With over 90 percent of content never seeing the first page of a search engine's result page, this is one of those common website mistakes that a website development Austin company can work on with you!
Organic search is a large part of a website's success. How are people coming to your website: directly, search related or other methods? Google owns about 75 percent of the search market and the other 25 percent are owned by valuable brands as well. Along with this, the right SEO strategies help to build a strong relationship with Google. The better the relationship the better your ranking.
Stop falling behind the competition and staying in the shadows of the search engine and implement the right SEO tactics.
Find yourself making these common website mistakes- fix it by hiring the leading Austin web development team to help you implement the right practices. Over time, these correct practices will increase your website traffic and ranking in Google. Take it from the experts, we got your back.
It's time to take your website to the next level!
We offer a plethora of services from website design and development to digital marketing services!
Contact us for a Zoom meeting!
Share this post
Comments