The different types of website traffic
The different types of website traffic
/images/uploads/blog/OMG-Austin-08.05-Blog_.jpg
Omaha Media Group
https://www.omahamediagroup.com/images/uploads/monster_gallery/Omaha-Media-Group-Black.jpg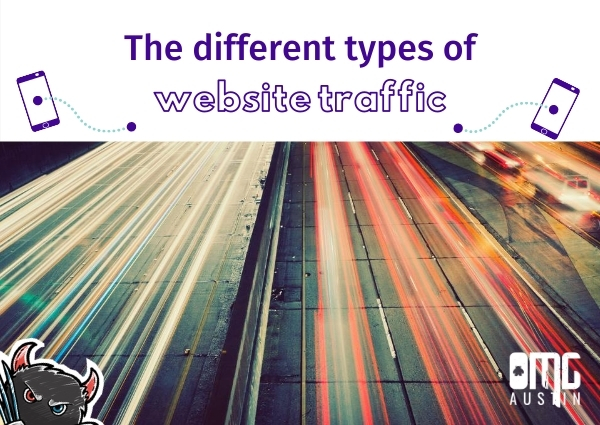 Let's talk traffic, not downtown rush hour traffic, but website traffic and its different types! In digital marketing meetings, our clients often ask about the different types of traffic, unique visitors versus returning and other FAQs regarding traffic.
A great place to search for the types of traffic coming to a website is Google Analytics. This is a free marketing tool for all companies to utilize. It is simple to set up and link to your website. A company is able to review all of this information themselves and understand the importance of the traffic coming to their website.
Here are some great examples.
This is within the homepage dashboard that a client can hover over to see where the traffic comes from within a selected date that can be customized.
As you see, in the bottom right hand corner, you can open this report to show the information listed below.
This shows where the direct, organic, display, paid, referral, other and email traffic is coming from. This is great to see what strategies are the biggest ways to bring in quality traffic, and for some companies, their email and social media efforts could be higher or lower. It all depends on the current strategy in place.
Why does this matter?
Why should a company have a basic understanding of the types of traffic that is coming to their website? There are several reasons why, but the biggest one is because of Search Engine Optimization (SEO). It is critical to understand where the website traffic is coming from because this helps provide valuable insight into who is visiting the website and where they are coming from.
These are the most common types of traffic that come to a company's website and their meaning!
The different types of website traffic
Direct traffic
Direct website traffic is website traffic that a consumer directly types into the search engine, "omg austin" or "omgaustin.com". This means that the consumer directly clicked on your website without having clicked on another website to find yours.
Organic traffic
Organic website traffic is traffic that comes from a consumer typing search queries into a search engine and clicking on your website from organic search results that populate in said search engine. If a company has an agency who handles all of their SEO strategies, this is part of the strategy that helps consumers find your website. This is a critical one in order to understand the types of traffic that are coming to the website.
Display website traffic deals more with paid advertisements which are advertised on another website. The most common types of advertising that this comes from is banner advertisements on blogs and websites. This is helpful because it tells a company which advertisements are working based on when the duration of the advertisement is and to see if the money was well worth it.
Paid
Paid search is part of the Search Engine Marketing (SEM) realm of the digital marketing industry. This is an advertisement that runs on search engines, like Google, for a duration of time and a company only pays for this advertisement when a consumer clicks on it. As explained in the display search, this is important because it shows if the money was well spent.
Referral
Referral deals with a website using your company's website or blog to backlink to their blog or website. This is known as backlinking in the SEO industry. This is important because it can show where the website traffic is coming from based on other websites. Referral website is critical because it helps to bring in even more qualified website traffic that is interested in your company or its content.
For over 20 years, backlinks have been one of the best ways to rank in search engines which helps a company garner those organic search results!
Social
Social traffic is probably the easiest one to understand out of all the types of traffic because it simply implies how many website visitors there were from social media channels. This can be from Facebook, LinkedIn, Twitter, Instagram and other social media channels that are being implemented into the overall Social Media Marketing (SMM) strategy.
Which strategies are bringing the most traffic to the company's website? It is important to figure this out to optimize the marketing budget and strategy that is currently in place. This can help to show even higher sales, leads and ROI in the next marketing meeting.
For help with digital marketing strategy, give our experts a call today!
Contact Us
We want to hear from you, so what are you waiting for? Contact us today.
Get In Touch
Share this post
Comments