The pros and cons of paying for social media verification
The pros and cons of paying for social media verification
/images/uploads/blog/OMG-Austin-03.15-Blog__1.jpg
Omaha Media Group
https://www.omahamediagroup.com/images/uploads/monster_gallery/Omaha-Media-Group-Black.jpg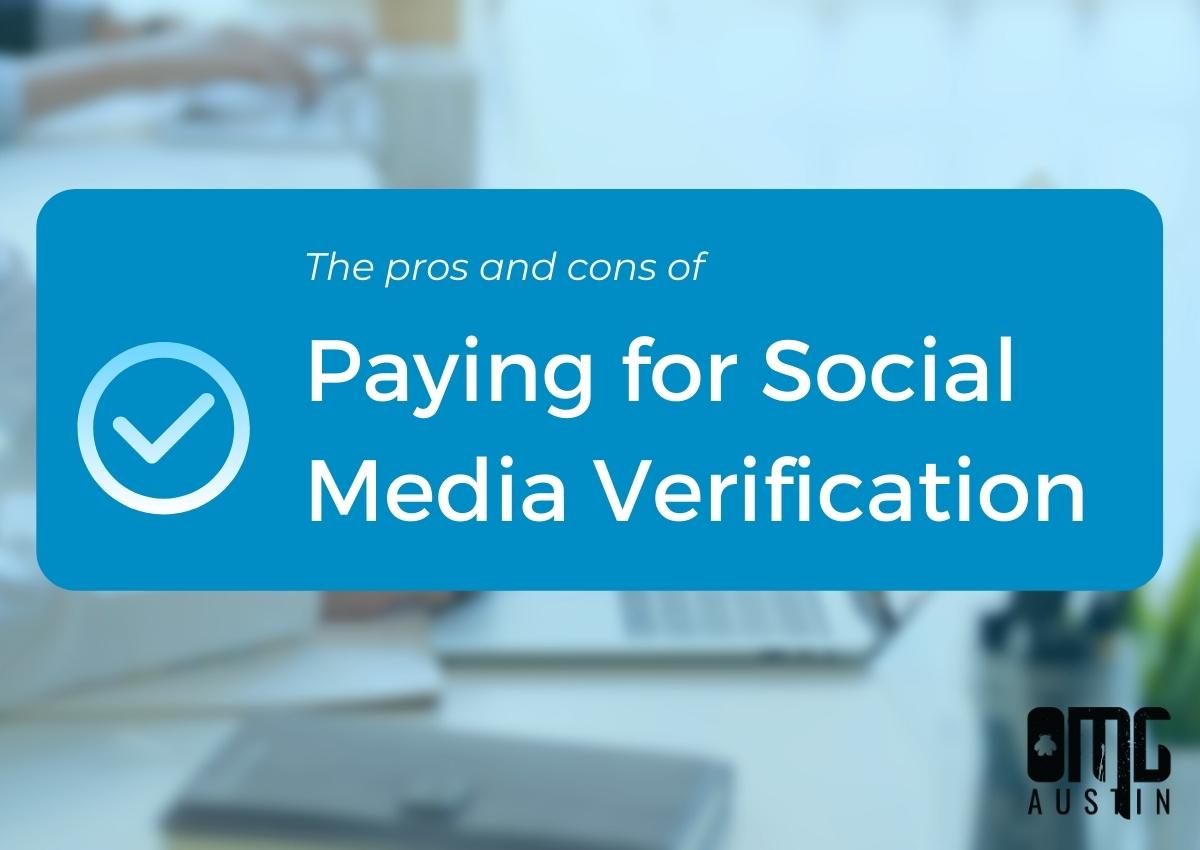 The latest social media trend that is taking over is verification. Major social media platforms - like Twitter, Facebook and Instagram - have begun to roll out paid verification subscriptions. Twitter's verification is now available in the United States, and Meta's verification is only available in Australia and New Zealand.
As these features begin to be rolled out, this has left many people questioning if it is worth paying for this feature. Our Austin digital marketing company has put together this information to help you figure out if paying for verification is the right decision for your company.
Social media verification
Right now, only two social media companies are offering social media verification, and those are Twitter and Meta - the parent company of Facebook and Instagram. This verification process gives social media users the ability to pay for a blue checkmark at a monthly subscription rate.
Twitter's verification subscription is available to all Twitter Blue users. The cost is $8 per month, and iOS sign-ups will cost $11 per month for access to subscribers only. Meta has rolled out Meta Verified only to Australia and New Zealand, but it is set to be released in other countries soon. The price for this subscription is $14.99/month for iOS/Android or $11.99/month on the web (Facebook only).
The pros and cons of paying for social media verification
Aside from getting a checkmark for your account, you will also receive other features. Our Austin digital marketing company has created this list of benefits for paying for verification.
Build trust
Trust is a very important thing between a company and its audience. One way you can build trust is by proving your business is real. Paying for a verification subscription can show your business is legitimate and encourage people to follow and buy your products. Twitter and Meta go through a verification process to make sure the accounts that are verified are real businesses and people.
Extra security
Nowadays, adding extra security to social media accounts is important. There have been reports of accounts getting hacked. Paid subscription verification can keep your account safe with its two-step verification feature. That way, you can ensure your account is safe at all times. Meta also introduced a proactive account monitoring system to ensure that your account does not try to get impersonated.
Increase visibility
Not only will your account get a blue checkmark, but you can also increase your account's visibility. Meta's verification states that it would expand the reach with increased visibility to accounts with Meta verification. Plus, it will also increase your trustworthiness, so when people see your post, they will likely trust it.
Let an

Austin digital marketing company help you manage your social media accounts!

At OMG Austin, our team of social media experts can help you handle all your social media accounts. We can assist in creating a unique strategy tailored to your company's needs and brand. Contact us today to start growing your social media audience.
Contact Us
We want to hear from you, so what are you waiting for? Contact us today.
Get In Touch
Share this post
Comments