Tips to create engaging Instagram content
Tips to create engaging Instagram content
/images/uploads/blog/OMG-Austin-00.00-Blog_%283%29_.png
Omaha Media Group
https://www.omahamediagroup.com/images/uploads/monster_gallery/Omaha-Media-Group-Black.jpg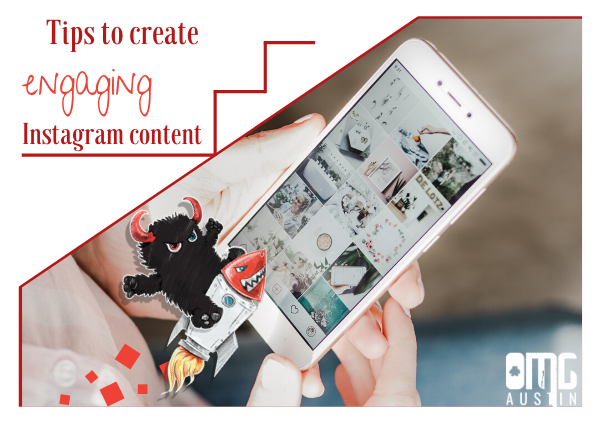 If a company wants to grow their following with Instagram, then they will need to create quality content that their target audience wants to engage with. This is because social media algorithms prioritize content a couple of different ways, but one of the main ways is by showing users similar content to what they like and who they follow.
How can a company start to create engaging Instagram content?
No matter what social media platform a company is posting content to, it is imperative to always make sure there is a plan. As many companies understand from their trial and error tests, it is not enough to post a couple of images with some hashtags and call it a day. For an effective and engaging content strategy on Instagram, a platform where companies HAVE to have engaging content, it is imperative to make a strategy.
At our Austin Texas digital marketing agency, one of our favorite words is a content calendar! A content calendar keeps EVERYONE on the same page and provides a single space for all the planning.
The first step is to research competitors. What are they posting on social? Would it grab your attention? Does it give you ideas? How can you do it better? The second step is to start building content based around your company's products, services, employees, customers or other strategy. No matter the strategy for your social media, make sure it all correlates with your company brand and overall message. The final step is to be unique. There are over 500 million active Instagram users on the platform with over 50 billion shared since its start in 2015. What is the moral of that story? If you post the same content, stock images and basic ideas as every other company in your industry, why would consumers engage with your content?
Understand your audience
What works and doesn't work for your audience? Are memes not what they want? So, stop posting memes. If inspiration quotes once a week is the best thing, post the quotes. It is not about what marketers or the company prefers, it is what the audience prefers. A company can make their content engaging and exciting while still making it about them! During the football season, Dr. Pepper killed their Instagram game!
Everything from their bio to their posts all were on point with engaging Instagram content.
Who is Dr. Pepper's audience on Instagram versus Facebook? Does this work for both audiences in different ways? It is important to always think of your audience. If you use movie references, songs, quotes or anything else make sure it is from the era of your audience or viral enough that they would understand.
Our Austin Texas digital marketing agency tells each and every client to think about User Generated Content (UGC). This type of content helps to create more engagement on Instagram posts! This is because studies and studies show that consumers trust other consumers, not companies.
UGC can rank from a content to testimonials from actual consumers, the entire point behind it is that the consumer was not paid for their testimonials or content. The content is honest and straight from your audience!
Who is great at UGC? TikTok! Yup, we are speaking about that social media platform again. What makes TikTok TikTok? The content that is created by its users, so why not use this content as part of their marketing strategy? No need to create the extra work. Another company who is great at this is Burger King when it comes to offers and giveaways.
Our experts are here to say that some of your questions can flop. It really is that simple. This is because questions need to provoke a consumer's thoughts and opinions on that topic. A great example of a question that is simple but will help to create engaging content is from BeachBody!
This picture uses UGC from one of the popular BeachBody coaches drinking her Shakeology. The simple question of, "What flavor are you drinking today?" Creates a conversation and allows the audience to explain what shake they make, why or even their favorite one!
Stop selling so much
There is a way to sell on social media and then there are hidden ways to sell without a consumer or audience feeling overwhelmed with all of your promotions. As social media gurus, we are here to tell all companies, trying to do this is an art that is not easily mastered. The first step is to do the following listed above!
Grow a following, solve problems for consumers or your audience and connect with them. Once this is done, this is when showing value is how you can start to be saleys without being so saleys.
A company can show value by providing consumers with testimonials on how their company helped their valued consumer with their problem. No one wants to constantly be sold to. Think of yourself. What type of content do you want to stop seeing on Instagram?
A picture of a happy customer, testimonials, real employees, an interesting graphic, video? All of this is a great way to create that unique content for a company's audience.
Hashtags are everything on Instagram. The right hashtags and the right amount of hashtags is what gets content in front of a larger audience on Instagram. While big brands such as the ones above, do not need the right hashtags or the right amount because of their massive following, EVERY company needs hashtags. It does not matter if the company has over 500K followers on Instagram because this does not guarantee that their own audience will even see their posts.
On Instagram, engagement is everything. If their audience is not engaging with a post within minutes, it will fall down to the bottom of the Instagram feeds. With hashtags, this helps to get the content out in front of the same audience who is not following the account already in hopes of more followers and engagement to help those posts.
This is a simple example of how a post can go viral. With a bit of planning, the right audience and hashtags, a company can harness Instagram as part of their social media strategy!
Does all of this sound great, but not sure where to even begin and know you do not have the people for this? Hire the best Austin Texas digital marketing agency in the area. For more information, contact us today!
Contact Us
We want to hear from you, so what are you waiting for? Contact us today.
Get In Touch
Share this post
Comments