Tips to improve branding
Tips to improve branding
/images/uploads/blog/OMG-Austin-01.18-Blog_.jpg
Omaha Media Group
https://www.omahamediagroup.com/images/uploads/monster_gallery/Omaha-Media-Group-Black.jpg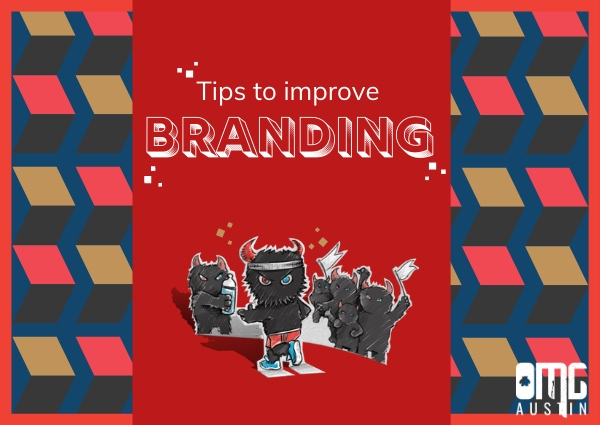 Branding is like real estate. The top real estate will be more expensive, but worth the investment at the end of the day. The value of a company's products or services are critical because that is what they are ALL about.
A brand is, "a personality that identifies a product, service or company including a name, term, sign, symbol or design." If you are a website design and development company with a bad website, what does that say about your company? This screams to consumers that this company does not care about their own values and who they are!
Here are three simple but effective tips to help increase branding for any company.
No matter what your company is about, be clear about it. A company needs to be authentically themselves and that means from the content that is published on social media to the tone of voice, everything needs to be clear. Does the wording on the website match the wording on social media? Are you using the same logo everywhere or are they all over the place? These are the fundamentals in branding agencies Austin because without a clear understanding of WHO your COMPANY is, everything else will not align with values, visions and with consumers.
From small companies to Fortune 500 companies, everything has to align with one another from the logo to the simple paper inside the consumer's box. Yes, it all matters.
Social media followers are the start of a long-term business relationship. The content that is published on social media outlets is a direct representation of the company and their branding. Social media outlets allow for a company to represent themselves and create a loyal following with consumers.
It is estimated that a company needs to be in front of a consumers about five to seven times to make an impression.
On Twitter, this is a place to be part of a conversation with other companies and consumers who could already be speaking about your company! (Good or bad but that all depends).
What are some of your favorite big company Twitter pages? Wendy's is the prime example of creating a brand that responds fast with some very witty and honest responses.
Recently, Panera Bread had a social media campaign come out regarding their locations not having french onion soup. The consumers were on Twitter speaking about their disappointment, and in regards to that, Panera "clapped back" with a witty campaign that was on brand! No matter what the post is about, always make sure it is on brand with the company.
This can be difficult for a branding agency Austin to explain to clients, but it is not about you. It is not about what you like, it is about what is on brand. If the company has a trademarked color or logo, use it. It is about the consumers because without the consumers, there would be no company due to no sales.
See what we mean? If your product packaging, social posts, websites, logos, print media and everything else is all on point it helps increase revenue.
Ask consumers what they like. If you are rebranding or designing a new logo, ask them for their opinion. Go on Twitter or send out an email campaign. A company can even send out a simple survey to get the honest answers from their consumers, but it is about what consumers ultimately like and trust.
As the digital world continues to evolve, and times are a changin, branding should always be the main concern for a company. Struggling with your brand? Give the leading branding agency Austin a call today!
Contact Us
We want to hear from you, so what are you waiting for? Contact us today.
Get In Touch
Share this post
Comments