Marketing during COVID-19: Four ways to personalize email marketing
Marketing during COVID-19: Four ways to personalize email marketing
/images/uploads/blog/OMG-Austin-04.25-Blog_.jpg
Omaha Media Group
https://www.omahamediagroup.com/images/uploads/monster_gallery/Omaha-Media-Group-Black.jpg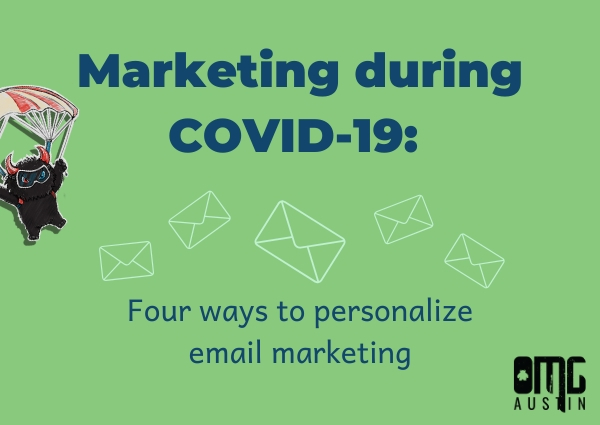 Right now, times are uncertain and life itself seems to be changing every couple of days. With Austin, Texas, being one of the first cities to extend their stay at home orders, it is uncertain when we will be leaving the house next.
Companies all over the world are trying to implement digital strategies to help keep them in contact with their customers, and one of the best ways to do this is with email marketing Austin. Email marketing continues to be a lead generating marketing method for companies.
On the other hand, email marketing has proven to be even more effective and valuable during a crisis such as COVID-19. Email marketing during COVID-19 has different copy, emotions and promotions, and this is vital. Personalization in email marketing has been a growing trend and companies have to implement that into their email marketing during and after this time of crisis with these four methods.
1. Don't lose the "human factor"
Email marketing automation is a next-generation CRM tool that is useful for increasing lead conversions, nurturing large numbers of prospects, and improving engagement.
Approximately 60 percent of companies use marketing automation because it is an essential tool in sending personalized communication while saving time. Unfortunately, most companies get caught up in their automation efforts and forget that it's actual people who receive the emails.
However, while these campaigns seem more "personal" these automated campaigns can tend to lose their human factor. A simple "Hello _" with the same message sent out to everyone is a simple way to not lose the human factor. Always remember that a human is reading all those emails your company is putting their efforts into.
However, avoid this mistake in the process.
Email marketing during COVID-19 is a critical aspect in any marketing strategy; however, our email marketing Austin experts are here to tell you, do not just send an email to send one.
The whole point behind personalization is being personal. If you are writing or crafting an email that seems pointless, then it is pointless. Ask yourself "what is the goal behind this campaign?"
Personalization is key when it comes to delivering content, but often marketers fail to include context to their automated emails. You then end up with an email that has vague communication, and the recipient fails to relate with the content and thus takes no action.
The key to sounding more human in your emails is using language, voice, and tone that resonates with your audience.
Great content will always strike the right tone and speak to different audience segments at different stages. This is great for segmentation. A great example of this is with e-commerce websites like Shein who have email marketing campaigns that are on point! (We get about a couple or 10 emails a day).
Shein, just like many e-commerce websites, send "personalized" emails when someone abandons their carts or has Shein points to use! This campaign is only sent to those who have a cart full but haven't purchased. Think about it, if you purchased and got an email regarding your order that has not been purchased yet, you would panic!
So, what would you do for that audience? Send an email telling them that they have more Shein points to purchase items and they expire on X date and time!
It is all about the proper follow-up messages. You want to learn and adapt to the changing prospect priorities; otherwise, your emails might land in the spam folder.
4. Allow human intervention at the right time
We love automation and automation is great, but there are times when automation needs to take a step back. While bots have made email marketing easy, they don't replace human intervention.
Not everything will be communicated effectively in automated emails. It is highly recommended that you allow human intervention to facilitate effective communication.
Email automation is an excellent way of increasing exposure and generating more leads for your company; however, your efforts may fall flat if you do not take the time to tailor your campaigns to feel more human. Create segments, watch your language, and resist the urge to automate everything.
OMG Austin understands that email marketing is critical, but many companies simply do not have the time for it. It is time-consuming, and our email marketing Austin experts understand that!
Need a better email marketing strategy?
Contact us to speak about email marketing platforms, automations and our other services!
What are you waiting for?
Share this post
Comments