Email marketing trends in 2020
Email marketing trends in 2020
/images/uploads/blog/OMG_Austin-08.21-Blog_.jpg
Omaha Media Group
https://www.omahamediagroup.com/images/uploads/monster_gallery/Omaha-Media-Group-Black.jpg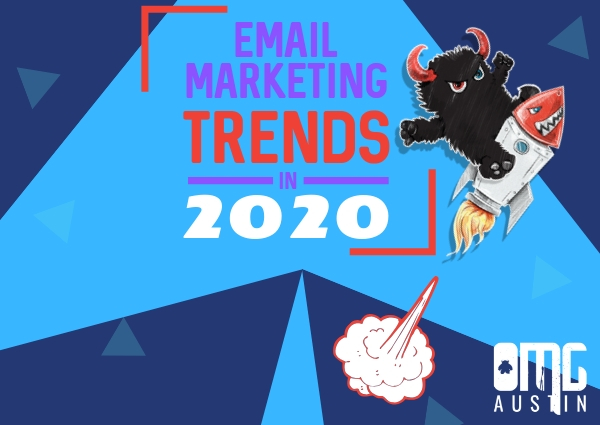 With more and more content, emails, social media accounts and marketing firms in Austin Texas continuing to utilize the digital spaces it is imperative for a business to stand out against the crowd of information.
As WishPond shows, there are four email marketing trends to start to implement into your current email marketing efforts.
What are the four trends?
User-generated content (USG)
User-generated content is nothing new in the marketing world; however, social media has made it even easier to use content from real life consumers and customers easier than ever before.
Have you noticed Panera Bread's latest posts? All the posts have a quote from a consumer from Twitter and repurposes this content for social media posts, advertisements and boosted posts on Facebook. Honestly, it is genius.
The Kardashian-Jenner clan have also noticed that using this content is free promotion of their brand and is essentially testimonials and customer reviews. When Kylie Jenner launched the release of her new skincare line, her Instagram stories show several testimonials from happy customers for weeks. This is USG content that is free from real consumers and customers that show her products really do work.
It is stated that 86 percent of Millennials suggest that USG is a good indicator of quality in a brand and 68 percent of social media users between the ages of 18 to 24 take into account information shared on social media when making a decision.
As consumers want businesses to be more authentic and transparent with their products and services, this is a simple, but effective way to enhance your email marketing efforts.
Interactive emails
In a digital world, a consumer needs to break through the content saturation that is being sent to consumers on a daily basis. Why would a consumer open your email and not swipe right to immediately delete it? Offer something different.
Interactive content allows for a consumer to swipe, click and open content inside of the email marketing blast. This helps to increase click-to-open rates and adding a simple video can boost the click rate even higher!
An interactive email is one that is animated and entertains consumers while making sure to keep it personalized. Let's keep using Panera Bread as an example for great email marketing efforts.
Panera Bread has increased their options of Soba Noodles Bowls. A recent email campaign showed the delicious noodle bowl, and it had an option to order a bowl within the email.Another option was to browse their different types of bowls offered. This is a simple and effective way to create an interactive email campaign.
Mobile friendly
How often do you check your emails on your smartphone? If you are like our marketing firms in Austin Texas team just about everyday! HubSpot states that mobile opens account for 46 percent of all email opens. An email that is mobile friendly could possibly increase your open rate by simply being friendly with mobile devices.
Accessibility for everyone
It is imperative to understand that everyone who is signed up for your email marketing efforts might have different physical impairments which would inhibit them from being able to read or fully understand your emails.
An example of this is individuals who are blind or have other visual impairments. For those who are blind or have visual impairments, these individuals might be using technology to read their emails to them. Also, it can be harder for those with low visual to read emails due to specific colors, fonts or the email not being able to enlarge.
Email marketing is not going anywhere so it is important to have a marketing firms in Austin Texas to develop your email marketing campaign and strategies for you. At OMG Austin, our team offers all of our clients an option to utilize our email marketing platform!
Need a better email marketing strategy?
Give our staff a call today!
Call us now!
Share this post
Comments