How to build an email list for your business
How to build an email list for your business
/images/uploads/blog/OMG-Austin-02.23-Blog_.jpg
Omaha Media Group
https://www.omahamediagroup.com/images/uploads/monster_gallery/Omaha-Media-Group-Black.jpg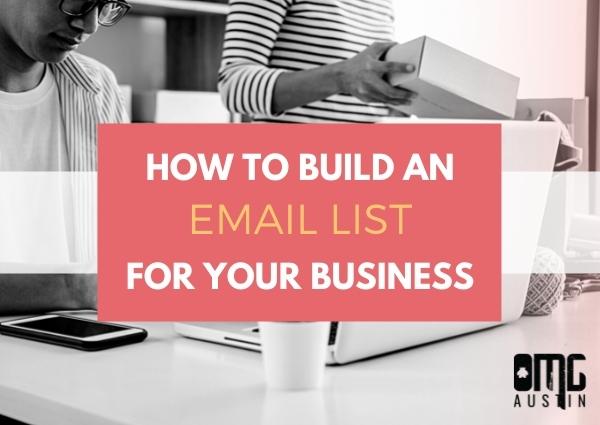 A lot goes into creating a solid digital presence for your company. You need to learn what makes a good web design and how to make customers fall in love with your social media. While planning all these things, it is easy to forget one crucial aspect: building an email list.
Email marketing continues to be one of the primary channels for generating leads. A report found that email marketing ROI is 4,200 percent ($42 for every $1 spent). Incorporating this channel into your marketing can help you generate more qualified leads. The first step to creating a successful email marketing campaign is building a solid email list with the help of the best marketing consulting firms in Austin TX. Our team has rounded up some tips on how to create an email list for business success.
What is email marketing?
Email marketing is a digital marketing channel that uses emails to promote services or products. This kind of digital marketing assists companies in generating leads and raising brand awareness. Some examples of emails that are primarily used for campaigns include: newsletter, promotional, lead nurturing and survey style emails.
How to create an email list for business
Add an email popup to your website
An email popup is a small window that pops up on a webpage inviting users to share their email with the website. When a popup is done correct, many companies are able to successfully grow their email list. If an email popup is not designed with user experience in mind, it can be annoying for the user.
Experts suggest keeping the popups relevant and timing them correctly. For example, you can make a popup show up after the user spends some time on the site or travels to another page. If you want to increase the chances of users sharing their email, offer a discount. Reports found that discounts are the number one reason why people sign up for an email list.
Create a quiz
Yes, you read that right. Creating a quiz can actually help you create an email list. Quizzes are fun ways to interact with your website and then acquire their email to receive their results. Keep the quizzes aligned to your industry, products or services.
This kind of content will not only help you build an email list but also learn what kind of content your users are interested in. Some examples are retail stores creating a "What fashion decade are you?" or "Which shoes match your personality?"
Use your company's social media
Social media is a powerful tool to attract new customers. Use your social media platforms to encourage followers to sign-up for your email list. Adding them to your email list will ensure you still have these potential customers in case your social media accounts ever get deleted or suspended. You can convert social media followers to email subscribers in several ways:
Create an email marketing landing page

Add landing page link to your social media profiles

Run social media ad campaigns

Hold contests or giveaways
Hire one of the best

marketing consulting firms in Austin TX!

OMG Austin can help develop and manage your company's email marketing that drives traffic to your site and generates leads. Contact us to learn more about our email marketing services.
Share this post
Comments