Four actionable tips for a user friendly website
Four actionable tips for a user friendly website
/images/uploads/blog/OMG-Austin-10.03-Blog__1.jpg
Omaha Media Group
https://www.omahamediagroup.com/images/uploads/monster_gallery/Omaha-Media-Group-Black.jpg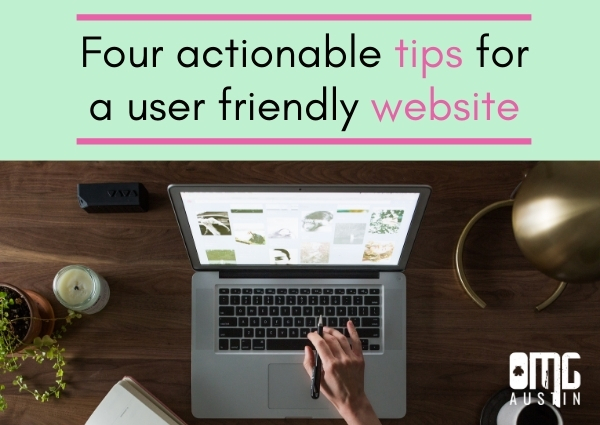 User friendly design elements were first coined in the design industry around 1970! Back then user friendly design elements were meant for very different types of website based then than now, it still holds its truth in the industry, it is the link between a website and its current and potential customers.
It is simply not enough to have a website anymore, this website needs to compete with both local and national competition when it comes to its design. With this in mind, here are tips for user friendly website design elements that all websites should possess.
Understand your target audience
This is one of the first steps in any marketing and design and development project out there. A website can be designed with the best UI and UX design methodologies, the best copy, CTAs, SEO implemented and every other ideal scenario that would allow for a website to outperform others, but if the wrong audience is finding the website, then none of this really matters.
The right target audience is what brings qualified website traffic to a company's website, and if it's not qualified, this could be providing both marketing and the website a bit of disappointment. The first thing to understand is who is your target audience. If a company says, "everyone" then go back to the drawing board. While everyone could possibly enjoy your products, even the way "everyone" finds your site and navigates it is different.
So, if really "everyone" can utilize the products and/or services that are being offered on your company's website, make sure to create smaller, more targeted audiences based on everyone coming to the website.
Who is the largest audience? What are their current interactions with the website? What would their generation utilize more or find better? From there, continue this for each different generation, but for a number of companies in a range of different industries, there will be a select target audience who will purchase your products and/or services.
Because of this, understand your target audience. A helpful guide for this is to create marketing personas. While all your customers might be in the same generation or industries, what each person is searching for based on their needs will be different. If you could narrow that to three personas, they can help a website with tips for user friendly website design.
There are companies and customers alike who want a flashy, in your face website, but the thing with that is that it isn't always user friendly. Just because the website is in your face and loud does not mean a user will enjoy using it.
There are several reasons why a company should keep it simple. A simple design is simple to maintain. This will call for fewer updates and changes needed to be made during that two year span of when a website should be redesigned.
Not only because of this, but a website that is simple is easier to consume and read. When a company only has seconds to grab the attention of a consumer, less can be more.
From a company standpoint, it is important to keep it simple based on psychology. Ever walk into a restaurant or Forever 21 and find yourself overwhelmed with the multitude of options that are presented. Whether it be finding an outfit in a store with endless options and messy racks or a restaurant's menu with five pages full of menu options, it is imperative that less is more.
How much easier can it be to go to a restaurant with very limited options. This helps consumers to feel less overwhelmed and pick the exact option they have been craving. The same can be said for a website with too many options and design elements going on at once.
Always think of your company's website as a fine-dining menu and not the Cheesecake Factory menu. Less is more and consumers find it easier from design to their choices.
Feedback is critical
Great, good and bad feedback is all important in the constant process of making sure your company's website is user friendly. One of the tips for user friendly website design is to send out a survey! While this seems very old school and does not always provide the results a company was searching for, the very few that do answer can provide valuable information and insights on the parts of the website that could be changed to be a bit more user friendly.
A survey can be made on Google Docs, Survey Monkey or other free and easy platforms and distributed through social media marketing efforts and email marketing strategies.
Not every consumer will call, but even after they fill out a contact us form, a consumer could call! There is always the possibility of a consumer showing up at the storefront as well without any warning! No matter the industry, it is important to have the basic contact us information displayed on the website.
While consumers are technologically savvy, they still can be hesitant to find reliable business partners over the Internet only because everyone and anyone can be an expert in today's world. This provides peace of mind and security that if they call a person, a real-live person, will pick up the phone or send them an email back.
At the same time, don't make someone have to pick up a phone to contact you. In this digital world, a chatbot can provide consumers peace of mind in the same sense that the contact us information can.
Content
Content needs to be user friendly as well! Yes, even the content on a website should be user friendly. This means writing content that works for search engines and consumers alike. This is one of the tips for user friendly website design that many companies forget should be included in this process.
This means all content should be optimized for SEO on the front and back of each website and written in a conversational tone or brand voice that connects with the audience!
Those are four actionable tips for user friendly website design that all companies should take into consideration when viewing their website the next time! It's never too late to get your website redesigned with our experts!
Contact Us
We want to hear from you, so what are you waiting for? Contact us today.
Get In Touch
Share this post
Comments