Six signs you need a website redesign
Six signs you need a website redesign
/images/uploads/blog/OMG-Austin-09.30-Blog_.jpg
Omaha Media Group
https://www.omahamediagroup.com/images/uploads/monster_gallery/Omaha-Media-Group-Black.jpg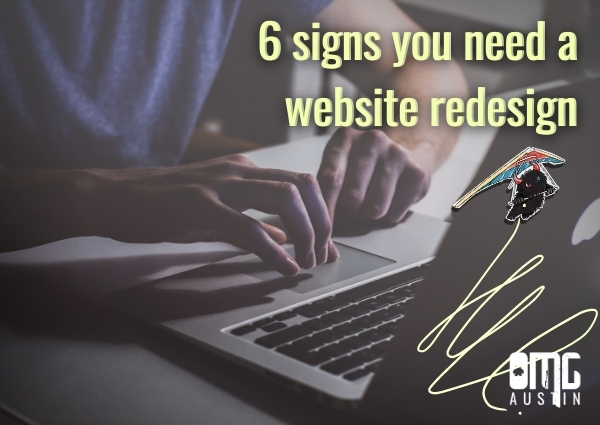 When was the last time your website was redesigned? If it takes you a bit of time to answer this or think of who was in charge of the website redesign, it is overdue for a redesign.
It is estimated that at a minimum every two years a website should go through the process of a redesign because style and elements change. Not only because of this, but because technology is constantly changing and advancing in-between those time periods, it is imperative that a website is designed for those new technologies.
A website is the first impression that a consumer will have of your company online. It is your marketing team's biggest tool and asset. It is the best way to digitally gather potential leads and sales through search engines.
With consumers turning to search engines to conduct preliminary research on products and/or services provided that a plethora of companies, the ones who have their website updated have a better chance of winning over a potential customer.
It is important to skip these most common website mistakes and know the signs to redesign your website.
Sooner than later
On average, it can take up to three business weeks for a website redesign to be approved and ready to move into the next stage. This all depends on a number of factors in place from the size of the website to the final approvals. A small, five page, informational website with minimal changes and only a few clients who will approve the said design will work faster than a larger e-commerce site that needs to be approved by several different clients and possibly their board.
This gets even a bit more complicated in specific industries such as healthcare or financial services because there are always legal leaps and bounds that are imperative to follow and get approved. This can delay the process even longer depending on the teams involved.
With this in mind, the first and foremost step is to keep in mind how long it could really take. If it takes weeks for others to approve the simplest of content or marketing materials, then give yourself some time before the site needs to be live. If there is a luring deadline, make sure to give yourself a six week timeframe before the deadline.
It is slow
How long is the website taking to load even the homepage? Anything over two seconds will turn off users and anything over half a second will make search engines a bit frustrated. This can be due to an old template in place on WordPress sites that is lagging the site since it is at the end of its life.
It could also be because of old, larger photos, lagging videos and code that is bulky without needing to be bulky! No matter the reasons behind the slow website, with 79 percent of consumers never returning to a site they had issues with, stop losing out on potential qualified leads and sales over a simple one second change.
It's a dinosaur
There are plenty of generational companies out there, but the website should look like it's Gen Z cousin, not its Boomer grandfather. An old, outdated website is the first sign to redesign your website needs to go through a redesign project. How do you know if your website is outdated?
Do a quick competitor analysis. What are other websites looking like in the industry? Are they just as old? If so, it could be the industry itself, but that does not mean you need to be stuck in the Flintstone ages.
Your website is the first impression on a blind date with qualified website traffic. A visitor is not going to scroll through the website or finish that contact form if the website does not meet modern standards of style. This is because it shows consumers you are not advancing with the current technology and audiences out there and that you really aren't the expert in your industry.
Yes, all of these assumptions are based on an old website design!
It's not responsive
52 percent of global website traffic is coming from mobile devices, and as consumers and a creative management firm, a big pet peeve is having to zoom in and out on a website on a smartphone. Not only does a website need to be responsive to consumers, but it needs to be responsive to search engine optimization as well. To be honest, all design elements affect SEO, but a website that is not responsive is the latest to be added to the list.
A website that is not mobile friendly jeopardizes any current ranking or SEO strategies that have been implemented because Google will notice consumers clicking the back button. At the same time, it hurts credibility with your company as an industry leader, especially if you are the last dinosaur in your industry.
A responsive website should automatically size and format on any device that the consumer is utilizing. The site should look perfect on a smartphone, tablet and laptop.
Branding efforts
A common, but forgotten about element of a website redesign is branding. If your company is completely hauling its branding this is one step in preparing for a website redesign.
A website is the first impression of your company, and with a new branding strategy in place, there was an entire purpose behind rebranding- make sure that this shows on the new website.
It is important that the entire website design shows the new branding from each element down to the font that is being used. It takes seven to 15 times for a consumer to start to trust a company and cohesive branding plays a significant role in that trust and credibility.
Is it harder to update content than it should be? All you want to do is update a blog, add a new one or even update old service pages but it just isn't working? This is pretty common for old sites. Their old design simply cannot do what a new site's design could which leads to company and user frustrations alike.
While these are six of the most common signs to redesign your website to take into consideration, there are plenty of others as well. Not sure if you really need a website redesign or not? Contact our experts below for a free consultation.
Share this post
Comments