How to automate your company's marketing
How to automate your company's marketing
/images/uploads/blog/OMG-Austin-05.03-Blog_.jpg
Omaha Media Group
https://www.omahamediagroup.com/images/uploads/monster_gallery/Omaha-Media-Group-Black.jpg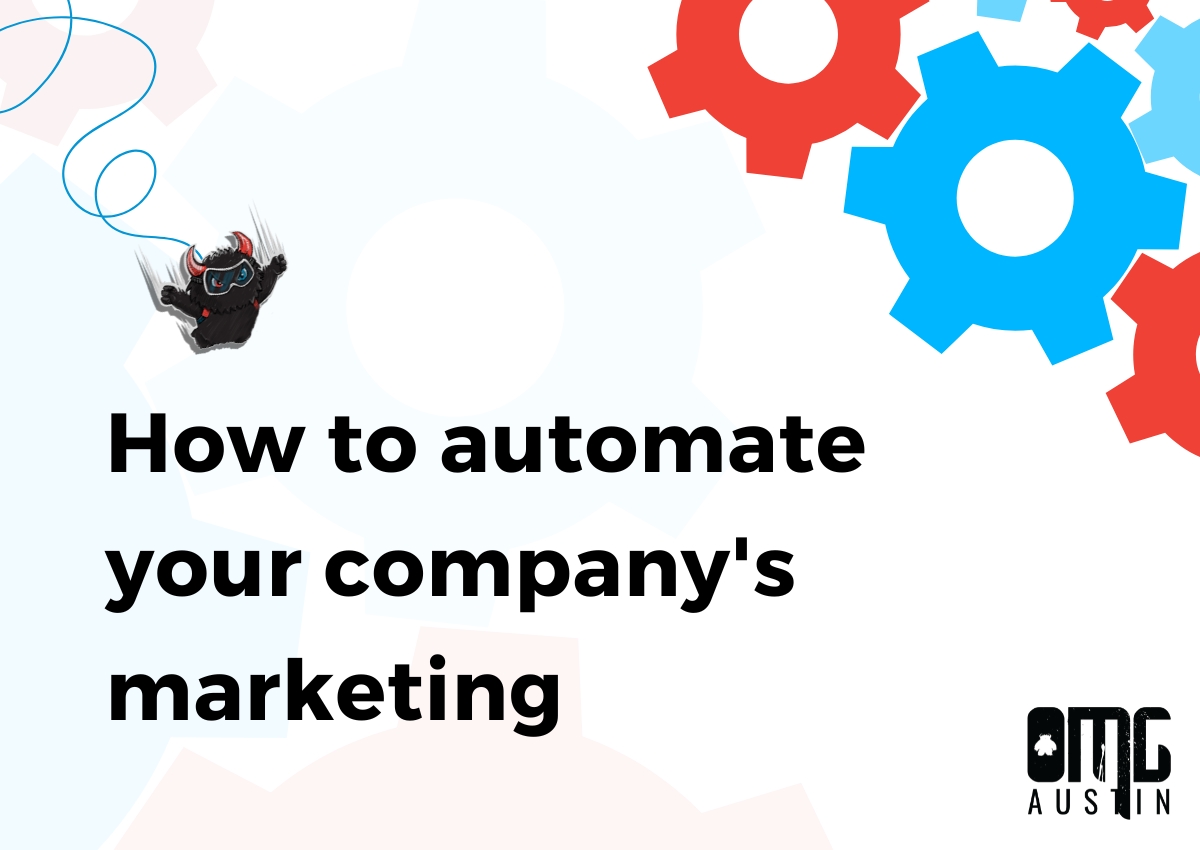 Marketing your company is a challenging task. There are a lot of aspects to consider, especially in today's technological age. Many consumers spend most of their time online, so reaching them there would be easier than a TV ad.
Depending on who your target audience is and what your goals are, you may be using different technology channels like social media, email and search engines. This can be a little overwhelming for small business owners or small marketing teams.
If you are looking for a more efficient way to streamline and automate your marketing, check out these helpful tips from our marketing automation services experts.
How to automate your company's marketing
Create a streamlined marketing strategy
When you are traveling to a destination, it's important to follow a map to make sure you do not get lost and waste time. The same goes when automating your marketing. You need to find a process that does not require so many steps. Creating a streamlined marketing strategy will create a clear path to converting your audience into leads.
Use a content calendar
Creating engaging content is what is going to bring people to do business with you. Whether it is a social media or blog post, your team should be putting out valuable content. In order to stay on top of it, you should create a content calendar. This kind of schedule helps plan out when and where you will publish upcoming content. It will also help you automate your marketing. You can work ahead, get content approved and scheduled to publish so your team does not fall behind.
Follow the best social media practices
Although you want to make your marketing run more effectively, you do not want your company to look like a robot. You want to follow the best social media practices when posting and creating content for social media.
Just posting on social media and never interacting with customers is not a good idea. Set time aside to answer your audience's direct messages and comments. Interact with other business pages to build relationships. Create content that helps customers engage with your posts, not scroll past them.
Understand your email subscribers
The last thing you want when automating your company's marketing is to get your emails sent to spam. Sending your customers irrelevant emails can get you sent to the spam box. Be sure you understand your target audience and their customer journey. Segment your emails according to the stages of the customer journey your customers are on. For example, do not send loyal customers welcome emails. Getting marketing automation services can help make this happen.
Use marketing automation software
If you want to automate repetitive marketing tasks, there is marketing software that can do that. Marketing automation software can automate monotonous marketing work. It can automate repetitive tasks such as email marketing, posting on social media and monitoring ad campaigns. It can make your business's marketing faster and easier to do.
Improve your company's marketing by getting

marketing automation services!

Marketing does not have to be hard - in fact, we make it easy! Our team of marketers can handle PPC, SEO, email marketing, social media and search marketing for your business. We take the guesswork out of the mix and provide marketing automation strategies that are customized especially for your business! Don't hesitate to contact us and learn more about our marketing automation services.
Contact Us
We want to hear from you, so what are you waiting for? Contact us today.
Get In Touch
Share this post
Comments