How to find the right keywords for a specific market
How to find the right keywords for a specific market
/images/uploads/blog/OMG-Austin-09.07-Blog__1.jpg
Omaha Media Group
https://www.omahamediagroup.com/images/uploads/monster_gallery/Omaha-Media-Group-Black.jpg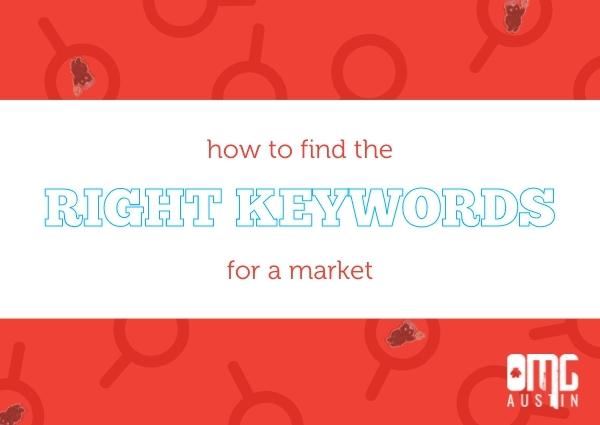 Search engine optimization (SEO) is the process of optimizing your website for search engines. This digital marketing strategy consists of three pillars: technical, on-page and off-page optimization. What these three strategies have in common is using keywords.
One of the most common SEO mistakes small businesses make is choosing ineffective keywords. Using the wrong keywords can hurt your SEO performance. Our SEO Austin Texas team has created this guide on how to find the right keywords for your market.
What is a keyword?
Before we dive into the strategy, you need to understand what keywords are. Keywords are the words or phrases that Internet users type into search engines to find information. For SEO purposes, these keywords are added to web page content to help a page rank at the top of search engine results pages (SERPs).
For example, if you are an SEO company, you want to use SEO-based keywords. An example of these keywords includes "SEO expert" and "SEO Austin Texas expert." Adding a physical location can help you reach a more specific audience.
Why are keywords important?
Keywords are the building blocks of both SEO and SEM. These words will make or break your search marketing efforts. If you choose the wrong keywords, you may never get the results you want. A common mistake that companies make is choosing keywords that are too competitive. These keywords are high in volume, which means lots of other companies are trying to rank in these keywords. That is why it is important to choose effective keywords.
How to find the right keywords for your market
Find your target audience
The first step to finding the right keywords is learning who your target audience is. In order to find the correct keywords, you need to understand what your target audience is searching for when they are looking for your product or service.
For example, if you are an HVAC company, your target audience is probably typing "HVAC company near me" or "what to do when your toilet is clogged?" These are keywords you should be trying to target.
Do keyword research
Now that you have an idea of who your target audience is, you want to do some keyword research. You want to create a list of keywords that you plan to target. This research can be done on your own or by hiring an SEO Austin Texas expert. Using SEO experts can save you time and money because they have the tools and expertise to target the right keywords.
Choose quality keywords over quantity
The last step in choosing the right keywords is choosing quality keywords. You want to choose keywords that will get you quality website traffic. This kind of traffic should be Internet users who are looking to buy your product or service. At the end of the day, the keywords you target should be the ones that result in conversions and revenue.
Hire an

SEO Austin Texas company to help you find the right quality keywords!

If you need a little help finding the right keywords or managing your company's SEO, let us help. We have a team of SEO experts who can manage your SEO and SEM strategies. Contact us to learn more about our SEO services.
Contact Us
We want to hear from you, so what are you waiting for? Contact us today.
Get In Touch
Share this post
Comments