What is SEO, and why your company needs it
What is SEO, and why your company needs it
/images/uploads/blog/OMG-Austin-12.08-Blog_.jpg
Omaha Media Group
https://www.omahamediagroup.com/images/uploads/monster_gallery/Omaha-Media-Group-Black.jpg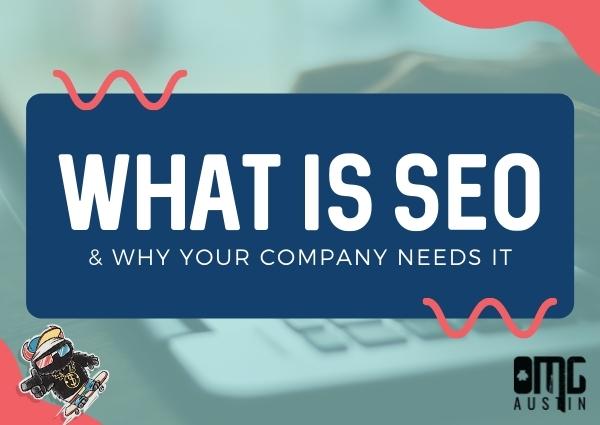 Before buying a product or service, most people first research it on the Internet. Reports have found that 59 percent of consumers will look at reviews, and 54.7 percent will read at least four reviews before purchasing.
If your website is not showing up on these searches, you are losing sales and leads. One effective and inexpensive way to improve your site's ranking is SEO from an SEO Austin TX agency. Our team has created this helpful guide to why you need SEO services for your company.
What is SEO?
SEO is short for search engine optimization. It is the process of improving your website's visibility on search engines. Small and larger companies use this digital marketing strategy to help consumers find their products and services on Google, Bing and other search engines. The easier it is for your company to show up in search results, the easier it is for your customers to find you.
The types of SEO strategies
There are two types of SEO strategies used: on-page SEO and off-page SEO. On-page SEO is the strategy used to optimize a website's content for search engines and users. This SEO practice includes optimizing title tags, content and URLs.
On the other hand, off-page SEO is the strategy that takes place off your website and helps build your visitability. One of the main off-page SEO tactics is link building. But, other methods are used like content marketing, social media and media appearances.
How long does it take for SEO to work
One of the commonly asked SEO questions by business owners is how long does it take SEO to work? It really depends on each website. Search engines, like Google, are always updating their algorithms to accommodate users. These updates impact the ranking of your sites.
It can take weeks or even months until SEO starts rolling. However, just implementing SEO strategies to your website puts your company ahead of the competition. If you want to get faster and accurate results, it is best to hire an SEO Austin TX agency. They have the expertise to do SEO correctly without harming your website's visibility or credibility.
Why you need SEO services

for your company
Increase organic traffic
Organic traffic comes to sites from a search engine, like Google or Bing. Companies do not pay for this kind of traffic. It comes from search results. Companies need to get organic traffic because it accounts for 53 percent of all site traffic. If your website does not get strong organic traffic, it is time to implement SEO. Having organic traffic increases your chances of making a sale or donation.
Build credibility and trust
Would you buy a product or service from a website with no reviews and has never been updated? Probably not. Adding SEO to your digital marketing can help build your company's credibility and trust. SEO strategies require you to keep a site updated. Creating shareable content, gathering reviews and keeping Google My Business updated can help improve your ranking and help customers be more likely to click on your site.
Impressive ROI
If you are looking for a digital marketing strategy that gives you an impressive ROI, consider implementing SEO. This digital marketing strategy is a long-term process, but it is worth the time and money. 53 percent of marketers strongly believe that SEO brings in more quality leads compared to other digital marketing strategies.
Are you looking for an

SEO Austin TX agency?

Give OMG Austin a call! We are a creative management firm that offers SEO services to companies in all industries. Our experts can help you develop and implement an SEO strategy that brings in more qualified leads to your website. Contact us to learn more!
Contact Us
We want to hear from you, so what are you waiting for? Contact us today.
Get In Touch
Share this post
Comments