How to increase your website's traffic
How to increase your website's traffic
/images/uploads/blog/OMG-Austin-03.30-Blog_.jpg
Omaha Media Group
https://www.omahamediagroup.com/images/uploads/monster_gallery/Omaha-Media-Group-Black.jpg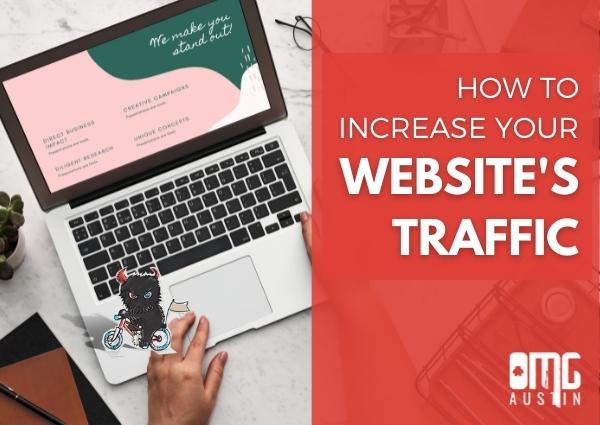 Whether you are a nonprofit or an e-commerce company, you want people to visit your website. One way you can determine how successful your site is at attracting people is by measuring its website traffic.
What this means is you are measuring the number of visitors or sessions your website receives within a certain period of time. From there, you can make or improve strategies to attract more visitors to your site. Our SEO Austin Texas team wants to share some insight about website traffic and ways you can improve it.
High quantity vs. quality traffic
For a business to have a successful website, you need to have both quantity and quality traffic. High quantity website traffic means your site has good brand awareness and visibility, while high-quality website traffic means that your site has a higher ratio of conversions and sales. Whether you are looking to increase the high quantity or quality website traffic, check out the tips listed below.
Ways to increase your website's traffic
Start using SEO
SEO, also known as search engine optimization, is the process of improving your website's visibility on search engines. Using this kind of digital marketing strategy improves your website through the use of keywords.
When people search for certain keywords, your website will show up, thus increasing your website traffic. Reports state that websites using SEO are getting over 50 percent of the total traffic across the Internet. If you are unfamiliar with SEO strategies, you always get the assistance of an SEO Austin Texas company.
Take advantage of social media
Social media is a powerful tool. It helps raise brand awareness and generate leads. Take advantage of this tool to drive traffic back to your website by creating engaging content. You can create posts or share blog posts that will get people clicking and exploring your site.
However, it is important to note that not all social media platforms are created equal. For example, Twitter allows for links to be shared, while Instagram does not allow users to share links in feed posts. Be sure to tailor content according to each platform.
Optimize your Google Business Profile
Google provides tons of free features for businesses to increase their visibility on search engines. One of those tools is the Google Business Profile. This tool allows companies to add their online presence on Google by allowing them to add hours, directions or website links. Reports have found that a complete Google Business Profile gets seven times more clicks than an incomplete listing. So if you are looking to increase your site's website traffic, make sure your Google Business Profile is complete.
Take advantage of email marketing
Another way that you can increase your website traffic is by using email marketing. This type of marketing uses emails to reach and inform a target audience about your products or services. There are two types of email promotions used to generate website traffic: email newsletters and promotional emails. These two promotions can link back to your site to increase conversions.
Hire an

SEO Austin Texas agency.

If you need extra help increasing your website's traffic, let OMG Austin help. Our team of SEO and digital marketing experts can create an effective strategy to drive more traffic to your site and increase conversions. Contact us today to get started.
Contact Us
We want to hear from you, so what are you waiting for? Contact us today.
Get In Touch
Share this post
Comments