Updated: Search Engine Optimization Strategies With Videos
Updated: Search Engine Optimization Strategies With Videos
/images/uploads/blog/OMG-Austin-12.11-Blog_.jpg
Omaha Media Group
https://www.omahamediagroup.com/images/uploads/monster_gallery/Omaha-Media-Group-Black.jpg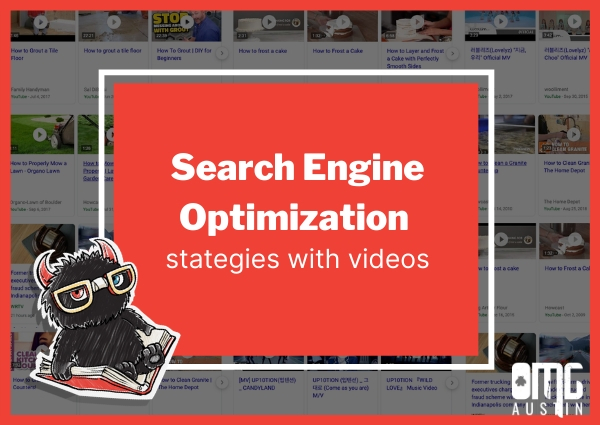 Any Austin SEO company understands that Google is the largest search engine in the world, but the second largest is YouTube!
If you are to type in, "how to fix my washer," into the Google Search Engine it will not only bring up websites and ads but you can find videos as well. There are videos for testimonials, how to's, DIY, video games and more. The world of video marketing is larger than most people realize!
Neil Patel recently explained in one of his YouTube videos that there are five ways to start ranking on YouTube! Now, YouTube ranking is a bit different than Google rankings, but some of the same SEO strategies that our Austin SEO company use are the same!
As video continues to rise in popularity, here are six ways that a company can utilize YouTube for ranking purposes!
Research
The first thing to do is search topics that are trending and imperative in your industry. A company that handles repairs and replacements of HVAC systems should be searching for "how-to" videos and common questions that are asked. If YouTube suggests a video topic or trend to you during the research process, follow that and make it yours!
The next step is to make sure to have the best keywords! Yes, here we are again speaking about keywords. Keywords are the most critical component of YouTube. If a company creates a video, this video needs keywords that correspond with the video. The best part about YouTube SEO is that YouTube makes it simple for anyone, but while these keywords are automated, are they absolutely the best ones?
It all depends, this is the time an Austin SEO company double checks for comparative keywords on common SEO tools such as semRUSH!
The transcription is the next critical step in YouTube SEO and ranking on Google at the same time. What is the old saying? Kill two birds with one stone? Yup!
The transcription of the video is the text of what was discussed in the video. Google cannot watch your video or listen to what you are saying so the best thing to do is to transcribe it. However, YouTube can, but we will discuss that later.
This way Google can crawl your content on the video. You want to add everything you normally would for a blog- title, description, the text and a keyword here and there.
Relevant titles
Let's go back to the original example, "how to fix my washer." Any video that has this title or a title similar enough to this shows first on Youtube or other video streaming websites.
This is because the title is being searched just like advertisements and websites are coming up. Your video will reach the right audience with the correct title.
You want to make sure all titles are compelling and use meta descriptions. A meta description is just as important as the title if not more important! Often times, an Austin SEO or SEO professional can forget about meta descriptions.
Good 'Ole Quality Content
Yup, we are back again to this subject. Just like when you write a blog for your website, the content is held to a high-standard with Google, the same goes for videos.
If people watch your video for a few seconds, click out, and if it becomes a recurring problem you will drop in ranking. If it keeps happening, say goodbye to all your rankings. This is because Google will consider this video low-quality.
All businesses want their videos to be informational with good quality content. This not only is great for your business but your SEO ranking as well.
Are you stuck on how to make your current YouTube video rank on Google? Bring them to us, we can help you!
You have 24 hours
Let the YouTube ranking be in your favor. The moment that a video is uploaded to YouTube the first 24 hours are THE most important part. Yes, we said transcription and quality content was important, but if a video has none of these features, the first 24 hours will make or break it. YouTube's algorithm is based off of a 24 hour popularity contest, that's what you could call it. If a video does not get likes, shares or views this video will drop in the listing. It is basically like Google!
What are you saying?
Did you notice in the video above how Niel Patel kept saying, "SEO, YouTube and YouTube SEO." This is because YouTube can decipher what a video is saying while it is playing. YouTube crawls videos and is able to understand enough of what the video is about.
As Patel says, "If the video is about SEO, say SEO."
Get started with the leading Austin SEO Company!
Contact us now!
Get In Touch
Share this post
Comments