The best times to send out email campaigns
The best times to send out email campaigns
/images/uploads/blog/OMG-Austin-05.25-Blog_.jpg
Omaha Media Group
https://www.omahamediagroup.com/images/uploads/monster_gallery/Omaha-Media-Group-Black.jpg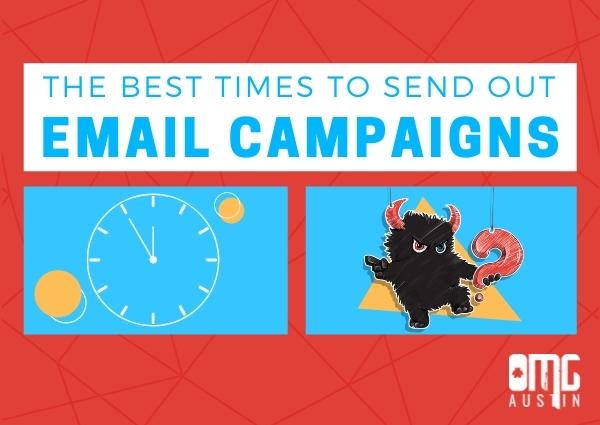 Email marketing is far from dead! It is still an important digital marketing channel for most businesses. In fact, 89 percent of marketers say that email is their primary channel for generating leads.
When it comes to planning a successful email marketing campaign, you have to decide a few things: who you are going to send it to, what content you are sending out and when you will be sending it.
To help you out, our email marketing Austin team wants to share why email marketing is still relevant and when is the best time to send a marketing email.
Why email marketing is still relevant
One of the digital marketing channels that continues to show results no matter the digital trends is email marketing. This digital marketing channel is the best way to generate leads and increase sales. Reports have found that for every $1 you invest in email marketing, you get an ROI of $42.
Aside from helping you generate leads, email marketing can also help build relationships with customers, develop your brand, become an industry leader, and build credibility. You can get these benefits by sending out regular newsletters, birthday, and promotional emails.
When is the best time to send a marketing email
Just as important as it is to write the correct content for your emails, you also need to find the perfect times. Sending out your emails at the right time will increase the likelihood of your email list opening the emails and interacting with them. For example, take a look at all the emails that brands have sent you; what time of the day do you get most of your emails?
If you look closely at all your emails, you will notice a pattern - between 9 to 10 a.m. or 5 a.m. to 5 p.m. Hubspot reports that the best times to get the highest click-to-open rates are 10 a.m. at 21 percent, 1 p.m. at 22 percent and spike near 6 p.m. This data is based on when people start and end their day checking their emails.
As for the days you should avoid, marketers say that any time during the weekend is the worst time to send out an email campaign. The worst day being Saturday. But before you make a final decision on when you should schedule your email marketing campaigns, you need to also take certain factors into account.
Other things to consider before picking a time for your email campaigns
Product and service
Another aspect that you should consider when picking a time for your email campaign is your product or service. What kind of product or service you offer and who your target audience is are important to consider when you schedule out those emails. For example, if your service is for businesses, then you should look for a time in the middle of the week, like Tuesday.
Email frequency
Another aspect you should consider is how often your customers want to receive your emails. Sending too many emails can cause people to unsubscribe, while not sending enough emails won't get you the desired results. Studies have shown that people like to receive a marketing email at least once a week, but you should first review your reports.
Hire the best

email marketing Austin team!

If you need help planning and managing your email marketing campaigns, hire OMG Austin. Our digital marketers help businesses develop email marketing strategies that can increase website traffic and help reach sales goals. Contact us to learn more.
Contact Us
We want to hear from you, so what are you waiting for? Contact us today.
Get In Touch
Share this post
Comments