The rise of DuckDuckgo search engine
The rise of DuckDuckgo search engine
/images/uploads/blog/OMG-Austin-01.27-Blog_.jpg
Omaha Media Group
https://www.omahamediagroup.com/images/uploads/monster_gallery/Omaha-Media-Group-Black.jpg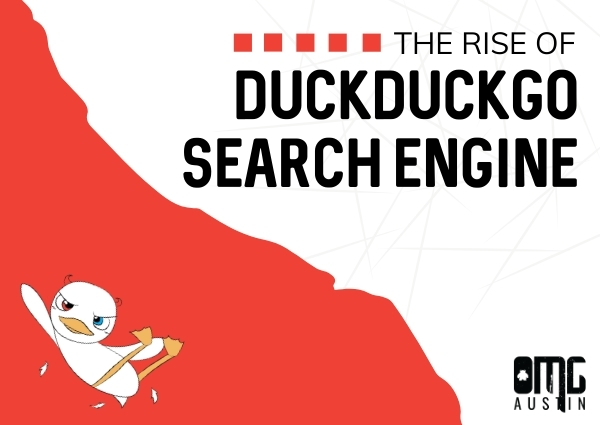 Alternative search engines continue to grow in popularity as consumers are more and more concerned with their privacy and security on the Internet. One of these alternative search engines that continues to skyrocket in popularity is DuckDuckGo.
As a company that has built privacy into its core values and business, it actively blocks all tracking from advertisers and asks permission to use location. It pulls searches from other alternative search engines and less popular ones like its friend Bing.
On January 19, 2021, DuckDuckGo hit their highest traffic search queries ever with over 66 billion search queries. While it is not Google's four trillion searches every day, it is still an astonishing number for an alternative search engine.
Any SEO company might find that their clients ask them, "What about DuckDuckGo SEO?" And because this search engine is just beginning to gain traffic, it can be difficult to test and see the results that a client is hoping for right away.
Why should we care about DuckDuckGo?
With Facebook under scrutiny for data and many consumers and politicians alike questioning their privacy on the platform, consumers are apprehensive about utilizing this platform and others.
While DuckDuckGo numbers continue to grow, the numbers are estimated due to the privacy restrictions set in place, but it provides companies and marketers alike with a ground level understanding of its growth.
The first thing any company or marketing agency should review is their website analytics. Just like any other strategy to move towards alternative search engines, it is important to know which ones are worth the time and energy. If you notice an increase in DuckDuckGo over a longer period of time, it could absolutely be worth the investment.
The thing to remember with SEO for DuckDuckGo is that it is different from Bing and Google SEO.
Here's a great example of the difference between DuckDuckGo and Google.
DuckDuckGo search
Google search
As you can see, the search results are a bit different and as you go further down the page, the local results in the "map pack" of DuckDuckGo are a bit different as well.
How can a company properly handle their

SEO for DuckDuckGo?
1. Local SEO refresh
DuckDuckGo doesn't use geo-location, unless you provide permission to do so, and this means local search isn't as accurate as Google's. The best thing to do is take local keywords from Google and other search engines that provide you the highest traffic and modify them.
Be as specific as possible because, without geographical information, the search results might not appear as you were hoping for.
2. Backlinks still matter
Even on DuckDuckGo, backlinks are one of the driving forces of ranking on this search engine. Some things really don't change. While DuckDuckGo doesn't give companies the ability to learn from their experts themselves, however, high quality backlinks still matter.
A great way to optimize SEO for DuckDuckGo is with instant answers. These provide immediate feedback for searchers and the best part, you can utilize keywords.
If you go to DuckDuckGo.com and type in "!amazon pants" (Note the exclamation point in front of the search phrase, with no spaces.) it will immediately take you to amazon's website and the search results pants.
This way, if your company knows direct keywords that are being targeted, you can optimize for this.
Watch out for this search engine in 2021!
If your company is in need of SEO services, OMG Austin will build a customized SEO strategy for your business and optimize your website for search engine success this year.
Share this post
Comments