What questions you should ask about backlinks
What questions you should ask about backlinks
/images/uploads/blog/Omaha-Media-Group-Austin-11.09-Blog_.jpg
Omaha Media Group
https://www.omahamediagroup.com/images/uploads/monster_gallery/Omaha-Media-Group-Black.jpg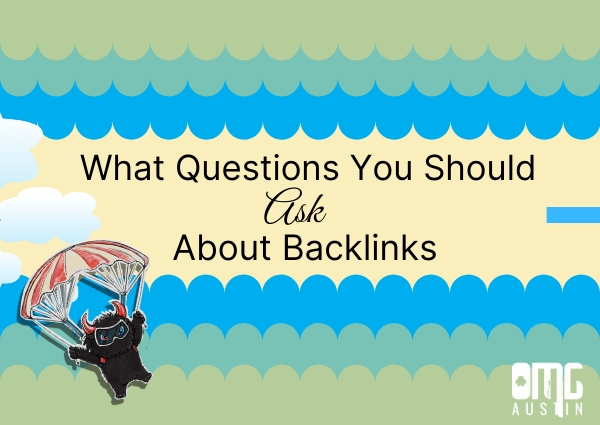 Backlinks are one of the most critical factors when it comes to ranking in search engines. While other on-page, off-page and digital marketing strategies are critical for overall ranking, a company seeking to rank on the first page of Google needs to have a backlinking strategy for a long-term goal.
So, what questions should you be asking when it comes to backlinking on a website?
Backlinks are also known as inbound links which are created when a website backlinks to another website. These links come from other domains and point to specific pages on your website. Our Austin SEO Expert use backlinks for SERP ranking. SERP, also known as Search Engine Results Pages, is how Google ranks a website on the first page of 26th page of the search engine.
What Backlink Questions Should I Be Concerned About?
These are five questions to ask an Austin SEO Expert or company before hiring them for backlinking strategies.
Yes, there is a distinction between good and bad backlinks. The bad ones are often called "spammy" backlinks! One or two spammy backlinks will naturally be found and weeded out when Google has a Core Algorithm update, but a website that ONLY uses spammy links is risking their overall ranking in search engines.
What keywords do I need to use in my Backlinks?
Did you know long-tail keywords makeup 92 percent of all search queries that people are looking up? These keywords usually have very low competition, and they are not as traffic intense as short-tail keywords, but they can still get your website seen on the first page of the search engines about 1,000 to 10,000 times a month.
How Do I Build Links That Will Boost My Website Rank?
One of the most important factors in improving your search engine rankings is link building. Our Austin SEO Expert explains that link building involves getting other websites to link to pages in your website. Link building is an effective way to increase traffic to your website. Proper link building helps to maintain a steady stream of visitors to your website.
Link building not only helps to bring in a steady stream of visitors to your website but it also helps to show your brand's authority with Google and increase your brand's visibility on search engines, not just Google. The main understanding behind link building is that it is about building credibility and authority with search engines by building a relationship with other websites!
This all depends on the industry, but no matter the industry you want to link back to credible, high-ranking websites relevant in your industry. The Fortune 500 business, the competitor and others from your industry. It does not matter if it is a competitor or a well-known magazine website, the higher they rank in Google, the better it is to backlink to them!
What is the most common backlink myths?
That you do not need backlinking. Whether it is a backlinking strategy for the entire website or backlinking in blogs, a company needs a backlinking strategy at some point on their website.
Not sure if your company's website is using an SEO strategy? Give our Austin SEO Expert a call today for more information!
Contact Us
We want to hear from you, so what are you waiting for? Contact us today.
Get In Touch
Share this post
Comments