10 SEO statistics to bookmark
10 SEO statistics to bookmark
/images/uploads/blog/OMG-Austin-11.23-Blog_%281%29_.jpg
Omaha Media Group
https://www.omahamediagroup.com/images/uploads/monster_gallery/Omaha-Media-Group-Black.jpg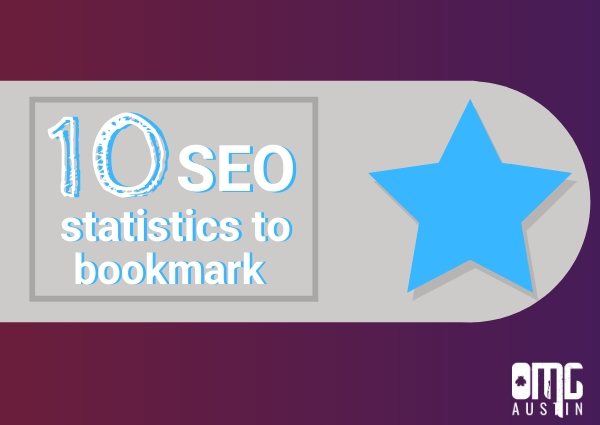 Often times in client meetings after a website design our Austin SEO Expert gets the famous question, "Is SEO even necessary?" This is where we insert a different way to say yes in 10 languages. SEO is the only way a website will rank overtime.
Still not convinced about SEO? We suggest bookmarking these 10 statistics.
1. In 2017, Google accounted for 79 percent of all global desktop search traffic. Bing, Yahoo and Baidu accounted for less than 10 percent.
There are 75,000 searches on Google every second. If a company wants to rank on the first page of search engines, you have to play the Google Games and follow the Google Guidelines that have been set. While ranking on other search engines is important, these other search engines only account for about 10 percent of all searches.
2. 81 percent of consumers perform an online search that researches a company before purchasing a product or service.
When a consumer searches for your company directly, what is showing? Our Austin SEO Expert hope it is an optimized and responsive website with social media handles. The biggest generation with 83 million people is millennials. This generation accounts for a quarter of the population in the U.S. and they are breaking into the workfield, becoming decision-makers in companies and are the most educated consumers.
Because of this, millennials are known to check out online reviews about a company before purchasing their products. About 40 percent of millennials refer to online reviews before making a decision about a product or company.
3. Mobile voice searches are 3X's more likely to be a local search versus a text search.
It is estimated that in 2020, 50 percent of all searches will be voice searches. As mobile voice searches continue to rise, these consumers are asking their iPhones and Samsung smartphones to find local companies, restaurants and hot spots. This includes being optimized for local search opportunities while being optimized for national searches. Our Austin SEO Expert suggest to always appear in local searches because four in five consumers use search engines to FIND local spots.
4. 50 percent of search queries are four words or longer on desktop.
On a desktop, a consumer will type out a longer search query than on their smartphone or ask their Alexa. How many words do you type in Google when searching?
5. A brand that appears on Google search queries has a

30 percent increase in branding efforts.

Think about it. A company that does not show up in search engines shows consumers that this company does not understand the importance of digital strategies. In a digital world, it is no longer an option for a company to not appear for a single search query. This is not helping overall branding and awareness of a company because there is no awareness for your company at all! Yikes.
6. 75 percent of consumers do not click on page two.
A blog, landing page, services page and a company's website is right there! You are so close, and now is not the time to give up! Our Austin SEO expert has an honest question to ask you: Do you go to the second page of Google?
If so, it must be a desperate answer you need and Google is not doing their jobs right!
7. 90.8 percent of pages get no organic search traffic from Google.
Ahrefs conducted a study of ONE BILLION websites, 90.8 percent of websites are not garnering any organic traffic. Our company has all of the questions about a company who is not garnering any traffic from Google. As stated above, there are over 75,000 searches conducted every second on Google, and over 90.8 websites are not being searched for out of a billion.
This study does explain that these websites that are not ranking did have to meet criteria. There was not a billion websites that never made it out of the 90s. What was the issue? No backlinks. Out of 200 factors that Google uses for search engine ranking, one of them is backlinks.
Our Austin SEO Expert wants you to understand to rank in Google a company needs backlinking over time.
8. The average web page takes

87 percent longer to load on mobile.

Mobile is king. As mobile searches are conducted more and more and desktop searches continue to decrease, a website that takes longer to load on mobile will slowly start to drop in ranking. How is this possible? A consumer clicks on your website on their smartphone, it takes forever to load (if they stay) and it is hard to navigate. As searcher after searcher continues to backout of your website, Google will take a closer look as to why this continues to happen and your ranking could be affected overtime.
9. On average, moving up one rank in the search engines can help to increase CTR!
Click Through Rate (CTR) is the percentage of people visiting a webpage through organic or paid search. In Backlinko's study of over five million search queries, a single ranking position increased by one rank increase CTR; however, moving from ranking 10 to nine typically does not have the same affect. It is ranks between four to two.
What does this mean? This means a company who is found by a consumer through organic search strategies will navigate to different pages on a website before exiting this website.
Do you need any other reasons to start working with a Austin SEO Expert to start ranking? For more information, contact us today.
Contact Us
We want to hear from you, so what are you waiting for? Contact us today.
Get In Touch
Share this post
Comments