Why "cheap" SEO actually costs more
Why "cheap" SEO actually costs more
/images/uploads/blog/OMG-Austin-08.26-Blog_.jpg
Omaha Media Group
https://www.omahamediagroup.com/images/uploads/monster_gallery/Omaha-Media-Group-Black.jpg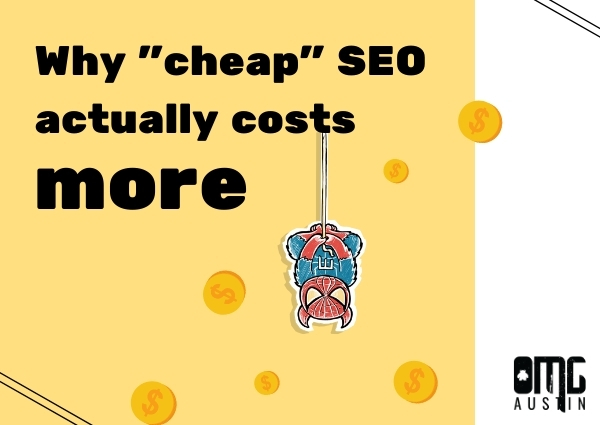 Search Engine Optimization (SEO) is vital for a company to implement into their digital marketing strategy in 2020, but it is an investment for the long haul. However, when a company is searching for an external marketing company to handle their SEO strategies it is important to be diligent with your search.
The old saying of, "if it sounds too good to be true" applies when it comes to finding the best agency to handle your SEO strategies. Our SEO expert Austin has heard the horror stories of companies hiring the "cheaper SEO agency" only to find out there was a very, very bad reason for this.
It is important to find an agency that will work with your budget, explain if that budget will not work and work with your goals in place. It is better for an agency to say, "that budget will not work for what you need or want" versus "we can totally work with that budget." This is because you are going to get the bottom of the barrel work which is probably being outsourced to other countries.
This is why cheap SEO actually costs more in the end.
Why is SEO so important? This is because what your brand appears for in search queries in a search engine's result page is what your brand is known for! SEO is your search engine brand. If your brand is coming up for irrelevant search results and is participating in spammy behaviors, Google and other search engines will notice this.
What is one of the most important notions that clients come to our SEO expert Austin for help with? Branding. This is because branding is one of the most important things to have in a digital world. The reputation of a company is imperative to have a successful future, and in a digital world, this can easily be torn down in a matter of hours, days or even weeks.
This leads us to the notion of understanding the difference between Blackhat SEO versus Whitehat SEO.
The battle of the hats? What does this have to do with SEO? Everything! Blackhat SEO is defined by WordStream as, "a set of practices that are used to increase a site or page's rank in search engines through means that violate the search engines' terms of service."
These are SEO strategies that have been banned by search engines, but these agencies still continue to do. They get away with it for some time, but in the end, always end up getting caught by search engines. Whether that be pinged for different search results or getting black listed by a search engine, no matter how small or big the ping is, it affects your company's organic ranking in search engines.
In the worst case scenario, if your company gets blacklisted, it does not matter how many years you have been in business. It does not matter how big your company is- you will have to restart everything. A new website, content, SEO and brand awareness.
This leads to a reputable SEO expert Austin from a company like OMG Austin to handle the clean up work.
Clean up work
Even if a website is not blacklisted, after shopping and working with a cheap SEO expert or agency, you will find yourself hiring the first agency you visited the first time around. This is because there will need to be a considerable amount of clean up involved, and to be honest, this will cost more than hiring the right agency the first time.
Yes, it is important to shop around and find the best company for your needs, but make sure to not get caught up into the promises and glitz and glam that some cheap agencies and experts promise.
Share this post
Comments