Why CMOs should outsource
Why CMOs should outsource
/images/uploads/blog/OMG-Austin-01.20-Blog_.jpg
Omaha Media Group
https://www.omahamediagroup.com/images/uploads/monster_gallery/Omaha-Media-Group-Black.jpg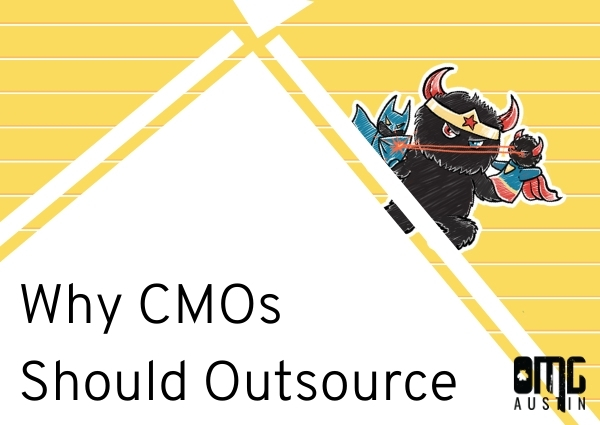 Many CMOs can be hesitant to outsource their marketing efforts, and that is due to years of negative connotations that are attributed to the work outsourced itself, but as agencies, companies and even freelancers have evolved, it is a valuable option to consider due to its benefits.
There are over 300,000 jobs that have been created in the United States due to outsourcing, and while you might outsource your HR or accounting services, many are reluctant to outsource their marketing.
The common concerns of outsourcing have to deal with the normal concerns businesses have with hiring an outsourced Austin Texas digital marketing agency, such as a lack of understanding of the inner workings of the company, the entire branding process, and how the process will move forward with their internal marketing team.
OMG Austin always answers these concerns by explaining how, "We are an extension of your family and work for you." Think of us as your internal marketing team members.
Simply put, outsourcing can divide up responsibilities internally and externally while providing your internal staff and company alike with the leading expertise, insights and implementation of even more marketing strategies.
Here are four ways that OMG Austin can help to support all CMOs, in any industry, who are searching for an experienced digital marketing agency.
Internal marketing teams are hired based on their qualifications, what they bring to the table and their own expertise. As a CMO, outsourcing can help to increase your resources and boost your team's expertise. This is because the division of work can be shifted, and when employees have a bit more time on their hands, they can work on their needed tasks, but continue to hone in on their skills.
This provides the internal marketing team with the ability to continue to work on larger projects, build a stronger team bond and ease micromanagement. From streamlining processes, reinventing branding, providing analytics and ROI, our experts can help your experts expand their knowledge, but also work on their own workload.
Outsourcing not only provides the ability to allow team members to continue to work on their internal projects but at the same time, helps to decrease costs and in return helps to expand resources.
This can help to eliminate hiring another in house, full time staff, and depending on the qualifications that are necessary, this could be a hefty part of the budget. Instead, outsource to a leading Austin Texas digital marketing agency for a fraction of the price, and get the needed resources at the same time.
We understand that CMOs require all of the numbers and outcomes, and because of this, we are transparent about all costs upfront based on the needed digital marketing strategies.
3. Obtain tracking, reporting and analysis
A common struggle with digital marketing strategies is that they are implemented, but finding the right metrics, reporting and systems to implement is a costly and time consuming process for your team.
Instead, our recommendation is to find an agency that already has this in order. This information is tracked by the agency which can provide your company with needed monthly, quarterly and annual reporting metrics.
At OMG Austin, we are a leading Austin Texas digital marketing agency that can provide any CMO with a plethora of digital marketing and website and design services that they are searching for. Contact us today to learn more about our services and processes today.
Contact Us
We want to hear from you, so what are you waiting for? Contact us today.
Get In Touch
Share this post
Comments