In house versus agency: Which option should I go with
In house versus agency: Which option should I go with
/images/uploads/blog/OMG-Austin-10.10-Blog__1.jpg
Omaha Media Group
https://www.omahamediagroup.com/images/uploads/monster_gallery/Omaha-Media-Group-Black.jpg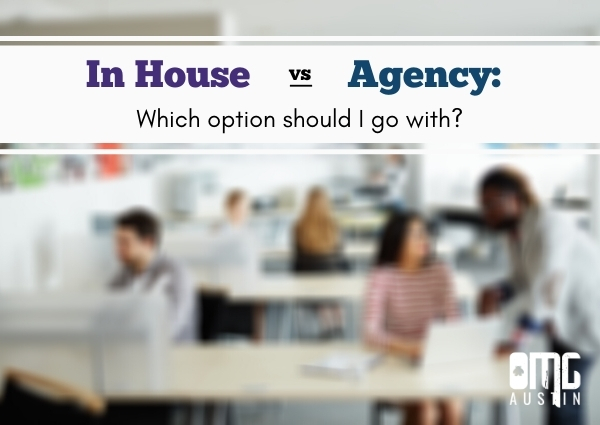 There are plenty of hesitations for companies who are searching for a creative management firm, agency or outsourced work for their company. This is because outsourced work has a bit of a bad reputation, but as our world becomes more and more digital, it is becoming clear that the skill sets needed to handle each and every digital asset that companies need to put in place is becoming harder to find.
It is crazy to think that a small business or company could find a person who can work on their website design and development, marketing and other strategies, and while many experts are able to do a number of cross-related tasks in the industry, the likelihood of finding that person is rare.
Instead, it is important that companies make the decision to build their team in-house, find a reliable marketing firms Austin or a combination of both.
In house
One of the main advantages of hiring and staffing in-house work is because the team is right there at your disposal. You work with the team each and every day and they understand your business just as much as you do as an owner or manager.
These employees are personally vetted by your company and management staff which means that the "perfect" person was picked. When a company hires any outsourced marketing firms Austin Texas you have no control over who is working on your strategies or who they could possibly outsource work to.
On the other hand, hiring in house can be an expensive endeavor that companies, especially small businesses, will find themselves constantly trying to fill a position for a marketing team who is either overworked or does not have the skill set to handle the big marketing campaigns.
Marketing firms Austin
When a company or small business hires an agency, they just hired a company that has a plethora of experts at their disposal. With this in mind, an agency has other experts as well from graphic designers to business consultants to can provide a better insight into the campaigns.
However, depending on your company's needs and the agency that your company goes with, you can find yourself with a lack luster of services and still spending more money than was originally anticipated. This is because agencies typically fall into two different categories. You will find yourself with an agency that offers a number of different services or an agency that only specializes in a specific service and industry.
At OMG Austin, it is common for clients to come in with a small marketing team on staff, but searching to expand on their current strategies and help their marketing team out a bit more! We often work with Marketing Directors, Marketing Managers and others in the industry. This is great because it provides our team with a like-minded client who can help out in different ways!
In our opinion, we love working with other marketing professionals on any current team! Our experts can help your marketing team expand on their strategies and our development and design professionals can help with other aspects of your company's digital needs! Go with the option that provides you with all the necessary tools and experience at your disposal!
Contact Us
We want to hear from you, so what are you waiting for? Contact us today.
Get In Touch
Share this post
Comments