UPDATED: When it's time to outsource digital marketing
UPDATED: When it's time to outsource digital marketing
/images/uploads/blog/OMG-Austin-07.01-Blog_.jpg
Omaha Media Group
https://www.omahamediagroup.com/images/uploads/monster_gallery/Omaha-Media-Group-Black.jpg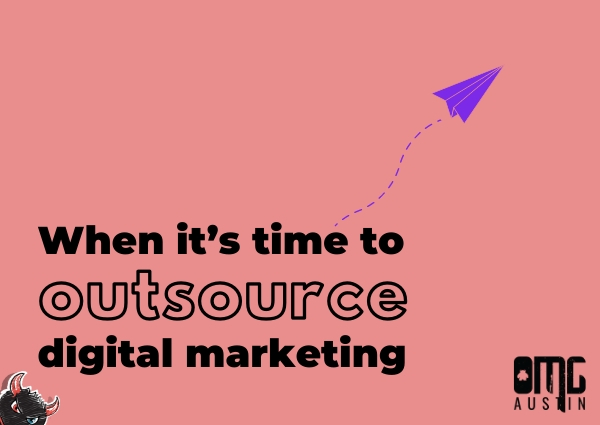 To outsource or not to outsource? That is the real question. This is a common question that continues to be part of a company's marketing operations because a marketing expert might not understand SEO as well as an agency, which is fine! The thing with outsourcing is that it has a bad reputation in many industries, including the marketing industry.
However, the thing with outsourcing is that you have to find the best agency out there for you! Don't let an Instagram ad tell you that they are the best, because in all reality, they might not be for your company.
The world of digital marketing is vast. Everything from search engine optimization strategies to daily tweets with the right character amount matters. As a company, it is often common to hire in-house or go the DIY route, but you have tried, tried and tried again but nothing seems to be working.
No one wants to be putting efforts into their marketing campaign just to be speaking to an empty Twitter feed or not seeing the ROI!
It might be time to find a digital marketing Austin agency that can handle the outsource marketing efforts of the day-to-day social media management, advertisements, SEO, content marketing, reporting and so much more. Is this worth the time and resources? Yes!
Even if a company has an in-house marketing team, it can be beneficial to hire an outsource marketing agency. This is because the in-house marketing team can already be at full capacity with no understanding of SEO or other digital marketing strategies.
There is nothing wrong with calling in some reinforcements because the team is already working on current marketing strategies and campaigns that have been laid out for the year.
Susan is working on the newest promotion that runs until next year. Sarah has been working on the print media and Kevin is sending out some posts on social media and helping Sarah and Susan. There are quarterly reports that need to be done to show the worth of the marketing team itself.
Your team is overloaded and overwhelmed. A smaller company often has a generalized team of marketing strategies that can help in a number of different areas. As a business owner, you might have noticed all the PPC advertisements, search engine optimization strategies and some website updates aren't bringing more website traffic.
On the other hand, for some companies, the board is worried about the marketing campaigns and have started wondering if marketing is really worth the investment.
This is where an outsource marketing agency can help your marketing team excel. Let a seasoned digital marketer work on your content, post to social media and help gain followers to the website and social media platforms. It is also important to find an agency that has SEO experts who can handle SEO and PPC management strategies!
The word outsource might sound like a complicated, long process but the exact opposite is true. An outsource marketing agency works with a wide range of companies from new startups to Fortune 500.
A digital marketing Austin agency is well versed and provides an expert team to help grow your digital marketing presence, search engine optimization strategies, search engine marketing and brand awareness.
As a digital marketing Austin agency, our experts can provide the following benefits for your company:
Help you save money

Expert advice and opinions

Someone is always hyper-focused on your business

An unbiased opinion
An outsourced marketing agency such as OMG Austin is the right decision for your company. It is time to go to the drawing board and start brainstorming a new approach to help out your current team and expand on your marketing strategies.
OMG Austin provides a wide range of services from website development to digital marketing strategies like SEO, PPC, SEM and social media management.
Share this post
Comments