5 ways to use Pinterest for digital marketing
5 ways to use Pinterest for digital marketing
/images/uploads/blog/OMG_Austin-07.17-Blog_.jpg
Omaha Media Group
https://www.omahamediagroup.com/images/uploads/monster_gallery/Omaha-Media-Group-Black.jpg
What's on your personal Pinterest board? A bunch of healthy recipes, fashion ideas, life quotes or something else? As a strategy the everyday person uses for inspiration all the way to creativity, Pinterest has advanced since its first couple of years and can be used in marketing strategies.
Pinterest no longer declares itself as a social media platform, but the general public still thinks of it as one. Over 95 percent of Pinterest users are females between the ages of 25 years old to 54 years old!
But, have you ever considered using Pinterest as a digital marketing strategy? If not, keep reading for some Pinterest strategies to grow your business.
1. Keywords, keywords, keywords
Anytime you post something to Pinterest, you have to choose a category it belongs in and provide a short description of your post. A way to ensure your product is being seen by your target audience is to use keywords in the board title and in the description of the product. The first 50 to 60 characters of your description is what people will be seeing. The three things to remember: A call to action, creative wording and keywords.
Keep the description short so it's easy for others to share on other social media platforms, like Twitter. You can add hashtags and links in the description, as well.
2. Images
This is the MOST important aspect of Pinterest. One could say that this platform is solely based upon the images that will be shared, and because of this, the right image sizes and strategies are essential to grow your profile.
As one of the leading marketing agencies Austin Texas, we've compiled your image and video marketing tips for Pinterest.
Always make sure images are vertical!

Follow the 2:3 ratio that Pinterest provides.

Use images that stand out in a good way to grab attention!

Step away from abstract or stock photos, use your own!

Infographics are a must

Videos .mp4 or .mov

Max file is 2GB
There are a variety of images shared on Pinterest. If you want yours to stand out and take up as much space as possible, it should be eye-catching and hard to miss. Pinterest now allows for visual search on Google. For e-commerce and related businesses, this is an untapped marketing strategy.
How can you do this? Type into Pinterest "shoes." Click on the little magnifying glass in the bottom right hand corner of the image. This shoes a visual search of related items on the app or on Google.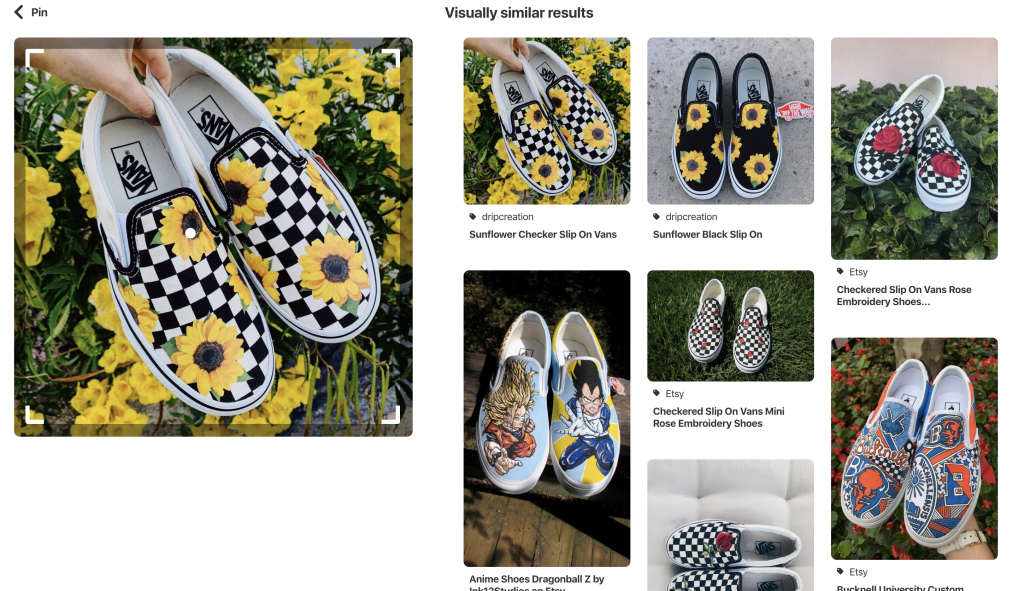 Could Pinterest be the way your business gets more website traffic and products sold?
3. Share!
Any digital marketing agencies Austin Texas can tell you that having a widget on your website or images embedded on social media to your Pinterest page is brilliant.
Another great way to increase awareness is to embed and/or share your pins on other platforms. For example, you could embed a pin on your blog and share the pin on another social media site for your target audience. It's even better if you have a big image on every blog post so it's easy to re-pin.
4. Analyze Popular Pins
There is a tool on the Pinterest business account that allows you to see what categories and pins are getting the most attention so you can customize your content. You may also want to check out what's called "Rich Pins" or discuss it with a marketing agencies Austin Texas SEO expert to help you out.
5. Collaborate
Pinterest allows you to create collaborative boards, which means you can invite other people on Pinterest to have access to a board you create. This is similar to Instagram's influencer marketing strategy. Everyone can post and share relevant content, which is a great way to have your pins seen by more people. The more people who are contributing to your Pinterest boards and pages means the better chance of your product being sold.

Yes, Pinterest is for finding the best recipes or next birthday party theme, but it can be a great digital marketing resource as well. Are you unsure if Pinterest is great for your target audience? Give one of the leading marketing agencies Austin Texas a call today for more information!
Contact Us
We want to hear from you, so what are you waiting for? Contact us today.
Get In Touch
Share this post
Comments