Chatbots in marketing
Chatbots in marketing
/images/uploads/blog/OMG_Austin-09.11-Blog_.jpg
Omaha Media Group
https://www.omahamediagroup.com/images/uploads/monster_gallery/Omaha-Media-Group-Black.jpg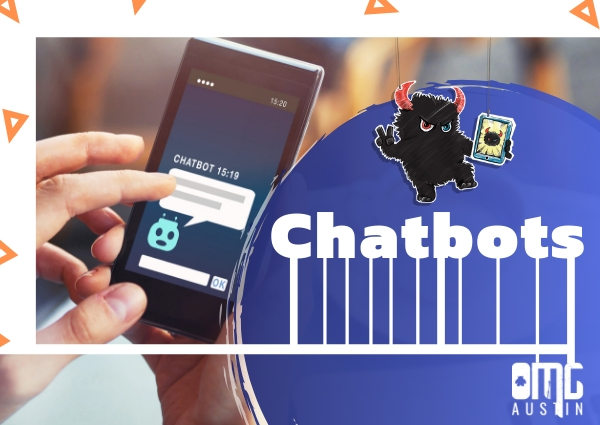 With over 1.2 billion people using this messaging platform every single month, every business should be developing a strategy to use a chatbot on Facebook Messenger. One point in time, AI seemed like a strange, million years away though process in the digital marketing world but that is all changing!
So, what is a chatbot and how can a business use Facebook Messenger to nurture and generate leads?
A chatbot is an artificial intelligence lifeform! Our developers are basically creating a person who will respond to customers and clients. There is not a person behind the screen, but a chatbot that is done correctly will make the user think they are talking to a real person.
The chatbot is following a line of code that responds to messages, questions and concerns based on this code. A chatbot is there is help nurture leads in messaging apps such as Facebook Messenger, WeChat, Viber or other apps that allow for the integration of chatbots.
Why are consumers using messaging apps or searching for a chatbot to answer their questions? This is because chatbots are known to respond immediately and provide consumers with fast and further assistance! Your team might not be comprised of hundreds of employees who can work different shifts throughout the day to answer questions, but a chatbot is a new and free employee!
The biggest trend digital marketing agency Austin Texas is noticing, chatbots in Facebook Messenger.
Facebook Messenger
No matter what you call chatbots, Neil Patel suggests that this type of digital marketing is the new way to nurture those sales and leads. Patel states that there is an "88 percent open rate and 56 percent click through rate!"
So, what does that mean for a business? That means consumers are more likely to respond and follow the chatbots suggestions and recommendations.
How would a business use a chatbot in their Facebook Messenger to gain and nurture leads?
Mimic email marketing
The first step is delivering enticing messages. Think of email marketing, but using Facebook Messenger. This sequence of messages keeps your business in their inbox. A great example is drip campaigns for email marketing.
A person follows the original email campaign about a sale. The consumer shops through the site, fills their cart and then never checks-out. What would the next email be? A reminder about their full cart and the sale ending! This same method could be used in Facebook Messenger.
A consumer sends a message or comments asking about the product, price or a number of other questions. A chatbot can follow up with this in a private message to the consumer. If the consumer does not respond, a drip message can be sent! See, same method but a different platform.
Any digital marketing agency Austin Texas will tell you on Facebook a business needs organic and "pay to play" to keep in front of their target audience. A Facebook Advertisement or Boosted post with a click to messenger ad could be claimed as 100% conversion. How is that even possible?
If someone clicks "Send Message" then this person is interested in the offer, services or your business. A digital marketer knows this is a potential client or business deal and can nurture this lead.
It is that simple, but not really that simple. First, a chatbot needs to be created and set up. Call the leading digital marketing agency Austin Texas for more information on how this is done!
Nurture leads and generate revenue with a chatbot! Get it set up today with our help.
The experts at digital markeitng agency Austin Texas can guide you through this process.
Get In Touch
Share this post
Comments